The Technics AZ60M2 Bluetooth earbuds are the company's latest in their recent streak of releasing high-quality, premium earbuds. This product does not disappoint with strong audio capability, a sleek design, and versatile app functionality.
Coming at a steep $250 price tag, these earbuds ask a lot from consumers, but also give a lot in return. If you're looking to invest in a more premium earbud, then the AZ80's just might be for you.
High Points
Excellent audio quality that feels balanced and energetic.
Good depth of bass while also not muddying the sound.
App functionality is versatile and allows for solid customization options.
Design is sleek, and the accompanying carrying case is both convenient and professional looking.
LDAC support allows for high fidelity streaming for devices that support it.
Very comfortable.
Low Points
A bit on the pricier side.
Not fully waterproof, so not fully advisable for intense workouts.
Controls can feel a bit wonky at first.
Design and Comfort
The Technics AZ60M2 Bluetooth earbuds excel in terms of both design and comfort. The circular outer panel and matte finish give them a stylish and modern look, and are available in 3 different colors: black, silver, and blue.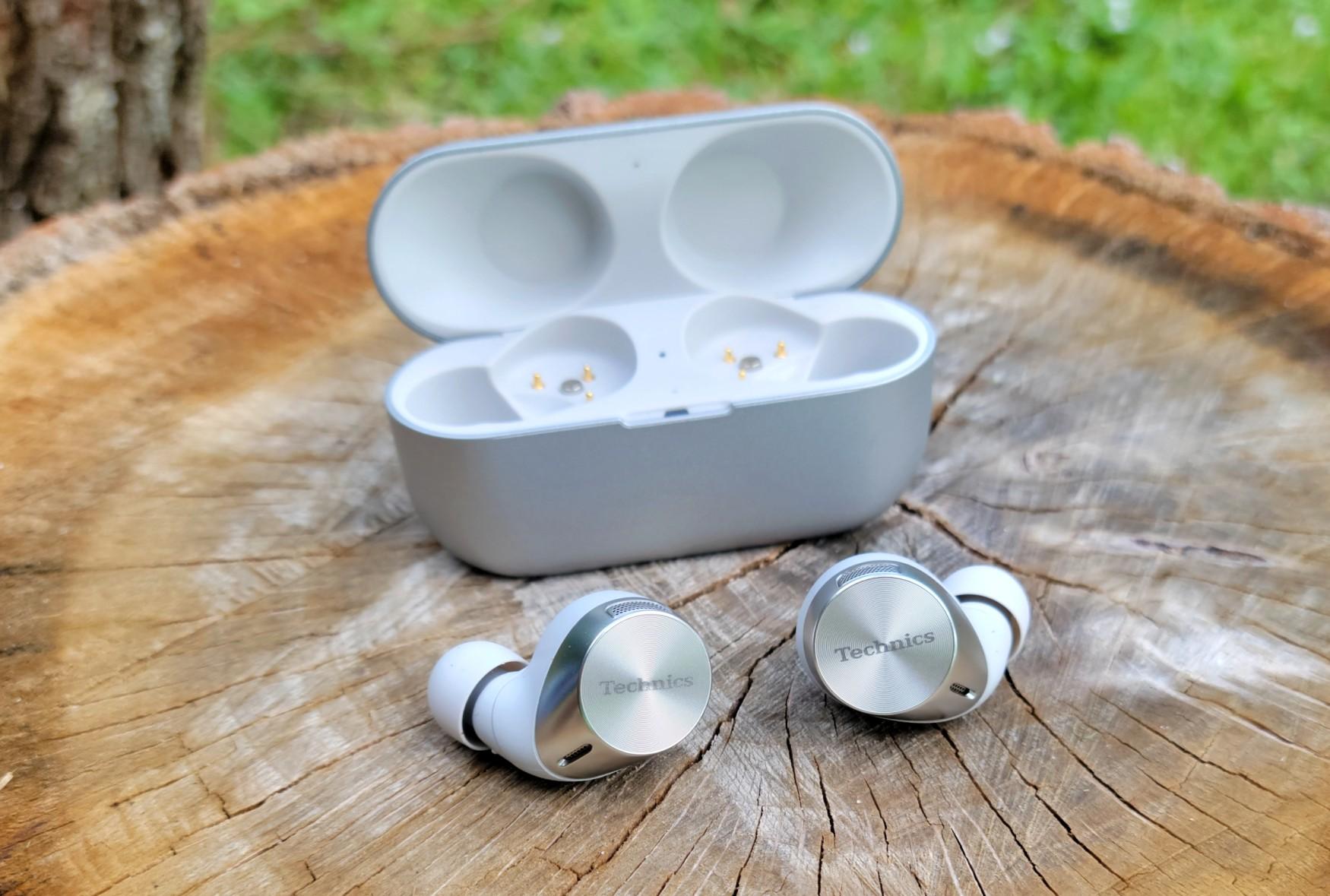 The earbuds fit snugly in the ears and offer a secure fit, ensuring they stay in place during various activities. I used the earbuds while running and they stayed secure, with only minor readjustments needed. In my testing, I had no issues with the earbuds falling out or becoming uncomfortable, even during prolonged listening sessions.
They are somewhat waterproof, so wearing them in mild rain or less strenuous workouts shouldn't be an issue. However, just be cautious and don't expose too much liquid as it will cause damage. So be weary of more intense rain or sweating.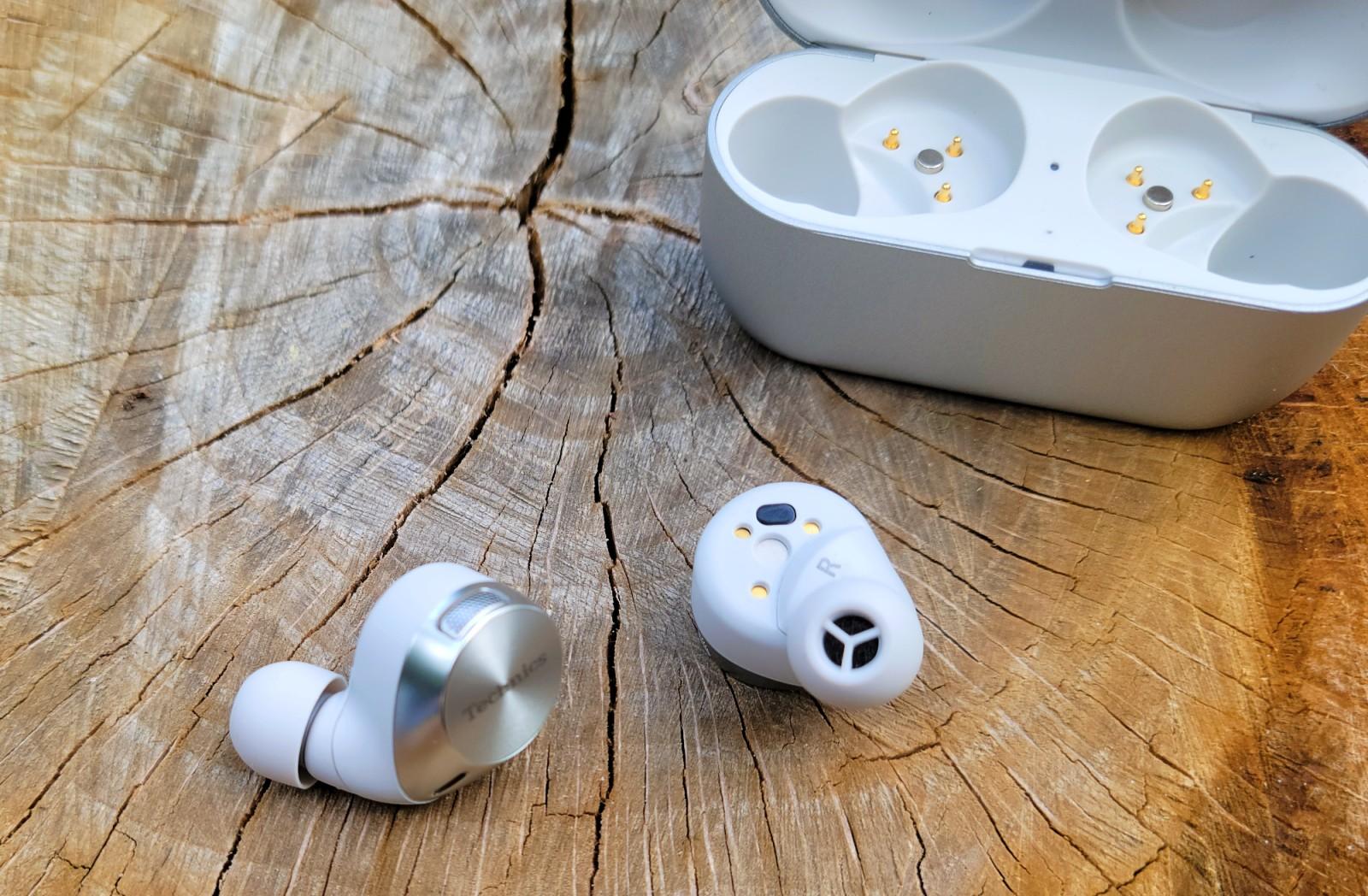 The earbuds are accompanied with a portable carrying case that doubles as a charger. It's sleekly designed and its color will match whatever color you choose for the earbuds. It has a magnetic cover that securely snaps close and a green LED light to indicate charge. The AZ80's case is a bit nicer, with a metal lid instead of a plastic lid.
It is compact and easy to carry on the go, but similar to the earbuds themselves, avoid exposing it to an excess of water or other liquids. The case keeps the earbuds well and secure and prevents dislodging.
Touch Controls and App Customization
The touch controls on the Technics AZ60M2 earbuds offer a seamless and intuitive user experience. A single tap on either earbud handles playback and answers calls, while a long press ends them.
Double tapping the left and right earbud respectively adjusts the volume and skips forward a track. A triple tap on each earpiece controls the volume and allows you to navigate between tracks.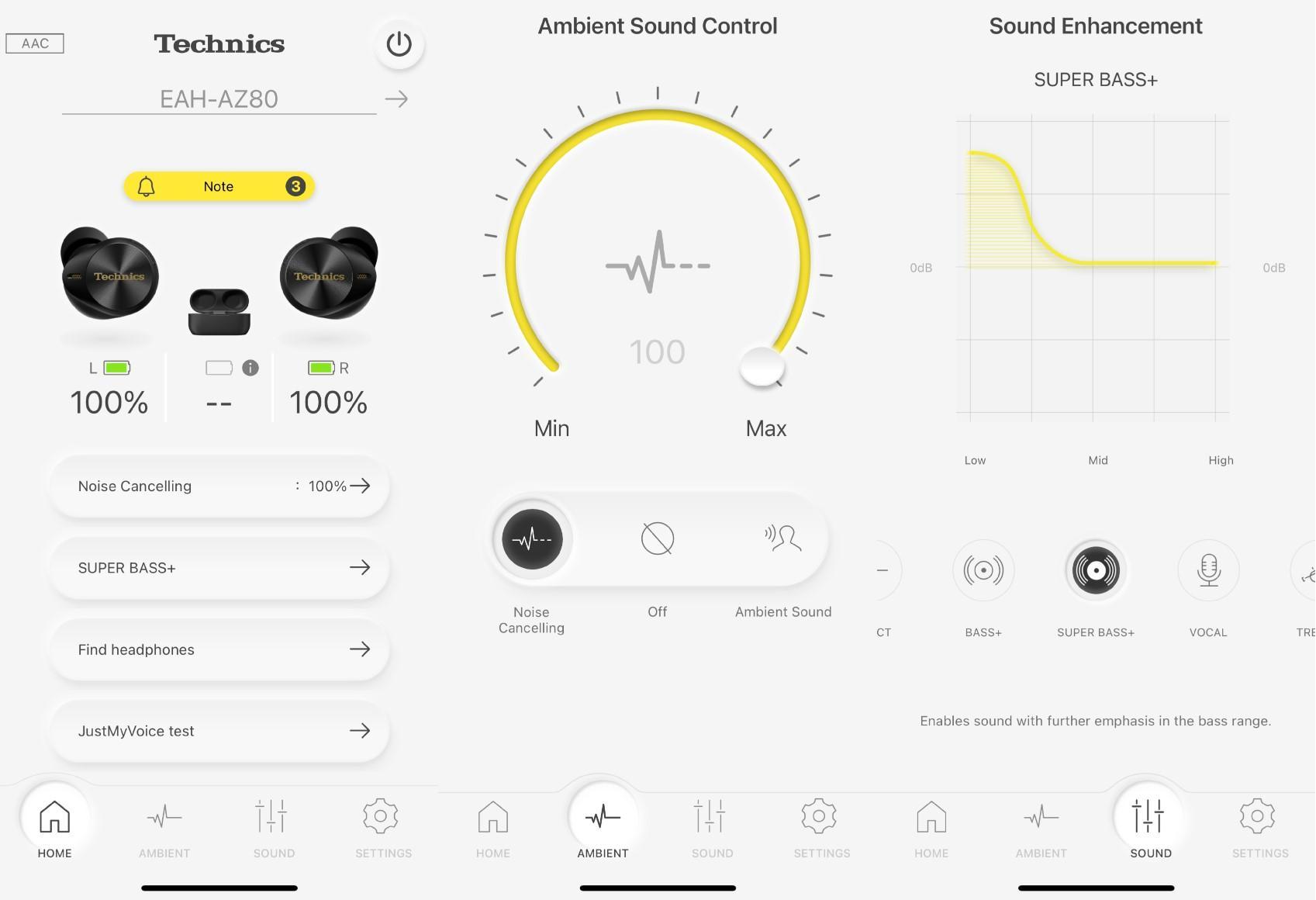 Summoning your voice assistant and toggling between the ANC and Ambient Sound modes can be done with long presses on the left and right earbuds, respectively. These controls can feel a bit convoluted, and frequently lead to misinputs. Luckily, it can be adjusted in the app if the controls aren't to your liking.
The app can be rather annoying to navigate at times. I just wish it was more sleek and streamlined, like the Tozo's app.
Still, I appreciated the options. The app proves itself to be an excellent companion to the earbuds, allowing for a variety of customization options.
Users can switch between codecs, including AAC, SBC, and LDAC, select sound presets, adjust a five-band EQ, and choose noise-canceling modes. Additionally, the app displays battery life and provides access to other various quality-of-life features.
One handy feature is JustMyVoice technology that uses mics and beamforming to isolate your voice on calls. It noticeably reduced background noise when chatting in noisy environments. Callers reported my voice sounded focused and clear.
Internal Specs
The AZ60M2s feature an 8mm driver that delivers a frequency range of 20Hz to 40kHz. The 8mm driver is great for the price point and helps with the rigidity of the components, delivering a more accurate sound. They are compatible with Bluetooth 5.3, and a variety of codec support, including AAC, SBC, and LDAC, which will affect different aspects of the headphones.
The AAC codec is a more performance-friendly codec, which allows for longer battery life. I found this to be generally more convenient, as I don't like to recharge my earbuds often. The LDAC codec allows for higher fidelity sound, at the cost of battery life. It does sound great with LDAC, though.
Battery Life
When testing the EAH-AZ60M2 earbuds myself, I found the battery life can vary a lot depending on how you use them. There are around 4.5 hours of playback with both active noise cancellation and the LDAC codec enabled. The charging case provided me an extra 11.5 hours, for a total of 16 hours combined.
Turning off active noise cancellation but still using the LDAC codec, I got the same battery life from the earbuds at 4.5 hours, with another 12 hours from the case.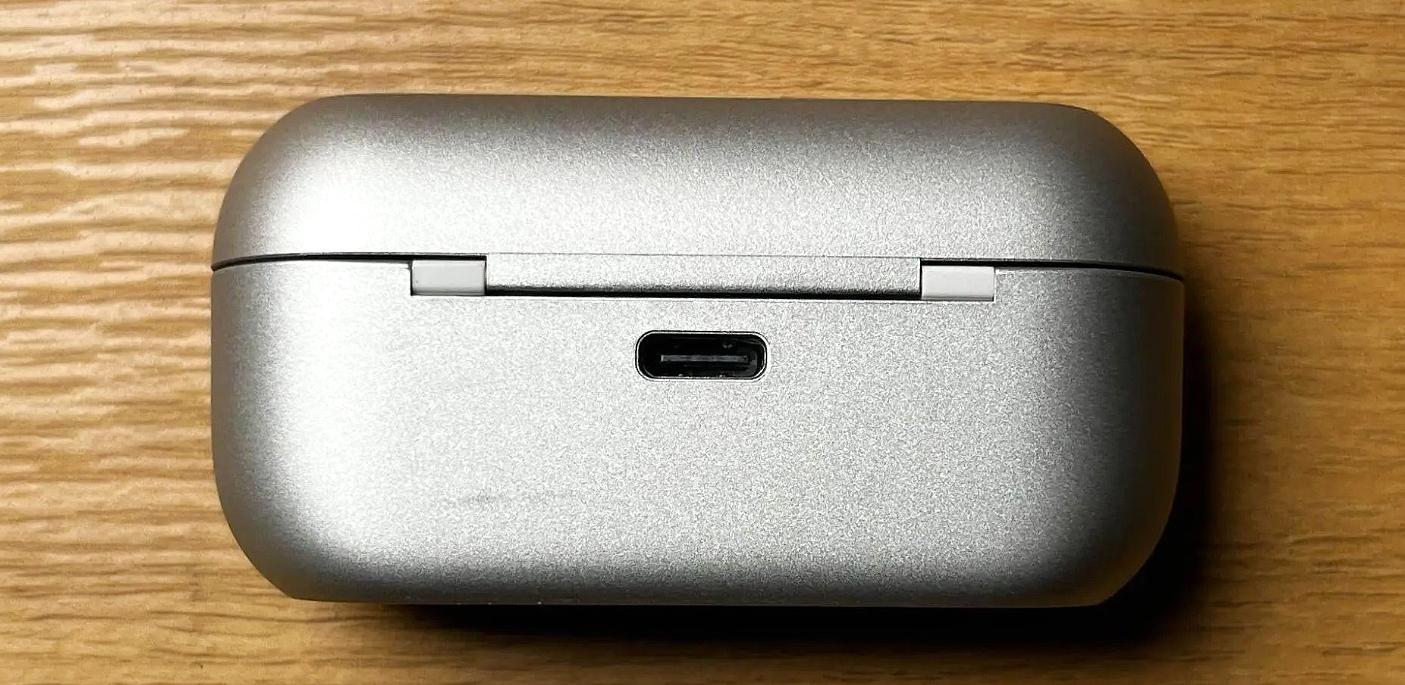 Switching to the more efficient AAC codec improved the battery performance. With noise cancellation on, the earbuds lasted about 7 hours per charge, and the case gave me another 17 hours. Disabling noise cancellation extended the battery further to 7.5 hours of playback from the earbuds, plus 18 extra hours from the case.
So with ANC off and AAC codec, I got up to 25.5 total hours of continuous listening. For my usage, I needed to charge at least every other day.
Charging the drained EAH-AZ60M earbuds took me around 2.5-4 hours depending on whether I used the included USB-C cable or Qi wireless charging. Fully charging the empty case took about 2.5 hours with the USB-C cable. Adding Qi wireless charging tacked on an extra hour.
The fast charging was handy - plugging the earbuds in for 15 minutes gave me roughly an extra 70 minutes of playtime.
Overall the battery life is fairly average compared to competing models. The AirPods Pro maintain a slight edge with 5 hour charges. But the ability to extend life by changing settings gave me good flexibility.
Listening Experience and Noise Cancellation
The listening experience on the AZ60M2s is very enjoyable. The comfortable fit allows for prolonged listening without discomfort, and I found that I rarely had to readjust, nor did they become dislodged from my ear.
Performance wise, the AZ60M2s still sound great even when using the lower-fidelity AAC. LDAC is undoubtedly better sound quality, but the sacrifice in battery life is noticeable as someone who listens to music for longer periods. If you are a prolonged listener, and are annoyed with frequent charging breaks, you're going to be better off not using LDAC.
The AZ60M2s come equipped with solid noise cancellation capabilities. They effectively cancel out low rumbles and handle midrange frequencies pretty well too. Higher range frequencies will still come through, but the noise cancellation does its job well. It felt roughly on par with the Edifier WH950NB I tested, except that those handled higher frequencies a bit better. The AZ80s had a more effective design, and are worth the upgrade if this is an important feature for you.
As mentioned earlier, there are different modes of noise cancellation you can swap between, namely and ambient mode, the full noise cancellation, and off. For me, the most comfortable and practical was the full noise cancellation, as it was way more immersive. You can also adjust the level of noise canceling using a slider.
Audio Performance and Comparisons
One of the standout features of the AZ60M2 earbuds is their exceptional audio quality. With a balanced and bright sound signature, these earbuds produce deep and punchy bass, adding an energetic drive to tracks like "Raydar" by JID.
The audio is characterized by richness, clarity, and remarkable detail, ensuring an immersive listening experience. The treble on the AZ60M2 is bright and consistently sounds rich and full of life. Whispery vocals, such as those from Lisa Germano, are rendered with hauntingly beautiful delicacy.
An experience I have had with earbuds in the past is a lack of balance, where certain products would put too much emphasis on the bass. Happily, the AZ60M2s don't fall into this trap despite having a very strong bass signature. It's powerful without feeling too boomy or muddying the rest of the sound signature.
However, I would say that bass heads will likely get a bit more out of the Tozo Golden X1s. The bass feels more full, and fills the sound with a power while still feeling balanced. Not that the AZ60M2s bass output is bad, quite the contrary. It's just that the X1s offer a bit more in that regard out of the box.
Instrumentally complex and layered songs like "The Place Where He Inserted the Blade" by Black Country, New Road are elevated by the AZ60M2s, and each instrument is given its respective spotlight. The sound on these earbuds is delightfully nuanced and immersive.
I will say that the aforementioned X1s compete with the AZ60M2 in more ways than just the bass output. They offer a similar level of audio performance for a significantly cheaper cost. The AZ60M2's are $100 more expensive than the X1's. The edge that the AZ60M2s have over the Tozo X1s is in its upscale build and design, and the overall clarity of the sound.
The X1s, while great, do not compare to the ultra high resolution clarity of sound that the AZ60M2s, or the AZ80s output. They offer a consistently clear sound that allows for all details in the music to shine through.
Compared to the AZ80s, another earbud released by Technics at a similar price, the AZ60M2s sound very similar. The AZ80s take the edge on overall clarity, but the treble on the AZ60M2s sounded more full and robust.
The AZ80s are marginally more expensive, priced at $300. The differences between the two pairs were minimal by my testing, with only minor differences in sound, ANC, and build quality. Both are great choices respectively, and if you're looking for a high-end earbud, the AZ60M2s and the AZ80s are very strong options.
Conclusion
The Technics AZ60M2 Bluetooth earbuds impress with their sleek design, comfortable fit, and impressive audio quality. The app allows for a versatile listening experience, giving users access to customization in sound, and allowing them to swap between different codecs of their choosing.
While the higher price point may deter very budget-conscious consumers, those seeking premium audio performance and a range of convenient features will find the Technics AZ60M2 to be a worthy investment. This well-rounded earbud easily earns our Highly Recommended award and will not disappoint.