Technics jumps into the fiercely competitive full-size premium noise-canceling wireless headphones category with its new EAH-A800 (World Wide Stereo - $329.99). With a price tag that is a close match to similar offerings by Sony, Beats, Bowers & Wilkins, Bose (and a bit under Apple's AirPods Max) what are the clear differentiating factors? What makes these headphones an option worth considering?

The EAH-A800s are handsome headphones, the questions are how do they fit, how do they sound, and how does the noise canceling perform compared to the stiff competition.
Features and Specifications
First of all, the only real surprise is that Technics has not offered (until now) headphones that compete in the premium full-size noise-canceling category. In terms of engineering, the Technics brand falls under the Panasonic umbrella, which itself is a good thing. Panasonic is a brand I have long appreciated for its focus on solid engineering, whether it's TVs, toasters, cameras, or the Technics line of audio gear.

Technics, the brand, enjoys considerable fame thanks to its legendary SL-1200 direct-drive turntables and a close association with hip hop culture and turntablism. But, the glory days of the vinyl sample—back when DJs were considered on the same level as rappers—have long since passed. Today, Technics focuses on creating high-fidelity sound systems ranging from affordable headphones to premium, high-end audio gear, including turntables, speakers, amplification, and headphones.
Aesthetically, these EAH-A800 are edgier than Apple's completely curvy AirPods Max. They look and feel more substantial than the Bose or Sony offerings. The appearance is undeniably stylish (albeit subject to personal taste) and manages to convey the high-tech vibe of the Technics brand. The earcups on these headphones are generously large and the result is exquisite comfort while achieving a tight seal without ear fatigue.

Ultimately, a tight seal is a key to both achieving effective noise canceling performance and to experiencing extended bass response.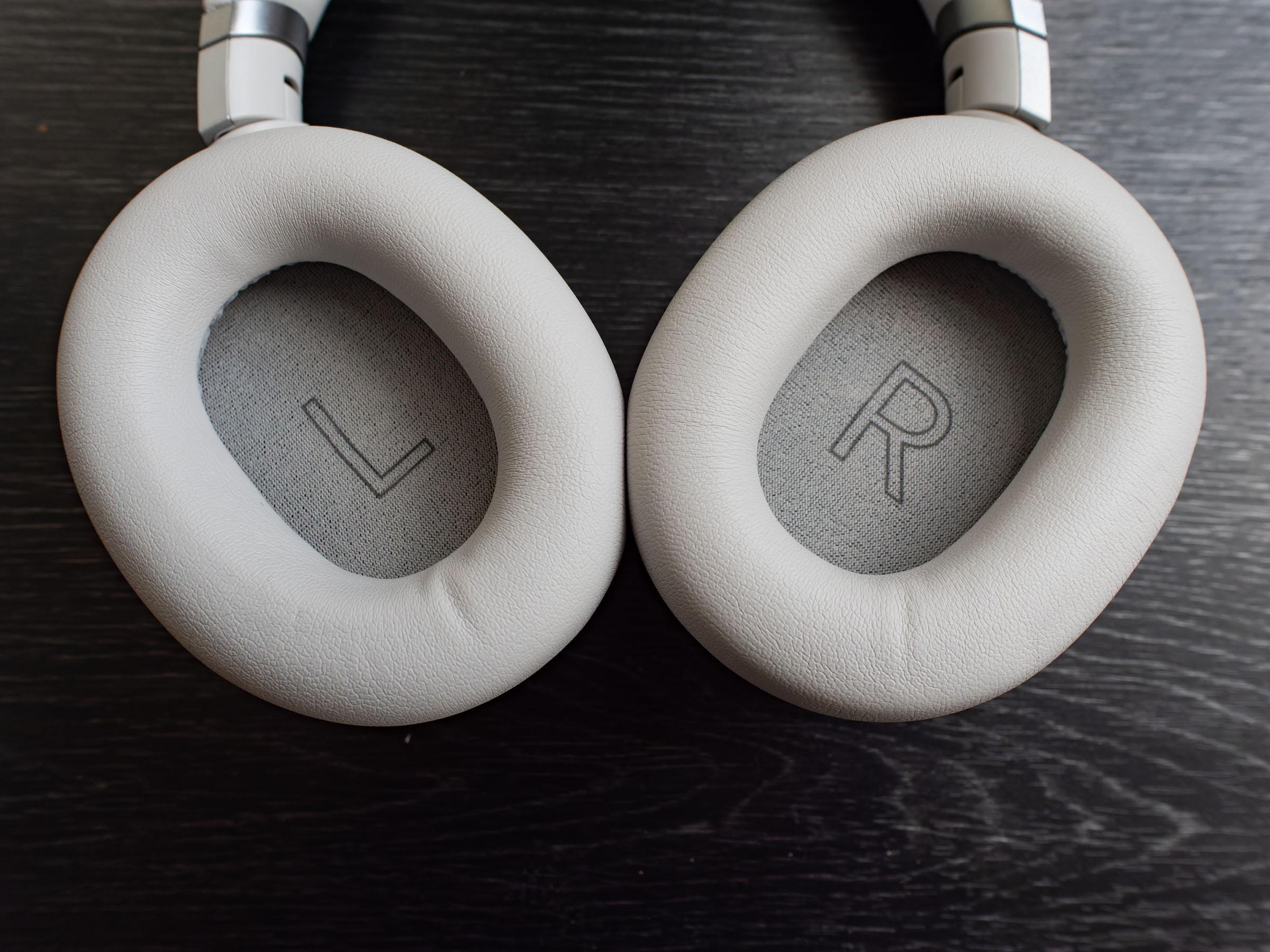 Sound comes from a 3-layer polyurethane diaphragm measuring 40 millimeters These headphones feature LDAC high resolution wireless, which delivers claimed 24-bit/96 kHz quality (albeit compressed) through Bluetooth, so with these headphones and an LDAC compatible source, you'll get a bit higher fidelity sound than standard Bluetooth, without any cords.
Bluetooth 5.2 offers a strong and stable signal plus easy pairing. You also got Bluetooth multipoint pairing, so you can be connected to two devices concurrently.
This headset has eight microphones and wind noise reduction built in. Technics dedicates four of the microphones to voice and uses beamforming plus noise suppression so that you are heard clearly on calls and Zoom meetings, even if you use these headphones in a noisy environment.
Of course, these headphones have active noise canceling. Technics touts the effectiveness of its technology as "industry-leading," and anecdotally, it seems highly effective. In addition to the noise-canceling mode, the A800 has a transparent mode that lets you hear outside noise naturally, without having to remove the headphones. And there is a third mode called Attention Mode that applies noise reduction to outside sounds, but allows people's voices to come through. The marketing materials note its utility for hearing things like airport announcements.
According to published specifications, these headphones offer up to 50 hours of playback on a single charge with noise canceling activated, and 60 without it. 15 minutes of charge gets you 10 hours of playback with NC active. Furthermore, there is a sensor that automatically turns off the headphones when you remove them, to save power.

Technics included a touch sensor on the right earcup to toggle between noise canceling, attention mode, and passive operation. And they fold for easy transport.
Wireless is not the only option here; these headphones feature a traditional 3.5-millimeter stereo plug and come with a 42-inch cable. They are also not tough to drive, sensitivity is high and impedance is low. If your phone has a headphone jack, it should be fine with pushing these headphones to reasonable loud levels, but note that the sound will have a notably different character if noise canceling is turned off.

Of course, you can run them corded but with noise canceling active. And at that point, they essentially become amplified headphones. And whether you run them active or passive, if you plug them into anything more powerful than a phone, you can easily exceed volume thresholds that are safe to listen to, without pushing the A800's limits and running into distortion. These Technics can play loud and clear if you ask them to.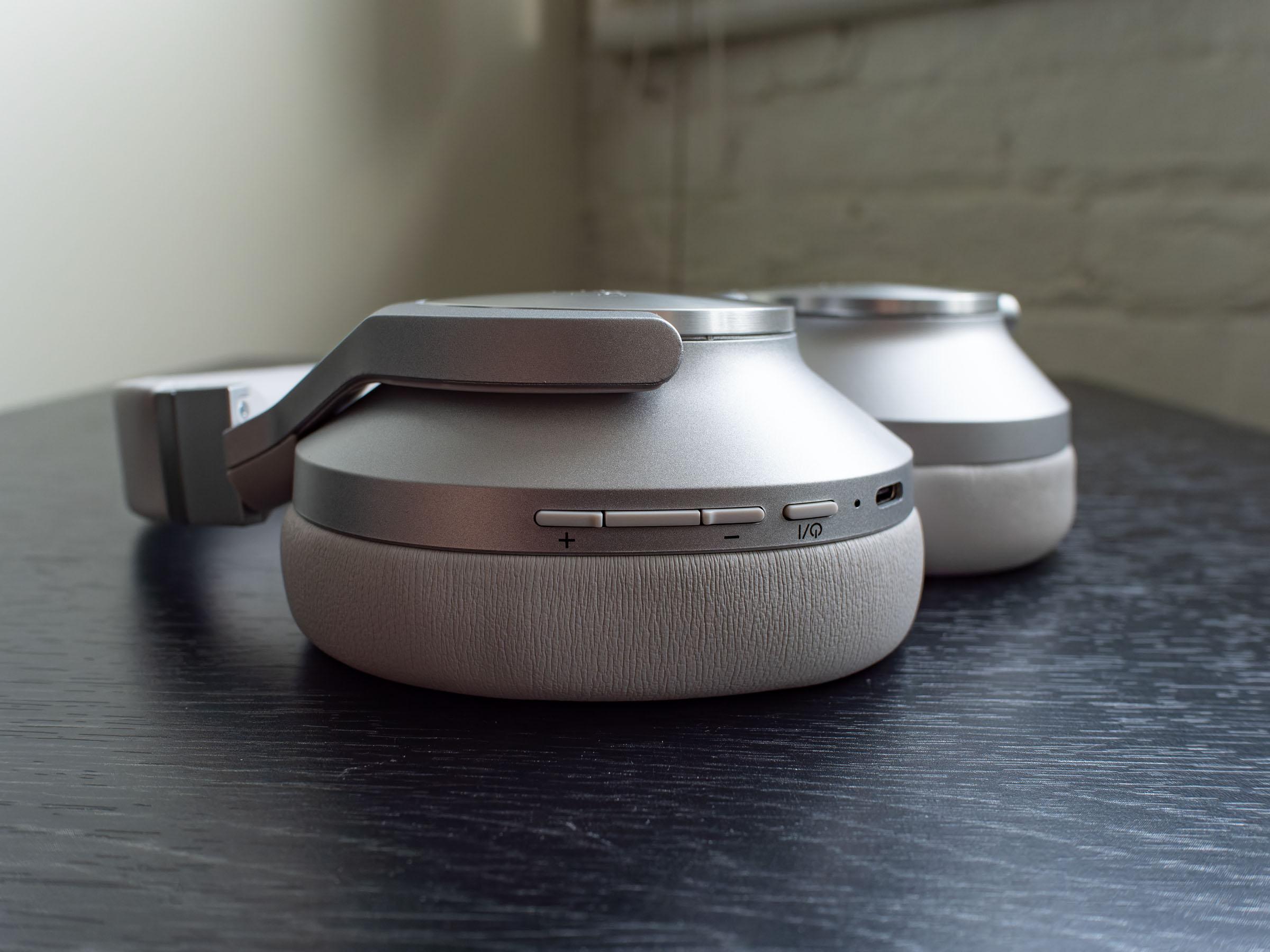 The advertised frequency response is an optimistic 4 Hertz to 40 kHz, the underlying message being that these headphones should exceed the range of human hearing. Is the listed spec overly optimistic? Sure, but that's par for the course in headphones.

Inside the package, you'll find a hard case, an old-school (useless) airplane adapter, a 42" 3.5mm stereo cable, and a USB C charging cable.
---
Hands-On with the EAH-A800
I just plain like these headphones. I'm not rationalizing or justifying anything. They're large, but lightweight. The look and feel are premium, even a bit luxurious. I like the style; they're comfortable while providing a proper seal thanks to the cushy pads.

This is not a technical review, given how I lack the means to take lab-quality measurements of headphones. But the cool thing about headphones is they are consistent, and they are not room-dependent. So if someone has a high-quality, calibrated measurement rig, I'm more than happy to rely on the results. So without further ado, if you want to see how these Technics measure, you'll find it at Soundstage! in Brent Butterworth's review by following this link.

Before getting into my subjective impressions, I have a few comments on the measurements from Brent's review. One of the most apparent qualities is how activating noise cancellation or ambient mode changes the frequency response. There's a close correlation between the response and the different modes and what you hear.

If you simply plug these headphones into a source, just a plain wired analog connection with no noise canceling, you get the flattest response. And the foundation here is a competent pair of headphones that ace the bass down to around 30 Hz, then start rolling off, but they do not give up; there's still response at 10 Hz, per Brent's chart.

Interestingly, when you go wireless, but you don't use ambient mode or noise canceling, the base response somewhat resembles the wired mode, but trouble response snaps into the same curve as when noise canceling or ambient mode are turned on.

It's reasonable to expect that someone buying noise-canceling headphones is buying them for noise cancellation. And this is where we see tuning that brings the response of the headphones closer to the classic V-shaped EQ that emphasizes bass and treble while scooping out a bit of the midrange. This "boom tizz" tuning appeals to casual listeners, even if it turns off audiophile purists.

In the Soundstage! charts you'll also see the comparative effectiveness of the Technics noise canceling versus the famous Bose QuietComfort QC45 and two other headphones. It's very close, even if it appears Bose has a slight edge with noise below 200 Hz. Above that, they trade place and the Technics suppressed highs better than Bose does.

My noise cancellation comparison is much more informal. Still, when comparing them to the incredibly effective Sony WH-1000XM4, I felt it would be splitting hairs to say one was that much better than the other, but Sony appears to have (still) a slight edge on creating ultimate silence. However, these Technics are significantly more comfortable.

Clearly, the tuning is designed to please bass lovers and electronic music fans who appreciate a bit of extra oomph, but not so much as to detract from the overall musical presentation. Everything sounds extra punchy and well defined, with an ability to deliver some moments of real excitement. Is it accurate? I'd have to say not quite, even in the corded mode. Running wireless and with noise canceling active, the EQ profile is clearly sculpted to produce a signature sound, and with it a tendency to exaggerate. Usually, we're talking euphonic (ear-pleasing) exaggeration, so it's easy to forgive.

The companion Technics Audio Connect app allows a surprising amount of fine-tuning, including setting the strength of the noise reduction.

Overall the sound delivered by these Technics may be a bit flamboyant, but it is not grating. Even with the aural fireworks, these wireless cans deliver hours of fun, fatigue-free listening.

And now, the part of the review where I show off my awesome taste in music... Just kidding! Look, the deal is this, I enjoy listening to my music collection through these headphones. There is a lot of electronica, reggae dub, hip hop, ambient, industrial, etc. in the collection. The point is, that I am not spending my time listening to classical, jazz, pop, etc.

Also, I'm not saying these headphones are in any way inappropriate for those styles. I've got a few albums picked out that I use as points of reference, for example, the percussion in The Hawk Talks of Duke's Big Four (Duke Ellington Quartet) which comes through these headphones with an energetic sound I've experienced in high-end audio show demos and full-size systems I have reviewed. Great stereo spread, the piano sounds rich, and you catch all the little subtleties behind the very front-and-center drums. And that standup bass puts out some air movement that you can sense; even if your body can't feel it, your ears perceive a "live" quality to the sound.

So, with well-recorded jazz, the sound is smooth, intimate, relaxing, and very listenable. And the drum solo near the end of the track tests both the cymbals and the kick drum at once, stretching to the outer edges of the headphones' audible response envelope.

What I'm really saying, is that they sound great with all music, but particularly so with the styles I do enjoy, most of which depend on clean, powerful-sounding bass to have an impact but also detailed and delicate highs that tease out the layers in sophisticated studio productions. For example, the works of Bassnectar. His latest album All Colors, is a psychedelic electronic trip chock full of synth pads, swells, bells, and of course, fat beats, huge drops, wobble, the works. It all sounds sublime through a pair of EAH-A800; they impart a grandeur to the proceedings that is appropriate to the music's style.

My point of reference for closed-back headphones is a pair of Audeze LCD-XC, which is a planar magnetic design. I use a Motu M4 as the DAC/amp, and my PC streaming Tidal lossless as the source. The comparison of interest is how this high-performance wired system compares to the wireless sound of the Technics.

When it comes to the LDAC function, you do need a compatible source. Fortunately, it's not a Sony-only technology anymore, and I have a Samsung Galaxy S21 Ultra that supports it. Ultimately, the LCD-XC is the better listening experience, it's better balanced and the bass is better handled. But the level of exhilaration the Technics deliver, without being tied down to my desk and at far lower cost, is nothing to sneeze at! And those cushy earpads are as comfortable as the Audeze, but the headphones are much lighter; it almost feels like they are not there at all.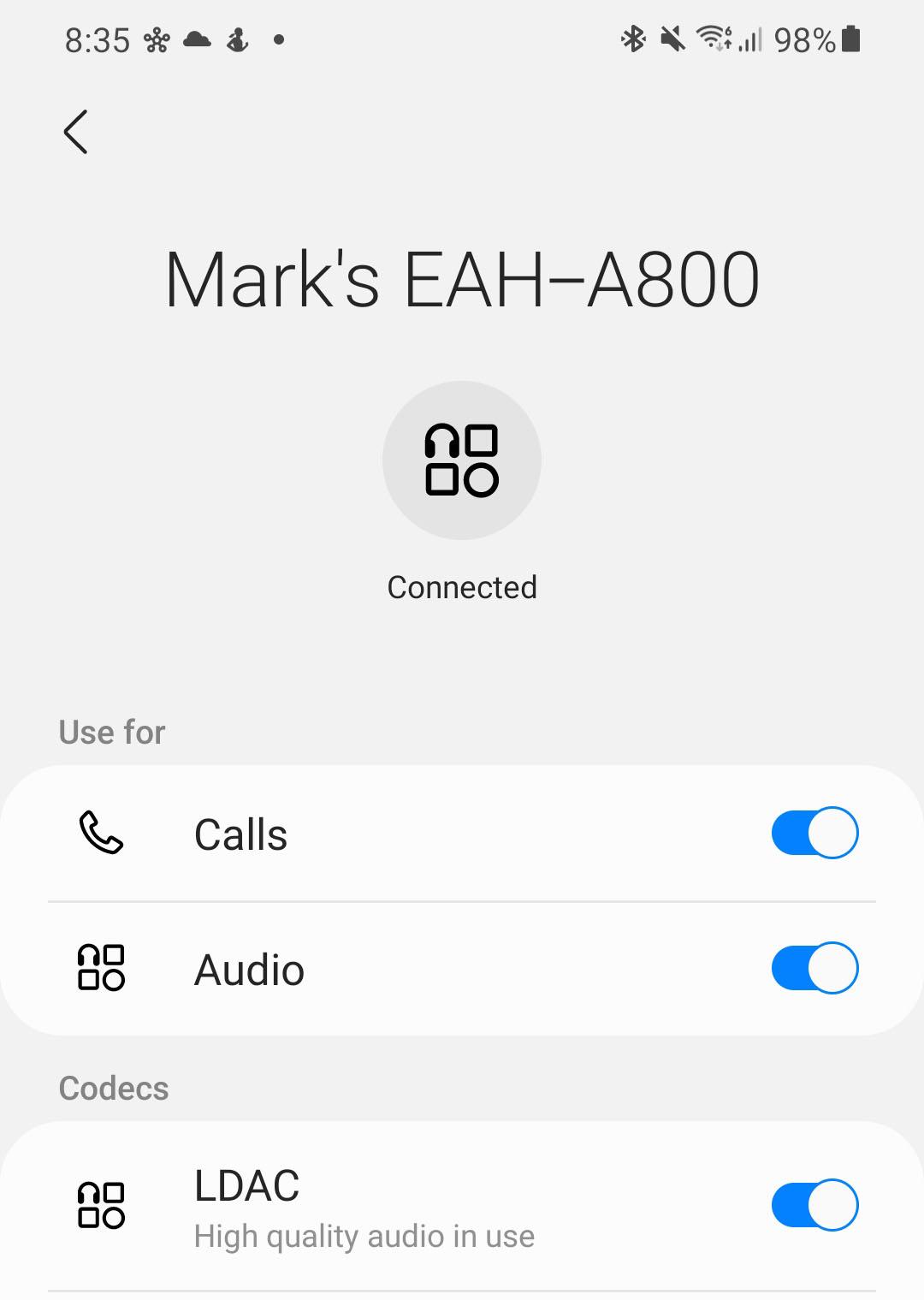 ---
Conclusion
Of course, like anyone shopping for premium noise-canceling headphones, I want something comfortable with long battery life—really long battery life that I don't have to think about— and that looks good. These Technics do all that, but it is the comfort that really got me. Because if I'm buying headphones that I'll use on a long flight, I don't want to reach that point where ear fatigue becomes distracting and makes me want to take them off, potentially exposing my ears to the sounds of babies crying and passengers snoring.
Moreover, I appreciate comfortable headphones with effective noise cancellation, even when nothing is playing. Sometimes I'll just wear noise-canceling cans for the silence. Anyhow, the point is that his headphones are astonishingly comfortable. Enough that, for me, the comfort factor alone could be the differentiator versus competitors.

But, what fun is it to listen to headphones if you don't enjoy how they actually sound. So here's the thing, I don't know if I'm picky when it comes to sound, or not. I'm not as obsessive as some audiophiles, that's for sure. And I don't know what you like, sound-wise. But I do know that the sound profile of these headphones—especially when running with noise cancellation turned on—is crafted to keep modern music sounding fresh and exciting.

I recommend trying out the Technics and comparing to the other top contenders like Apple AirPods Max, Bose QC45, Sony's 1000XM4 or the new 1000XM5, and the new Bowers & Wilkins Px& S2. With the Apple pair costing the most, they are all in the same ballpark regarding performance. IMO, there's a more than decent good chance the larger size earcups and cushier cushions of the Technics A800 are what make the difference. These are close to ideal full-size all-day headphones and a standout option in their price bracket.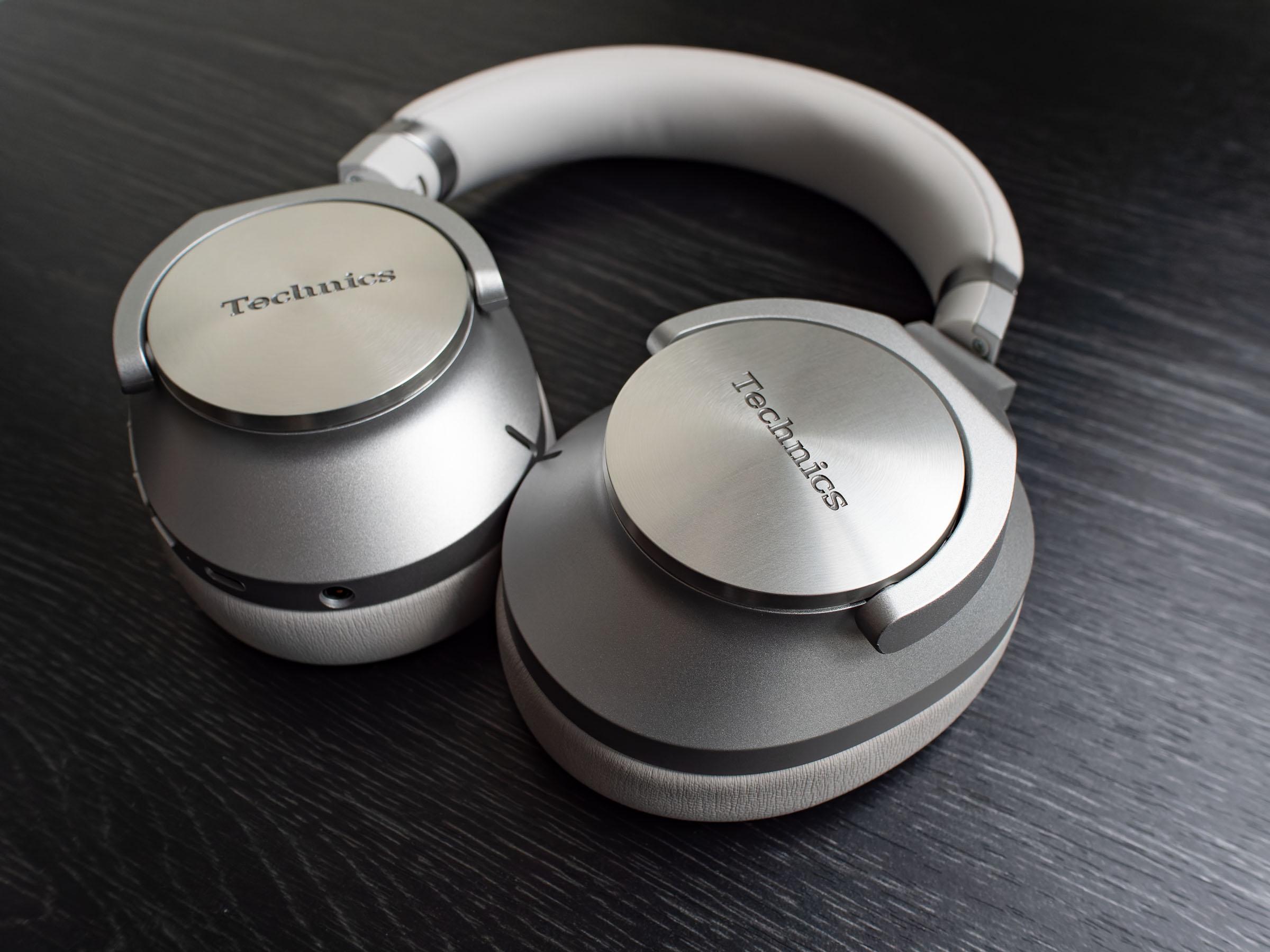 ---
Technics Technical Specifications
Dual Hybrid Noise Cancelling
Driver Unit (mm): 40 mm (1-9/16 in)
Impedance: 34Ω
Sensitivity: 105 dB/mW @1kHz
Frequency Response (Power ON): 4 Hz -40k Hz
Mic: Monaural, MEMS Mic
Playback Time with Battery (LDAC): Approx. 40 hours (NC ON), Approx. 50 hours (NC OFF)
Playback Time with Battery (AAC): Approx. 50 hours (NC ON), Approx. 60 hours (NC OFF)
Charging Time (25°C/ 77°F): Approx. 3.0 hours (Using the power source 1200 mA or higher)
Quick Charge (15 minutes, AAC): 10 hours (NC ON)
Standby Time: Approx. 60 hours (NC ON), Approx. 120 hours (NC OFF) *Auto power off : OFF
Dimensions (W x H x D): Approx. 6-11/16 inch x 7-11/16 inch x 3-3/8 inch
Weight: Approx. 0.657 lbs
Supplied Accessories: USB charging cord: Approx. 0.5 m (1.6 ft) (Input Plug : USB Type-A Shape, Output Plug : USB Type-C Shape), Detachable cord: Approx. 1 m (3.3 ft)
Bluetooth Wireless Technology: Bluetooth® Multipoint Pairing. Version 5.. Supported Profiles: A2DP, AVRCP, HSP, HFP. Codec: SBC, AAC, LDAC. Operating Distance: Up to 10 m (33 ft)