Edifier's new headphones, the WH950NB's, are a new competitor to the world of headphones which could give other similarly priced products a run for their money. Priced at a cool $179.99, the WH950NB's offers a headphone that feels like a premium product while also not breaking the bank.
The WH950NB's boast several impressive features which make using them a breeze. Ultra comfort, a sleek design, high quality and dynamic sound, solid noise cancellation, and incredible battery life all combine into a highly enjoyable and convenient listening experience.
High Points
Comfortability; Despite slight looseness at times, the WH950NB's offers listeners a very cushy feel while wearing, even during prolonged listening sessions.
A high-quality, dynamic sound range that captures the whole essence of what you're listening to.
Exceptional battery life of 34-55 hours.
Solid noise cancellation for the price point.
Low Points
A lack of codec support for Apple's native AAC forces iPhone users to use SBC.
Some confusion can arise from the multipurpose function of the buttons.
The mobile app can be somewhat intrusive with its product promotion; Also some unresponsiveness at times.
Design & Comfort
The WH950NB's slick, over-the-ear design, offers users a light, cloud-like headphone experience. The headphones come in two colors, black and white, and feature a minimalist design with a smooth matte finish where the headphones controls are stationed and a grainy-leather-like texture on the panels of each earphone.
The button controls themselves have a snappy and responsive feeling to them. Lastly, the headphones are collapsible, which makes storing them very easy and non-intrusive. The headphones ship with a zip-up hard shell carrying case lined with a gray cloth, which looks good and is convenient for storage.
The cushioning on the headphones is very comfortable, both on the ear pads and headband. It also helps that the headphones are very light, which when combined with the excellent cushioning makes it easy to wear these headphones for hours without any issues.
However, I do wish that the headphones had a slightly tighter clasp. I found that these headphones could feel a little loose when laying down and listening, or even when just reclining back, which was a minor, but relevant inconvenience.
Controls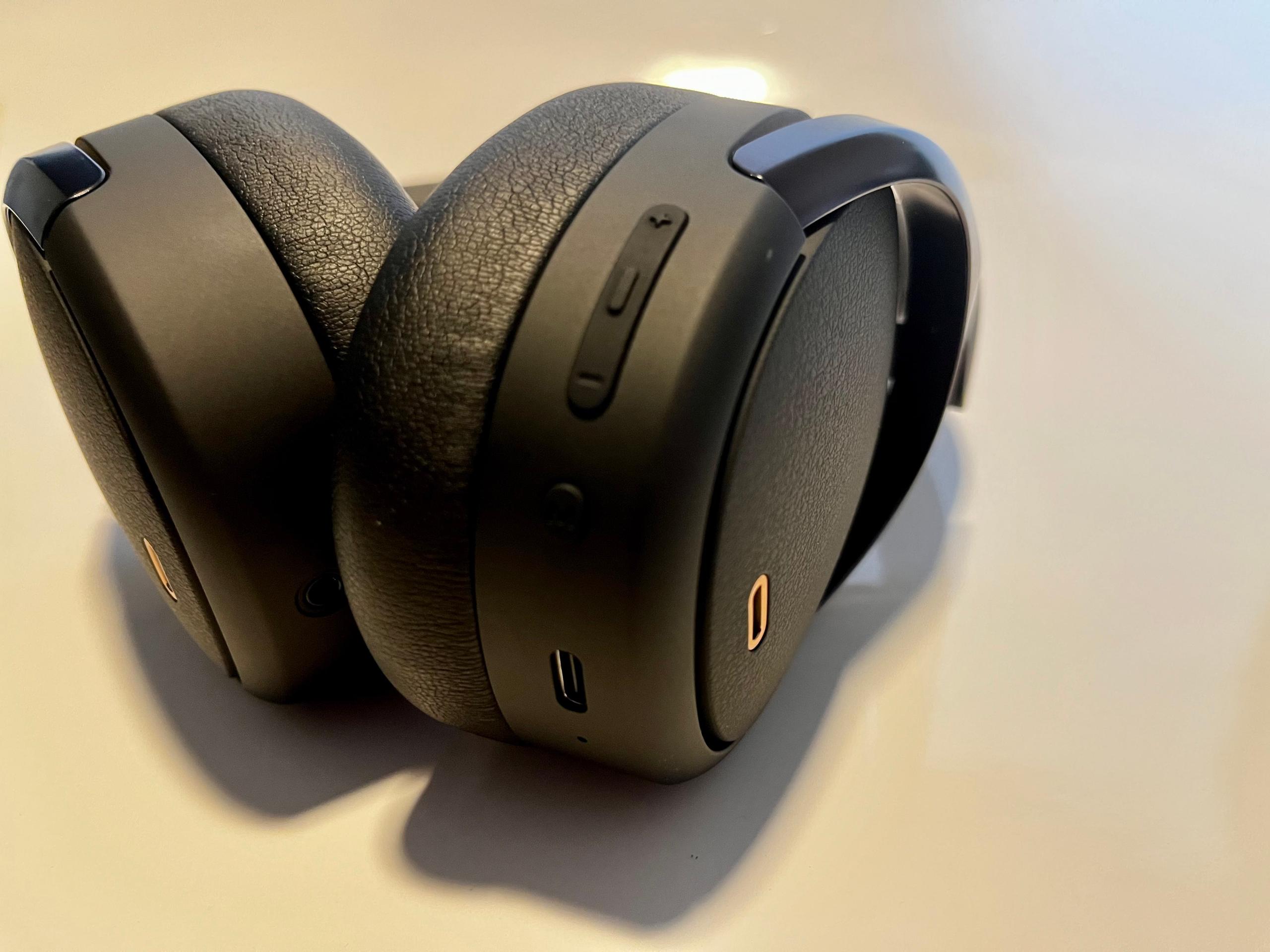 Another minor complaint I have about the WH950NB's is the controls. To keep the design simple, the headphones feature buttons which are multipurpose. This is fine, but it creates some inconvenience when trying to perform certain functions.
For example, there is one button that performs several key functions including powering on and off, pairing the headphones, and handling calls and playback. While it didn't take me long to get used to these functions, it was certainly a bit of a learning curve and might get frustrating to some listeners who want ease of use.

Alternatively, this issue can be fixed through the Edifier Connect app, which allows users to remove or add certain functions to buttons as they please.
Battery Life & The Listening Experience
The listening experience provided by the WH950NB's excels in multiple aspects. One, the aforementioned comfort that the headphones provide means that prolonged listening sessions become a breeze with these headphones. I am a prolonged type of listener myself, often wearing my headphones for 4+ hours at a time.
On that note, the battery life is another impressive part of the WH950NB listening experience. Edifier boasts an impressive 34 or 55-hour battery life with noise cancellation and without noise cancellation respectively.
This is a difficult metric to measure and verify, as there are a variety of factors that could affect this number, such as your listening volume. However, in my 3 days of testing, I have listened to 16+ hours of music, and in that time, I have not needed to recharge after the initial charge. This is a huge plus for a listener such as myself, who is big on convenience and requires long-term performance.
Noise Cancellation
The noise cancellation on the WH950NB's is solid. After testing some other headphones, such as the Bose QuietComfort 45's and the Sony XM5's, the noise cancellation on the WH950NB's isn't quite on par, but it's worth noting that both the Bose's and the Sony's are nearly doubly the cost of the Edifier WH950NB's. So for the price point, I would say the noise cancellation on these headphones performs well.
It mostly excels at blocking out lower-frequency sounds, such as an air conditioner hum, or, more importantly, the sound of a plane engine. I also tested the noise cancellation on outside chatter and other higher frequency sounds, which the WH950NB's blocked out fairly well.
There are multiple different noise cancellation options built into the headphones: high noise cancellation, mild noise cancellation, wind, ambient, and noise cancellation off. These features are controlled on the app, which I will get into later.
The Specs
The 40mm dynamic drivers which come built into the WH950NB's give listeners a frequency range of 20Hz to 40kHz to play with. If a wireless option is more your speed, the headphones use Bluetooth 5.3 and use LDAC and SBC codecs.

It does NOT support AAC or AptX. AAC is Apple's primary choice of codec, lacking any LDAC support. Meaning iPhone users, such as myself, must make do with SBC. Android users will get to utilize LDAC, which offers them greater sound fidelity.

There are also two ports on the headphones; one on each earcup. On the right earcup, a USB-C port for charging (a charging cable is shipped with the headphones), and the other, a 3.5mm connection, if wired listening is your preference.
Audio Performance: Music
Before getting into sound, it's worth noting that I used these headphones on an iPhone 13, so my audio experience may be different from an Android user who gets to use the higher fidelity LDAC Bluetooth codec. My editor tested with his Android, and confirms that LDAC improved clarity and made for a better listening experience across the board. Further, I made no changes to the EQ settings in the app, however, I did use both available presets (classic and dynamic).

For testing, I wanted to gather a variety of different styles of music to see the full capabilities of the WH950NB's. I think the aspect of sound that these headphones excel at is low-frequency sounds. Bassey tracks or tracks with a sub-bass sound very heavy and pronounced.

Happily, these sounds are not exaggerated to the point of muddying other aspects of the sound, which is a trap that I find other similarly priced headphones fall into. The higher-frequency sounds are also given room to breathe, and sound as crisp and bright as they should.

These headphones feature impressive low-end power and excellent high-mid clarity which leads to an overall very balanced and dynamic sound quality that works well for all kinds of music. Jazz albums like Max Roach's "We Insist!" feel appropriately rich and highlight the excellent balance these headphones provide. The vocals are never buried and have a pleasant clarity to them.

Overall, the WH950NB's offers an excellent and dynamic listening experience and doesn't sacrifice its balanced sound to exaggerate the bass.
Audio Performance: Voice & Video
The same praises which I gave the WH5950NB's about music can be said about making calls, joining voice chats, and watching videos. The built-in mic seems to work well and is very clear.
Competitors
Earlier I had mentioned the XM5's and Bose QuietComfort's, which I think do outperform the WH950NB's in most aspects, except sound and comfort. However, those models are nearly double the price of the WH950NB's, so what about more comparable models?
One model I looked at was the Sennheiser HD 450BT. Price point-wise, and feature-wise, these two models are quite similar. From my testing, it's hard to say which of the two had the better sound. I think the Edifier's may take a slight edge, but it is close. In terms of comfort, I am going to give it to the Sennheiser's. While both are comfortable, Sennheiser's seemed to be just a bit less loose.

Another aspect where the Sennheiser's may have a slight edge is its codec support, offering AAC and AptX, where the Edifier WH950NB's does not.

It is worth noting, however, that the Sennheiser's are slightly more expensive. And I think that the benefits it provides are marginal.

The Edifier App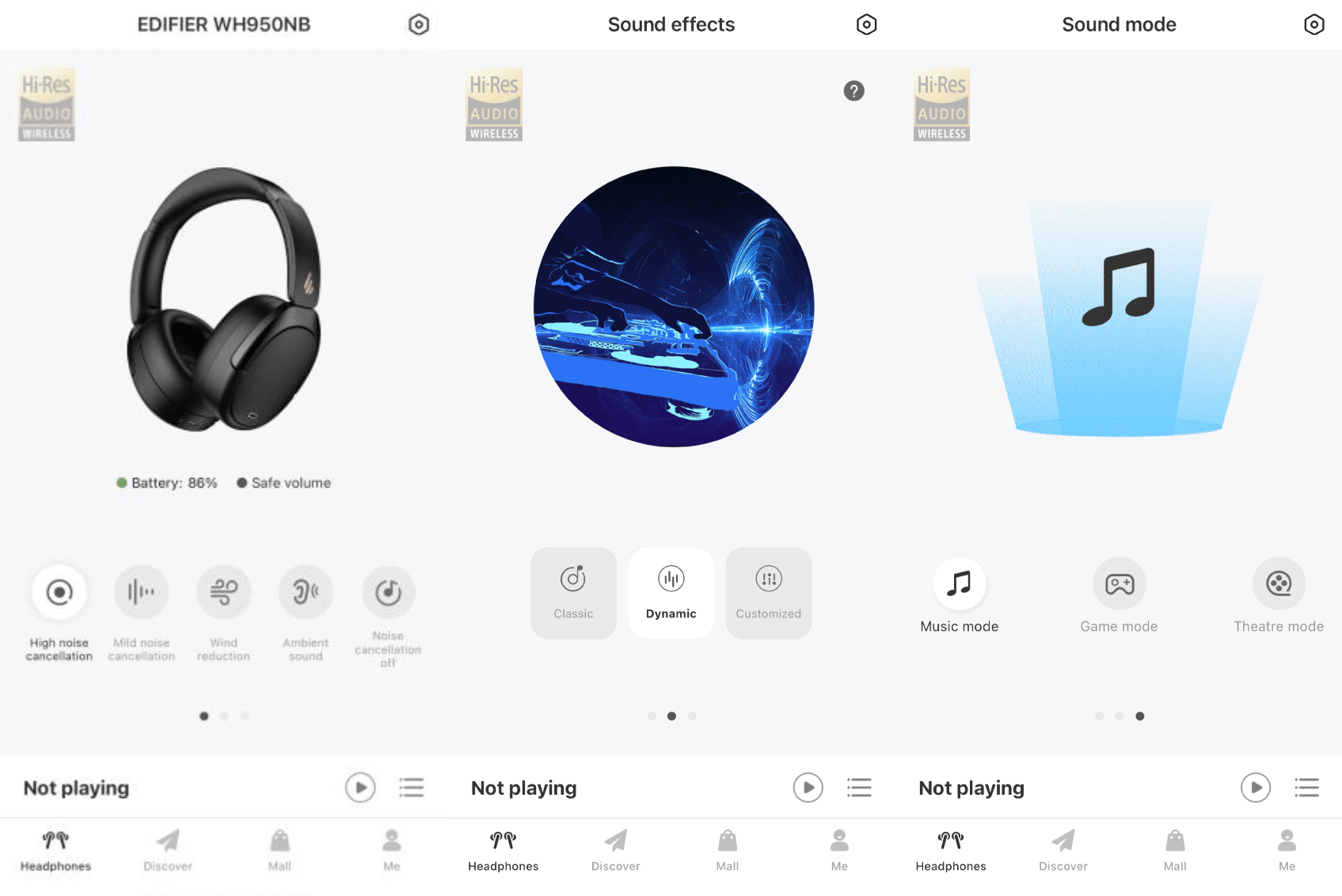 The Edifier Connect app is the app the WH950NB's uses. Available on both iOS and Android, the app is a mostly clean and straightforward one that is intuitive to use and user-friendly.
The app has several different features. The most notable of which is the different noise cancellation settings, the EQ settings, and the different sound modes you can switch between.
The noise cancellation, as mentioned earlier, can be swapped between 5 different settings: high noise cancellation, mild noise cancellation, wind, ambient, and no noise cancellation. High noise cancellation will give you a stronger noise cancellation than mild, while the others have more niche use cases. The ambient sound mode will give you an emphasis on speech and tweak your surrounding sounds accordingly.
The EQ settings come with just two defaults: classic and dynamic, with the option to adjust as you like with a custom setting. In the custom setting, you are given the opportunity to tinker with the frequency bands, although you are limited to simple tweaks. You cannot rewrite the sound signature.
Lastly, the different sound modes: music, movie, and game. As the names imply, each mode will optimize the headphones for those activities, giving the headphones some nice flexibility.

My only issues with the app are the redirecting links, which take you to other Edifier products, which can feel intrusive, and the swiping between different settings, which can sometimes feel unresponsive.
Conclusion
Overall, Edifier's WH950NB's offers listeners an affordable option for those who want a dynamic sound experience and comfort from their headphones. We highly recommend them for their strong battery life, impressive sound quality, and premium design which make the headphones a strong contender to consider for consumers on a mid-price budget.

If you have more money to spend, then there are options that offer additional features. But if you are looking for a headphone with solid audio performance and comfort without breaking the bank, then give the WH950NB's strong consideration.
Where to buy