For thousands of attendees, the hi-fi trade show AXPONA is a bit like Disneyland: If you do some research and arrive with a plan, you can have the time of your life. But if you show up unprepared, it's easy to get overwhelmed.
HomeTheaterReview checked in with industry experts to learn about the products that will be exhibited this year—and to get tips on how to have a fun, productive and educational visit to this enormous show. Officially titled Audio Expo North America, this massive event is open to the general public and takes place April 14–16 at the Renaissance Schaumburg Hotel & Convention Center in Schaumburg, Illinois. (Ticket information is posted at the AXPONA site.)
This year's show will feature 500+ exhibitors and brands, along with more than 200 interactive listening spaces, plus seminars, master classes, concerts and a record fair for vinyl LP collectors.
According to Liz Miller Smith, event director for AXPONA, more exhibitors have registered this year than ever before. The event was not held in 2020 or 2021 due to the pandemic, but it returned in robust fashion in 2022. "Ticket sales are tracking ahead of where we were at this point in 2022, so we're very excited and expecting a big crowd," Smith said during a March 27 Zoom chat.
About 7,500 unique visitors reportedly attended last year, which helps explain why AXPONA bills itself as "North America's largest event for audiophiles, manufacturers of high-end audio equipment, musicians and music lovers."
Among the iconic brands scheduled to be on display this year are ATC, Audio-Technica, Bowers & Wilkins, Focal, JBL, KLH, Mark Levinson, McIntosh, MoFi Electronics, Shunyata, Technics and Yamaha.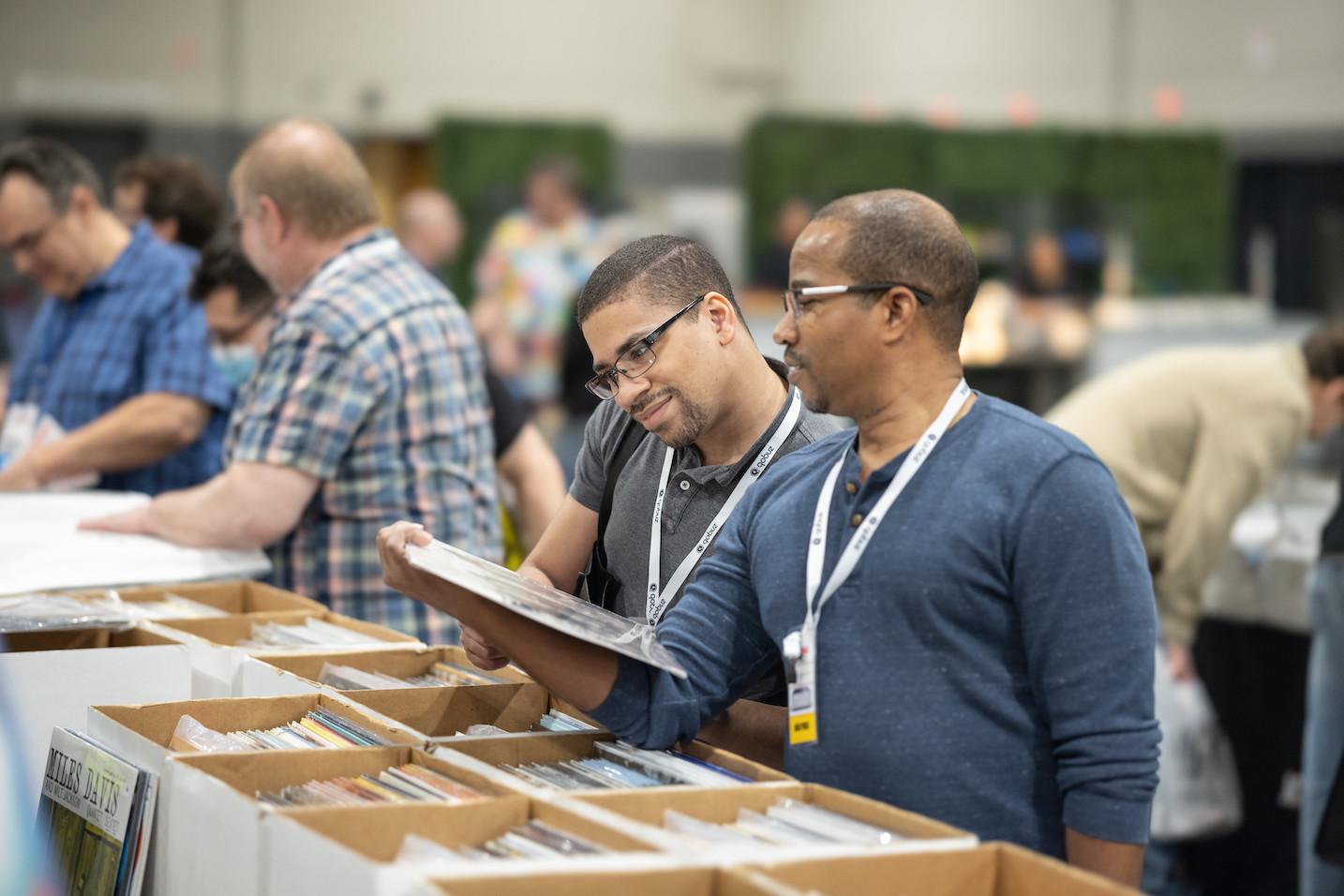 The sprawling event is held in two connected buildings (a convention center and an adjoining hotel). Attendees can explore the Expo Hall, the Ear Gear Experience and 12 floors of hotel rooms that have been converted into audio showrooms.
AXPONA veterans will be familiar with a tip that Smith alluded to in an AXPONA YouTube video. In the Renaissance Hotel, attendees should take an elevator to the uppermost floor that interests them. Then, as they stroll from room to room, they can use a stairway to walk from an upper floor to a lower one, thus avoiding the wait for a crowded elevator.
In addition to the famous Record Fair—which will attract vinyl collectors from around the globe—the Expo Hall will feature turntables, tonearms, phono cartridges, racks and other accessories.
The Ear Gear Experience has stations where fans can sit down to try out a diverse selection of headphones (from brands such as Audeze and Sennheiser), as well as amps, cables and other products designed for personal listening.
Have Audio and Video Fun with SVS
Ohio-based SVS will have two rooms at AXPONA, with one dedicated to what it calls an "Immersive 5.2.2 Dolby Atmos Home Theater Demo." This room will be one of the few video-centric spaces at AXPONA, and the setup will include two Prime Elevation speakers, which were included in the 2022 article "Best Dolby Atmos Speakers."
The second SVS room, titled a "Two-Channel Modern Audiophile System Demo," also will include products that have earned honors from HomeTheaterReview: the Prime Wireless Pro Powered Speakers (HTR Editor's Choice) and the 3000 Micro Subwoofer (HTR Best of the Year), as well as the Prime Wireless Pro SoundBase streaming integrated amplifier and the SVS Ultra Bookshelf Speakers. For display purposes only, SVS will be showing the new 3000 In-Wall Subwoofer.
Gary Yacoubian, who serves as SVS president, CEO and managing partner, shared an analogy that illustrates his company's philosophy. "I love going to an auto show, and if there's a Ferrari or a Lamborghini on display, it's fun to see," he said. "Now, the vast majority of people are not in the market for a Ferrari or a Lamborghini, and they're not going to buy one. But what if we could show you an aspirational product, like a Ferrari or a Lamborghini, but it is something actually within reach of a normal person? And that's really what we try to do—create aspirational products and experiences that are within reach of a normal person."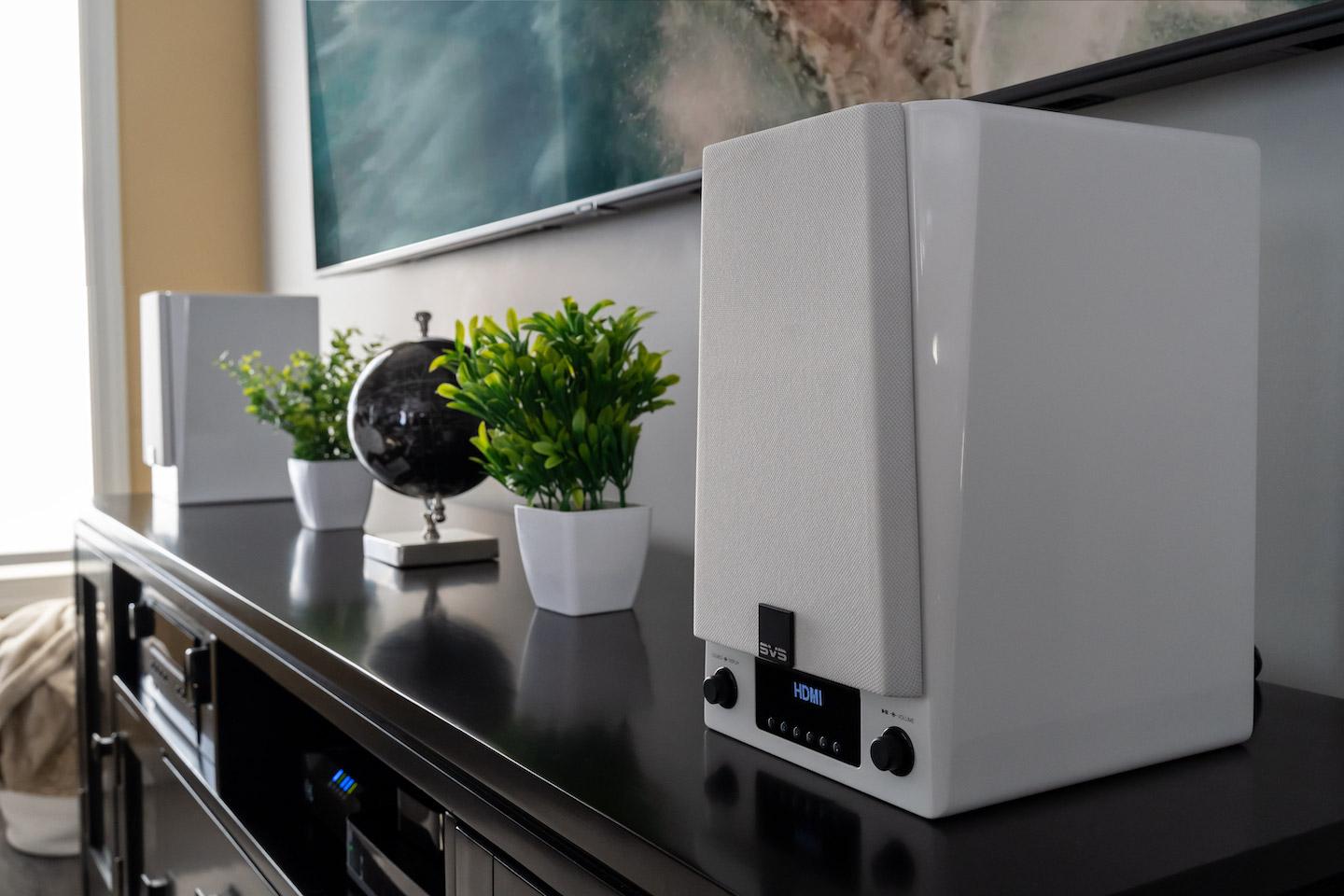 Nick Brown, SVS vice president of marketing, explained that SVS demo rooms have an atmosphere that encourages socializing. "There's a lingering stigma that audiophile culture is a bit stodgy, and people take themselves maybe a little too seriously, and you walk into some rooms and you gotta be perfectly silent," he said with a chuckle. "But when we do it, we're having fun. We're playing Beyoncé. Part of what differentiates SVS is that we truly want you to come to our room, hang out, and have fun. This can be something where you're engaging with other people or your family members."
Yacoubian and Brown have participated in many trade shows, including High End Munich, so they have compiled numerous ways to help attendees have a great experience.
Yacoubian, for example, offered a tip for attendees who might not have an emotional connection to a track being played during a demonstration: "A good approach is to let the [exhibitor] show you their product with some demo that they chose. Then, request a demo that you're more familiar with—if you weren't familiar with that first one. The typical demo is what we call a controlled demo, meaning that it illuminates this or that attribute of the product. We really try to do that. And so does pretty much everyone who exhibits at AXPONA. So, after [an exhibitor] has had their chance to shine a light on those attributes, then you say, 'Hey, I want to hear this with the Eagles,' or whatever track you want to hear."
Get 'Sound' Advice
Bryce Allan, retail account sales manager for The Sound Organisation, also offered advice to help attendees get the most out of the show. "It's wise to make a short list of the things that are important for you to see," he said. "One wonderful thing about this show is you will get to see some amazing things that [brick-and-mortar] stores either don't profile or have yet to profile. You can see five rooms in pretty quick succession and go, 'I really like what that guy was saying. He was speaking my language and understood what I was trying to do.' So, I [recommend that you] come with your questions, as well as an expectation of hearing the music that you'd love to hear."
Based in Texas, The Sound Organisation imports and distributes numerous brands that will be on display at AXPONA, including Chord Electronics, Fyne Audio, Rega and Spendor. Allan pointed out that novices can get confused due to the fact that two company names begin with the word "Chord." The Sound Organisation handles Chord Company cables, which are made by a different manufacturer than Chord Electronics, which makes amplifiers, DACs, upscalers and other products.
Allan highlighted a couple of U.S. debuts that he will be involved with at AXPONA: "We're going to be launching the Fyne Vintage series and the Classic series [of loudspeakers]. So, these are brand-new in America, and haven't been seen or listened to before in this part of the world. We will have the Vintage Twelve and the Classic VIII."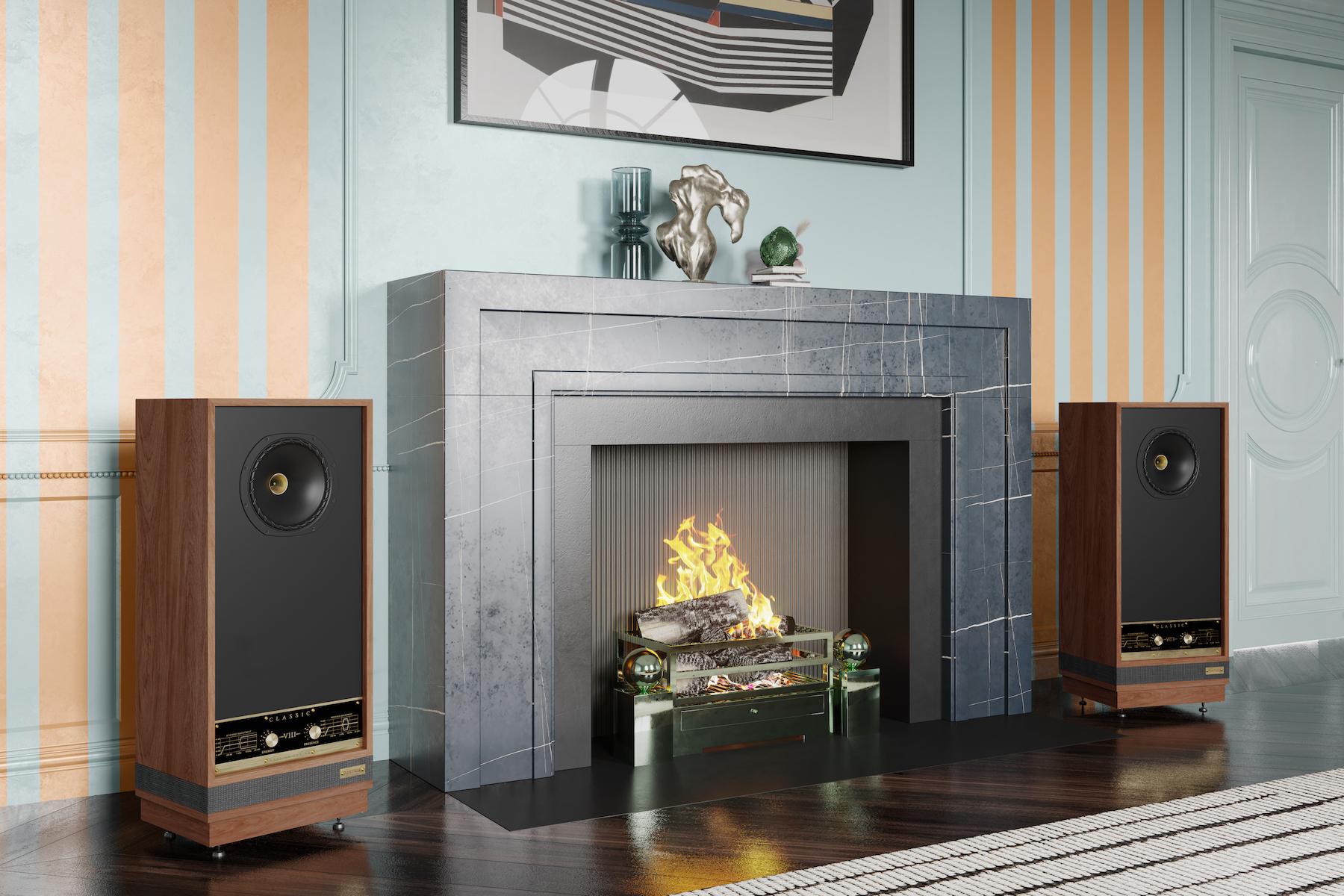 The Fyne Vintage Twelve is a two-way speaker with a 300mm IsoFlare point source driver and a multifiber bass/midrange cone, with a 75mm titanium alloy dome compression tweeter and a neodymium magnet system. This speaker offers an elegant aesthetic, with natural wood veneers wrapping the birch ply cabinets.
The Fyne Vintage Classic VIII, meanwhile, is a two-way speaker with a 200mm IsoFlare point source driver, a multifiber bass/midrange cone, FyneFlute surround technology with a 25mm magnesium dome compression tweeter, and a ferrite magnet system. Underneath the grille is the slogan "Made in the UK," as well as analog control knobs labeled "Energy" and "Presence."
One established, award-winning product on display will be Chord Electronics' Hugo M Scaler, an upscaling device containing an advanced digital filter. "An M Scaler is very hard to explain, but easy to listen to," Allan quipped. "You're going to have to hear it to judge whether it's worth it to you. Almost half of the people who have bought [a Chord Electronics] DAC are buying the M Scaler component, too."
Listen to Perlisten
A relatively new company that made its AXPONA debut in 2022 will return this year, but with a much higher profile. Wisconsin-based Perlisten Audio was founded in December 2020. At last year's show, CEO Dan Roemer fielded questions from attendees who had flown in from Singapore, Las Vegas and Denver. He recently reminisced about one particular customer he spoke to at length.
"We had a lot of guys that were coming back [to the Perlisten room] repeatedly," he explained. "One fellow said, 'I do a sweep the first day [of AXPONA]. Then I refine it to a top five brands, and then I refine it to a top two. You're in my top two.' It was us and Magico. And he kept going between the two rooms, trying to convince himself which one he preferred."
Roemer, who has been in the industry for decades, expressed excitement about the dramatic, well-earned increase in brand recognition that his company has enjoyed. Today, Perlisten products can be found in more than 40 countries.
"Last year at AXPONA, the number of people walking in our room who knew who Perlisten was, I'd say it was 30 percent, maybe a little more," Roemer recalled. "But at [the 2023 Florida International Audio Expo], it was about as high a percentage as you can imagine. So, in that one-year period, things changed a lot. We've been going to these shows, and the press has given us great exposure."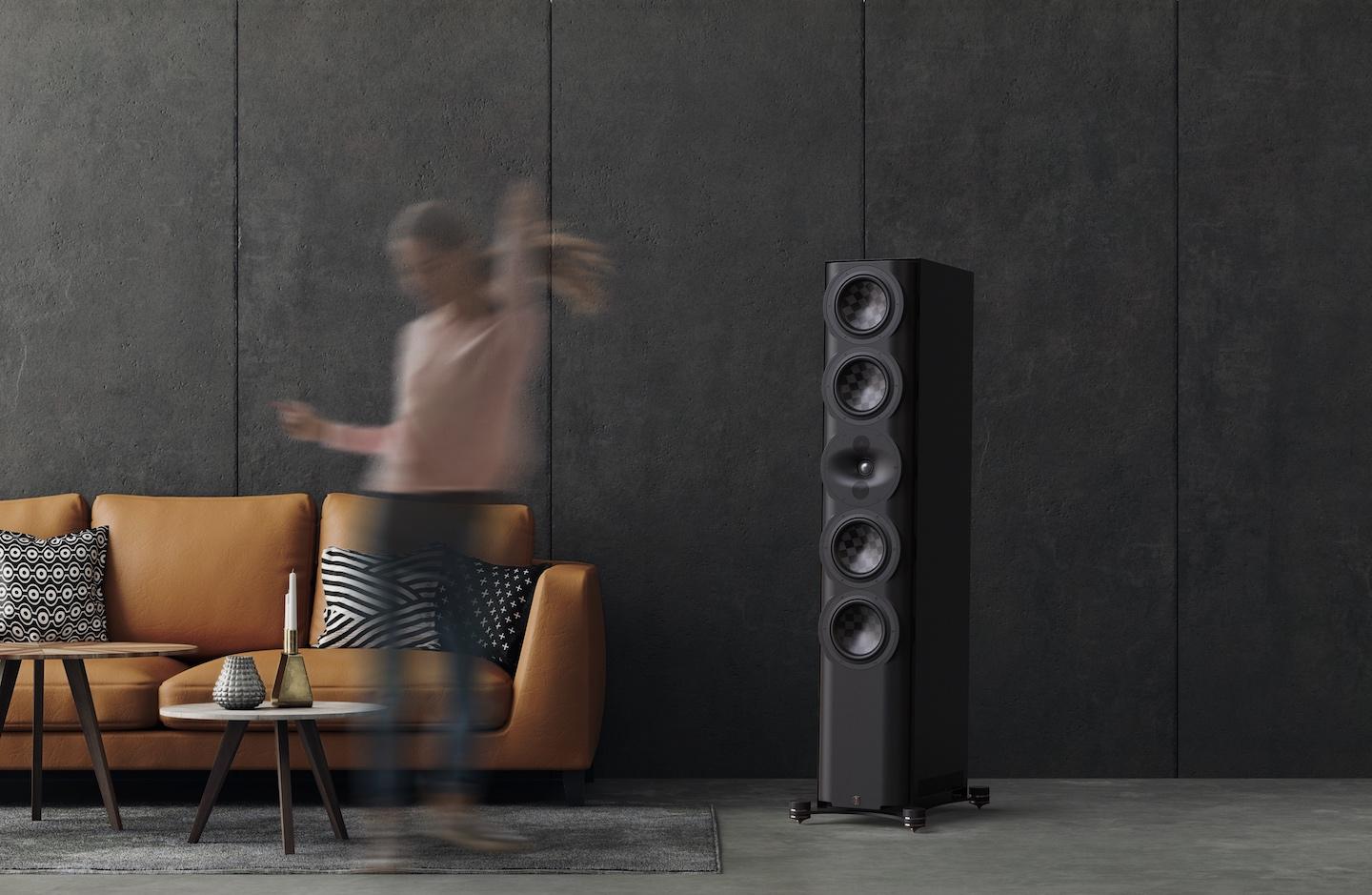 The two Perlisten rooms at this year's AXPONA will showcase the S7t tower loudspeakers, the R5m monitor speakers and the R210s subwoofers. The S7t is a four-way bass reflex/acoustic suspension model. Perlisten earned bragging rights with this honor: The S-series speakers are the world's first and only loudspeakers to be certified for THX Dominus.
In a different price class, the R5m (part of the R-series) is a three-way bass reflex/acoustic suspension model. It will be placed on an optional stand at AXPONA, but it also can be mounted to a wall with a tilt swivel bracket.
Perlisten is distributed by Fidelity Imports, so it makes sense that its AXPONA rooms will include other Fidelity-distributed gear, such as an Audia Flight FLS 10 integrated amplifier, a Michell Audio turntable, a Gold Note integrated streamer and NEO racks.
Roemer said that he and his engineering colleagues are eager to answer attendees' questions and to explain recent technological developments.
"First and foremost, we want people to enjoy the experience, and that's in the DNA of our brand," Roemer said. "There have been a lot of advancements in science and in our ability to create higher-performance features that simply didn't exist five or six years ago. What we can do now is really a whole new state of the art. As an engineering-based company, Perlisten is developing cutting-edge products with a whole different [approach]."
Meet the Newcomers
More than 25 manufacturers and dealers will be first-time exhibitors this year. This extensive list of AXPONA newcomers includes Alex Sound Technology, Alma Audio, AM Belgium, American Audio and Video, ampsandsound, Audio Craftsmen, Audio-Ultra, Gestalt Audio Design, Grimm Audio, Just Audio, LCH Audio, Linn and Michell Audio.
Also slated to make their first visits are Monarch Systems, Nexus Audio Technologies, Phillips Design, Phonia, Plinius Audio, RAAL-requisite, Seawave Acoustic, Serhan Swift, Theoretica Applied Physics, Tom Christiansen Audio, Treehaus Audiolab, Volumio, Wathen Audiophile and others.
Customers who are drawn to luxury gear will be excited to see products from Linn, including the Klimax DSM network music player and the Klimax LP12 turntable. In an AXPONA press release, Linn Brand Manager Joe Rodger said, "Linn will be leaving our home in the Scottish countryside and crossing the pond to attend AXPONA for the very first time in this, our 50th anniversary year!"
Based in the Netherlands, Grimm Audio has won acclaim for its LS1be loudspeakers and its MU1 streamer. The company also makes master clocks, cables and a line of professional gear.
John-Paul Lizars, Grimm Audio's director of sales for North America, issued this statement: "For years AXPONA has proven to be the audio show others are judged against. Its location, facilities and attendees are first-rate and why Grimm Audio chose AXPONA as the venue for its North American debut."
Elsewhere, Cube Audio (of Poland) will be displaying its Jazzon speakers, and California-based Zesto Audio will showcase the Eros 500 Select monoblock amplifiers (with KT150 vacuum tubes).
Gain Some Wisdom
This year's AXPONA will include 19 events that are either seminars or Master Classes. Attendees who are curious about streaming high-resolution audio will want to check out the seminar "Streaming Made Straightforward" on April 15 at 11:45am.
This session will be presented by David Solomon, chief hi-res music evangelist at Qobuz, and Rob Darling, director of strategy, third party partnerships, at Roon Labs. These experts will clarify how to get started streaming, explain the options available, and answer questions.
On April 15 at 2:30pm, Bill Leebens, CEO of Leebens Marketing & Management, will moderate a session titled "Speaker Design: Outside and Inside the Box." The scheduled panelists are Chris Brunhaver (PS Audio), John Devore (DeVore Fidelity), Andrew Jones (MoFi Electronics), Steven Norber (PranaFidelity) and Richard Vandersteen (Vandersteen Audio).
End Each Day with a Concert
During the 2022 AXPONA, one highlight was jazz singer Anne Bisson's session in which she played a rough, unfinished mix of a future project. She asked listeners to provide critiques, explaining that these comments would inform how she crafted the final mix of the recordings. It was a fascinating presentation that illuminated one artist's view on the mixing process.
Bisson will be back at AXPONA this year, performing a full concert on April 14 at 8pm. AXPONA concerts are open to all attendees, and there is no additional admission fee.
The concert on April 15 at 8pm will feature acoustic singer-songwriter Amber Rubarth, who has performed at Carnegie Hall, released numerous albums, and appeared in the film American Folk.
Bring Your Friends
Whether fans come for the concerts, or the Record Fair, or to get their hands on premium electronics, one common interest unites them. "If you love music," AXPONA's Smith said, "and you want to hear it really like your favorite artist intended it to be, then come to the show, and you are going to be blown away."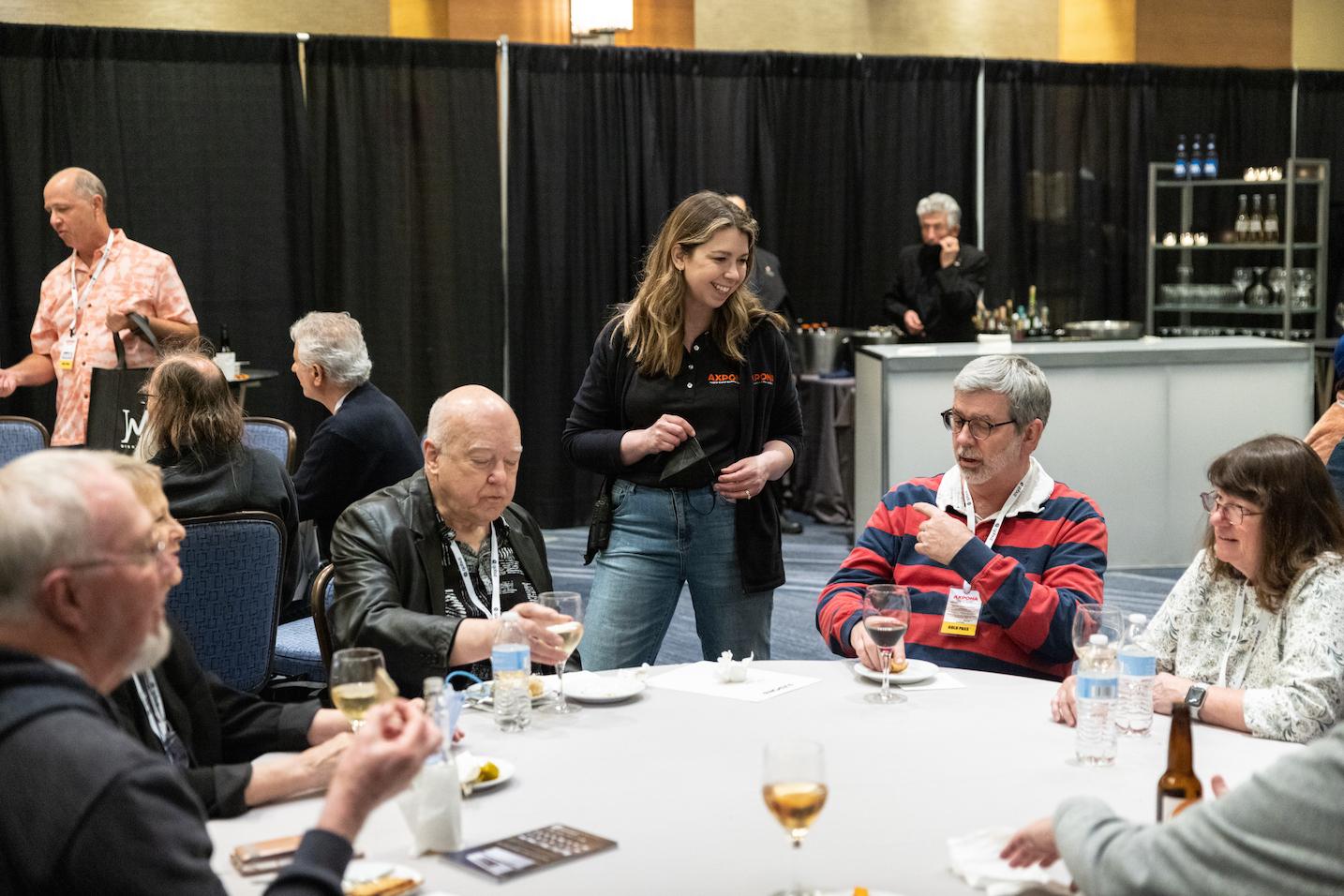 Every industry insider that HomeTheaterReview spoke to for this article expressed a desire to attract new fans to the hobby of high-performance audio. The Sound Organisation's Allan said, "No matter if it's kayaking, rock climbing, stamp collecting or if it's audio, if you're passionate about the thing, you want to share the love of it with people close to you. It would be amazing to take three of your friends to AXPONA and expose them to the coolness that you are into."
Get the App
The AXPONA mobile app can save attendees lots of time and frustration. (After all, no one wants to get lost in a huge hotel.) Fans can visit axpona.myshowapp.com and click "My Account" and "I can't find my access code" to enter an email address and get a code sent to them. Once logged in, they can plan their itinerary and "like" exhibitors and seminars.
When folks are staring at their phones at AXPONA, it's often because they're figuring out where they should go next. With so much equipment on display, a little bit of planning will go a long way toward the goal of having a truly memorable time at the show.