The holiday season is on the horizon, and Black Friday is shaping up to be a treat for audio enthusiasts and home theater devotees with incredible deals on high-performance AV receivers.
Whether you're planning to upgrade your existing home entertainment system or immerse yourself in the world of top-notch audio for the first time, the discounted prices on these models are too enticing to ignore. Here are eight exceptional Black Friday AV receiver deals that promise to deliver immersive sound and elevate your home entertainment to the next level.
Black Friday AV Receiver Deals - Quick Overview
Original Price: $449.00
Discounted Price: $299.00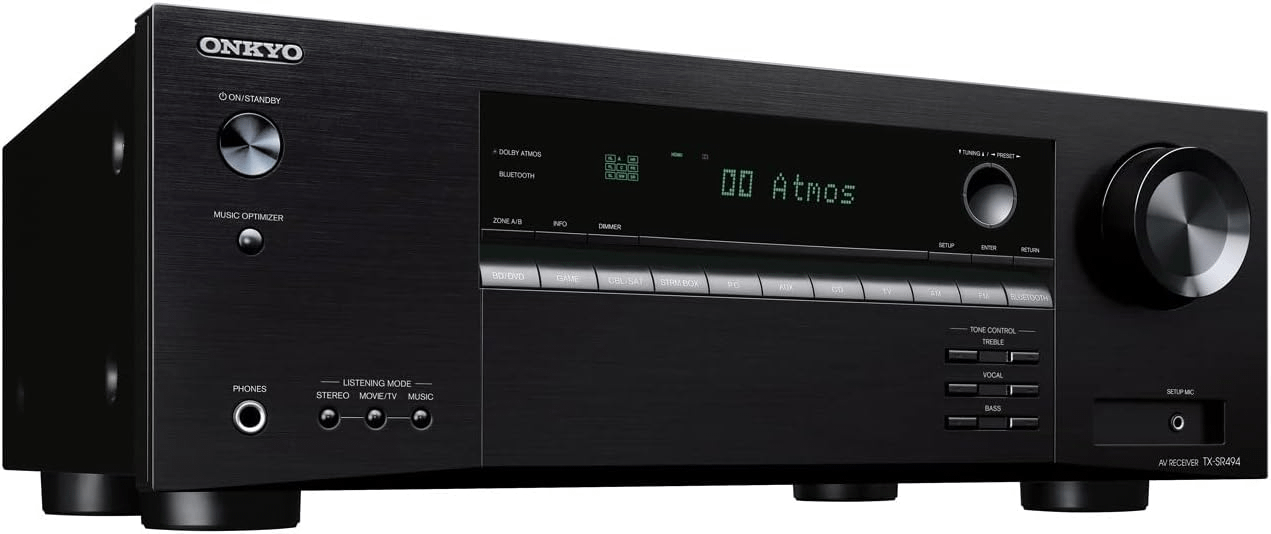 Boasting seven channels of high-current power, the Onkyo TX-SR494 receiver provides the flexibility to choose a speaker layout that suits your preferences. Dive into the heart-pounding thrills of Dolby Atmos and DTS:X soundtracks, while the Dolby Atmos Height Virtualizer and DTS Virtual:X technologies add an overhead dimension to your audio experience.
The TX-SR494 supports HDR and 4K/60p video, making it a perfect centerpiece for your home theater. With smart features like Bluetooth wireless streaming, AccuEQ with subwoofer EQ, and AccuReflex for 5.2.2-ch Dolby Atmos-enabled systems, this receiver ensures both great sound and ease of use.
Original Price: $899.99
Discounted Price: $598.00

The Sony STR-AN1000 is a 7.2-channel A/V receiver that delivers 165W per channel, providing a powerful and dynamic audio experience. With 8K and 4K/120 HDMI connectivity featuring HDMI 2.1 support, this receiver supports leading HDR formats like Dolby Vision, HDR10, Hybrid Log Gamma, and IMAX Enhanced.
The "Works With Sonos" feature allows seamless integration with your Sonos system, and with Bluetooth, Wi-Fi, Chromecast built-in, Spotify Connect, and Apple AirPlay, you have a variety of options for streaming your favorite music. The graphical interface and Digital Cinema Auto Calibration IX make setup a breeze, and Zone 2 & Zone 3 provide flexible, multi-zone distribution capability for a customized audio experience.
Original Price: $1,199.00
Discounted Price: $721.60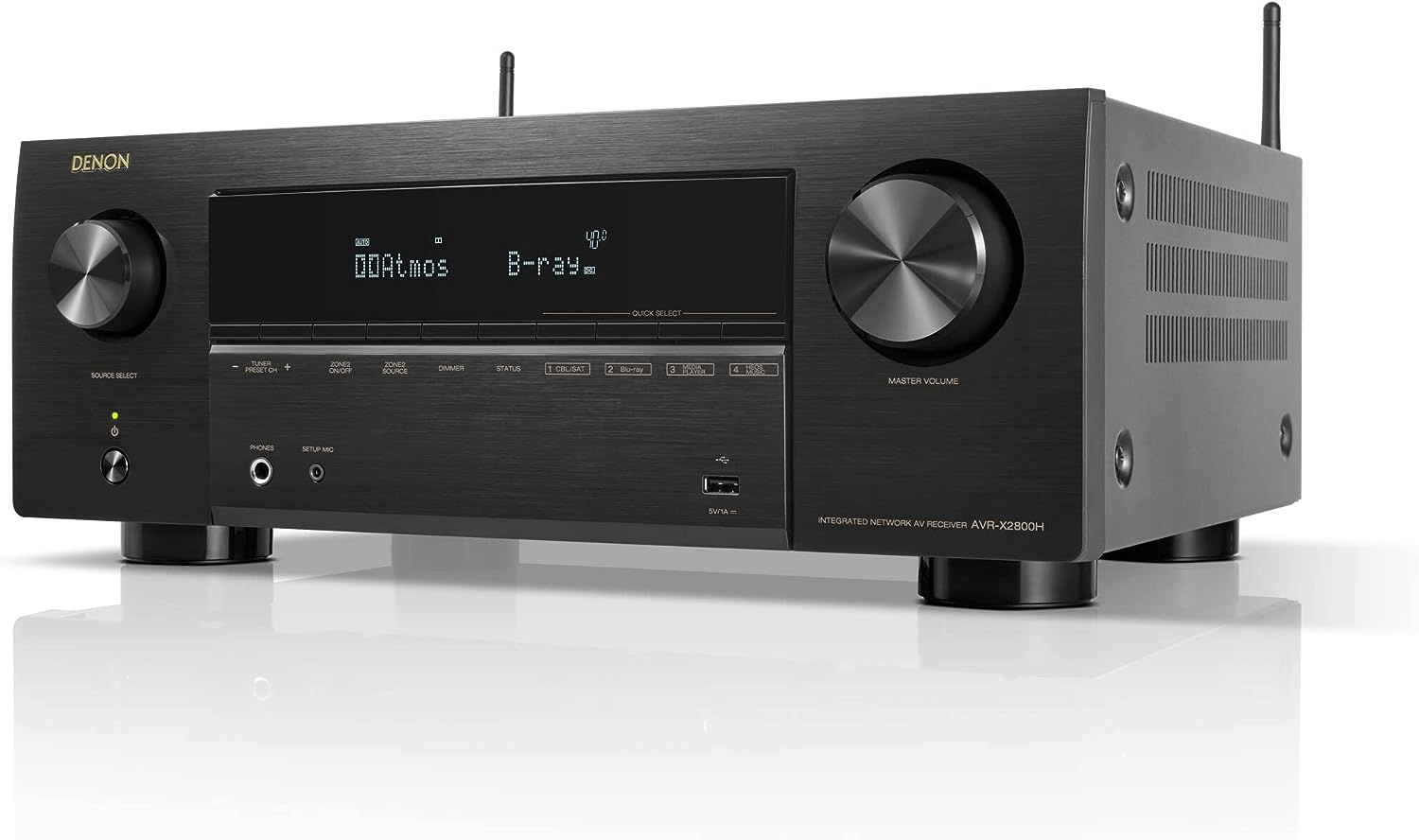 Elevate your home theater experience with the Denon AVR-X2800H. This 7.2-channel receiver, geared for 8K, supports 3D audio with Dolby Atmos and DTS:X. With 8K/60Hz pass-through, HDCP 2.3, and eARC support, the AVR-X2800H ensures pristine video and smooth animations. Dolby Height Virtualization and DTS Virtual:X create overhead sound without the need for height speakers.
This receiver offers a comprehensive range of connectivity options, including 8 HDMI ports (3 supporting 8K), analog and digital inputs, USB, and dual subwoofer outputs. The built-in HEOS technology allows you to create a multi-room surround sound system, and the on-screen HD GUI setup assistant makes installation a breeze.
Original Price: $749.95
Discounted Price: $539.95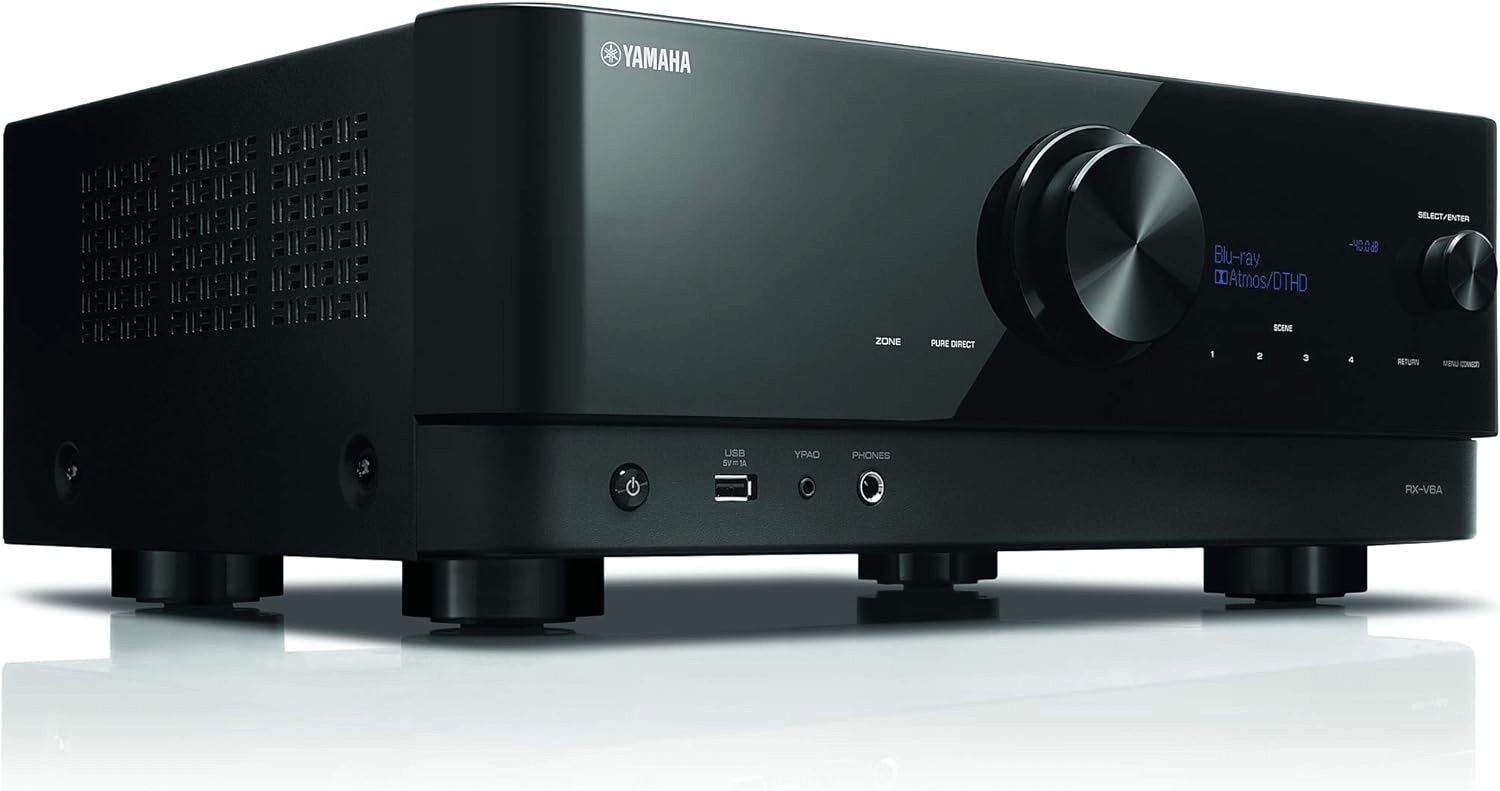 The Yamaha RX-V6A boasts HDMI 2.1 with HDCP 2.3 and eARC, supporting 4K60, 4K120AB, and 8K60B. Enjoy a seamless streaming experience with Wi-Fi, Bluetooth, AirPlay 2, and MusicCast multi-room capabilities. With voice control options including Alexa, Google Assistant, and Siri via AirPlay 2, the RX-V6A offers unparalleled convenience.
Immerse yourself in Dolby Atmos and DTS:X audio, and experience stunning visuals with Dolby Vision, Hybrid-Log Gamma, and BT.2020 support. The YPAO - R.S.C. and multipoint calibration ensure optimal audio performance tailored to your room.
Original Price: $445.30
Discounted Price: $356.99

If you're seeking a modern, slim stereo receiver that delivers high-resolution sonic perfection, the Marantz NR1200 is the ideal choice. With a high-current discrete power amplifier and 75W of power per channel, this receiver provides superior audio quality to your choice of loudspeakers.
Its compatibility with the latest HDMI connectivity ensures an impactful home theater experience on your 4K Ultra HD TV. The hands-free operation allows you to command your favorite voice control agent, be it Amazon Alexa, Google Assistant, or Apple Siri. Additionally, the user-friendly setup assistant makes the installation process a breeze.
Original Price: $379.00
Discounted Price: $297.46

For an immersive audio experience, consider the Pioneer VSX-534 with DTS:X playback and Dolby Atmos support. The Bluetooth compatibility allows seamless connection to your phone, tablet, or PC, making it easy to stream your favorite content.
Dolby Atmos Height Virtualizer creates a virtual surround and height effect without additional speakers, while the personal preset feature lets you save and recall your preferred settings. With range control, you can make independent volume adjustments, enhancing your movie-watching experience.
Original Price: $499.00
Discounted Price: $299.00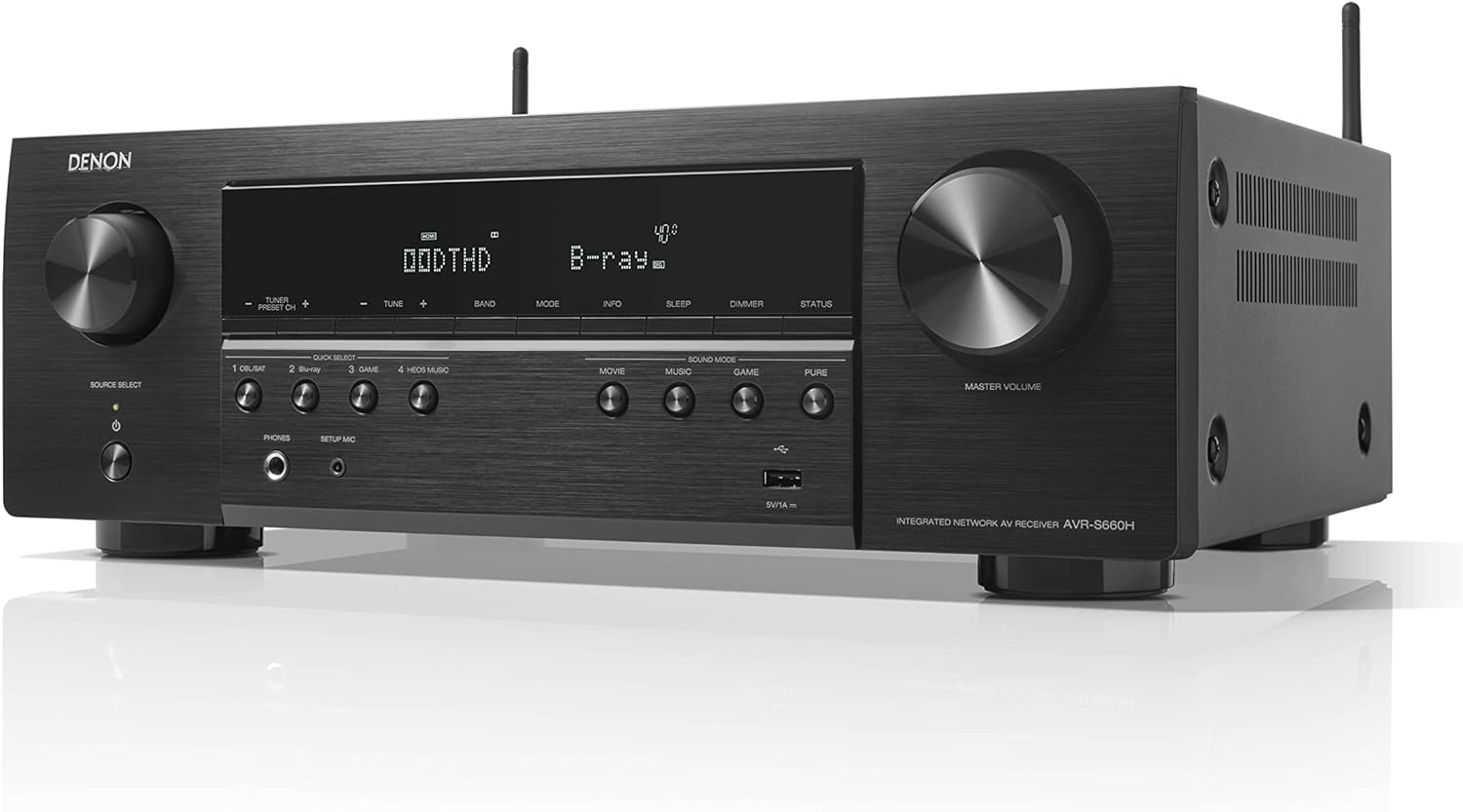 Step into the future of home theater with the Denon AVR-S660H, an 8K-ready 5.2 channel AVR. This receiver supports 8K video and the latest 3D audio formats, providing exceptional color and clarity. Gamers will appreciate the seamless, lag-free gaming experience with features like Variable Refresh Rate (VRR), Quick Frame Transport (QFT), and Auto Low Latency Mode (ALLM).
The multi-room audio technology with HEOS built-in allows you to extend your music to any room in the house via Wi-Fi, Airplay, or Bluetooth. Full voice control compatibility with Alexa and other major voice agents adds another layer of convenience.
Original Price: $799.00
Discounted Price: $492.14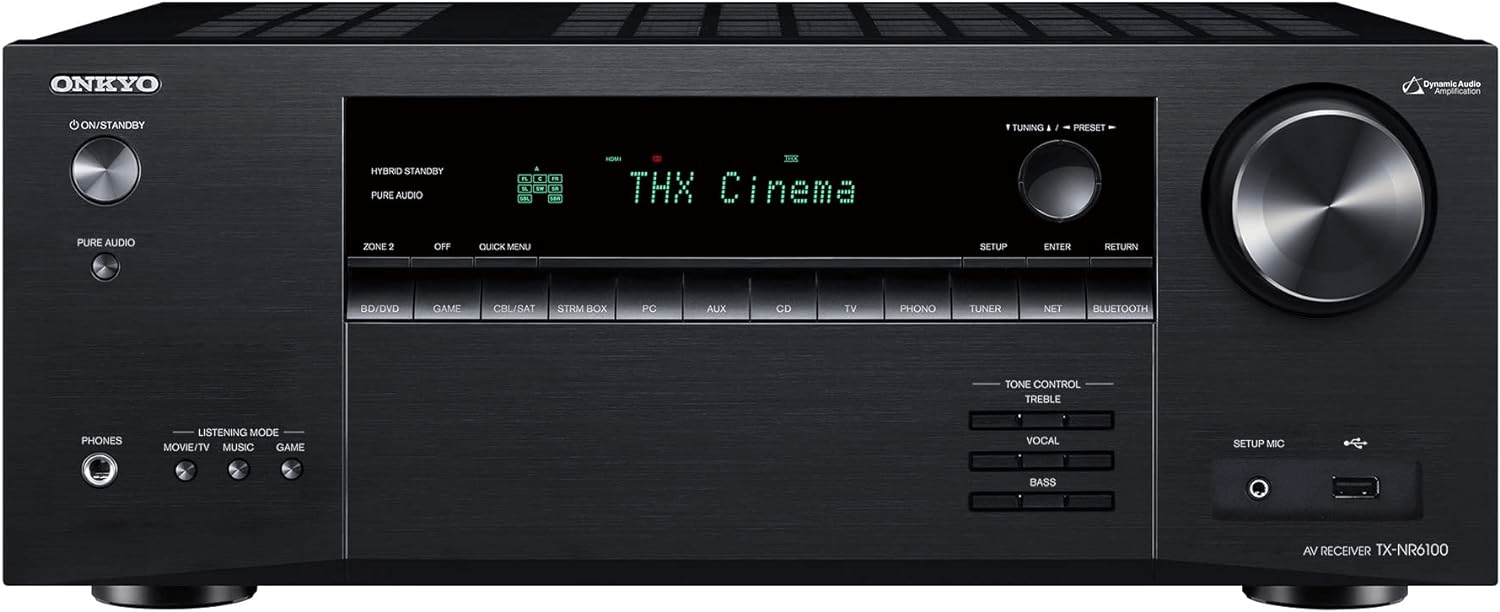 Experience massive THX sound and film-like 8K resolution with the Onkyo TX-NR6100. THX Certified Select high-current amplification sets the bar for reference sound, while 8K/60p and HDR10+ video bring stunning visuals to your display. Dolby Atmos and DTS:X soundtracks provide a 3D sound-field, and voice assistants like Hey Google or Alexa allow easy control.
With Chromecast built-in, AirPlay 2, DTS Play-Fi, and Works with Sonos compatibility, this smart AV receiver covers every multi-room situation. The value proposition is further enhanced with features like a quality MM phono equalizer and bi-directional Bluetooth wireless technology.
Grab These Amazing Black Friday AV Receiver Deals Today!
This Black Friday, elevate your audio and home entertainment setup with these outstanding AV receivers. From powerful performance to cutting-edge connectivity, these models offer a range of features to cater to every audio enthusiast's needs. Don't miss out on these exclusive Black Friday AV receiver deals and take your home entertainment to new heights.