Until recently, very few Chinese audio companies marketed their products worldwide - despite being a manufacturing hub for most international brands. Topping, who purchased its first Audio Precision SX555 testing suite in 2016, is one of the more notable Chinese audio brands to take on the international market. It has upended the market with entry-level yet high-performance digital to analog converters (DACs).
The Topping D90SE isn't exactly a new product. It is a revision of the Topping D90 that had its production life shortened due to a facility fire at AKM, a manufacturer of DAC circuit chips.
Topping's design engineers had two problems – a shortage of chips for its current production and no guarantee of when they could expect new chips from AKM. So they began redesigning the DACs using chips from ESS.
The new D90SE (and virtually all new DACs for at least the next year) employ the latest ESS-designed chips. In the redesign process, they even managed to surpass the original D90's noise and distortion specifications.
Main Features
State of the Art Capabilities
The D90SE includes all the features you would expect from a premium DAC. It handles every digital music format, has balanced and single-ended outputs, includes volume control, and accepts various digital inputs, including AES/EBU, IIS, Bluetooth, USB, and S/PDIF. The IIS supports up to DSD 1024 if any DSD material were to become available at this rate.
The D90SE is not only MQA enabled via USB, but it's also capable of decoding MQA signals that enter via Optical or Coaxial S/PDIF. The Bluetooth capabilities include 5.0 LDAC, aptX, and aptXHD.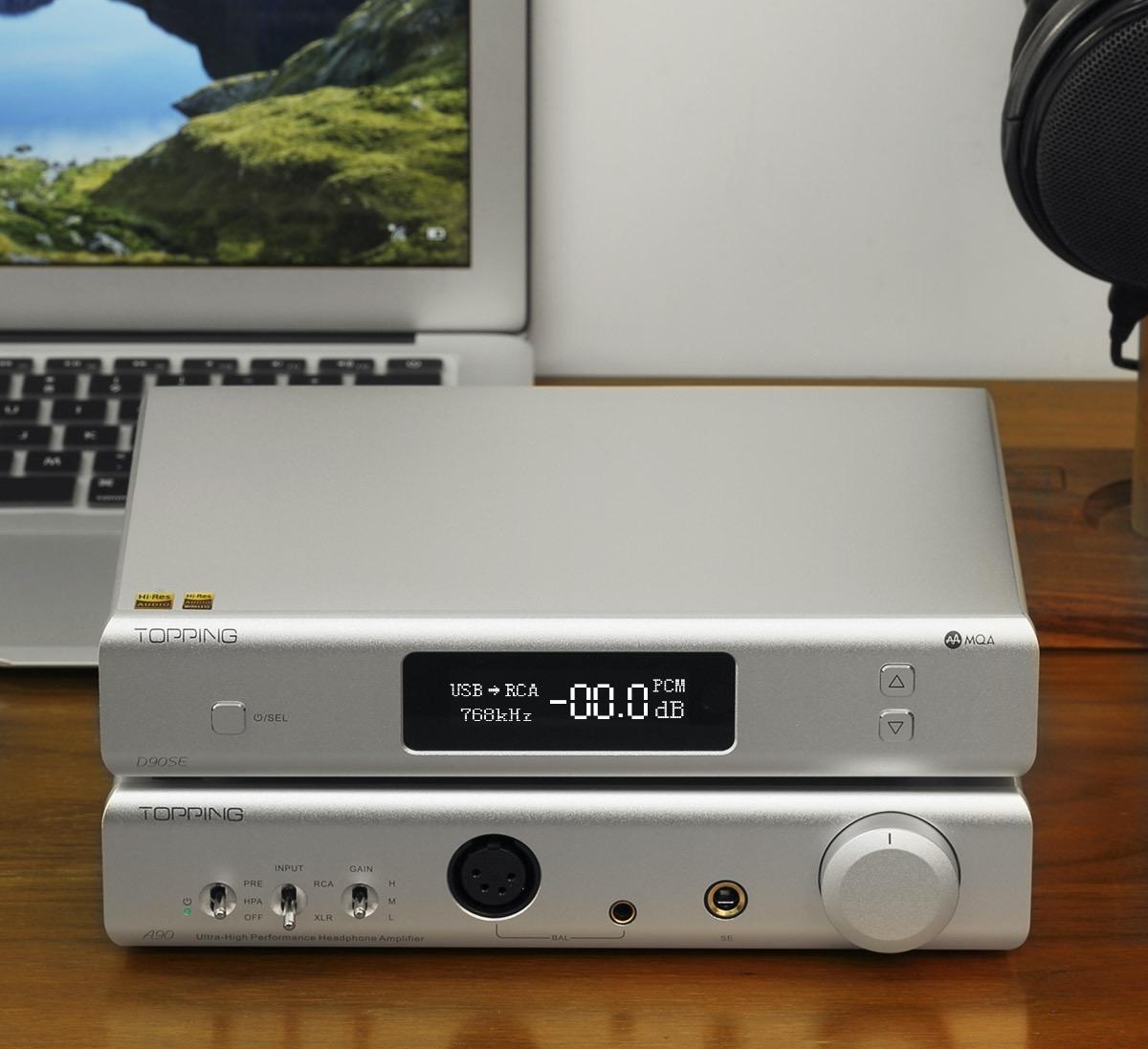 Outstanding Specifications
Back at the dawn of high-fidelity reproduction, it was standard policy for manufacturers to publish performance specifications generated by their components. Nowadays, that is not common, but Topping publishes a complete set of specifications that third-party testers have confirmed as accurate. They are among the best overall specifications ever produced by a digital to analog converter. You can see them here.
But do impressive specifications equal great sound? Perhaps. However, as Daniel von Recklinghausen (H.H. Scott's legendary audio designer) stated during a talk at a Boston Audio Society Meeting, "if it measures good, and sounds bad, it's bad. If it sounds good and measures bad, you've measured the wrong thing."
Topping's specifications don't immediately ensure great sound, but they point toward excellent performance from its digital circuitry.
What about the analog components, which usually add far more additive and subtractive sonic influences than state-of-the-art digital circuitry? The analog specifications for the D90SE are equally as impressive, but whether or not current analog measuring tools can tell us how an audio component sounds is very much an open question. It has been since the dawn of audio reproduction. There's a point where you should put away all the measuring tools and simply listen.
The NEW ESS Sabre DAC chip
Topping had to abandon the AKM chip used in the D90, so they decided to use the ESS Sabre ES9038PRO DAC chip for the D90SE. This chip employs "32-bit Hyperstream architecture," which arranges each audio channel in parallel by four "conventional" balanced channels. According to Topping, this is the reason the D90SE achieves such impressive specifications. Topping claims its implementation is different from other manufacturers because it performs an independent conversion for the ES9038PRO's internal eight channels to connect them into four for their proprietary methodology.
Earlier generation ESS chips didn't have as low distortion figures as comparable AKM chips in their mid-band. This discrepancy was dubbed "the ESS hump," which many audiophiles claimed accounted for their preference for AKM-based DACs. The ES9038PRO - in the D90SE - doesn't exhibit this hump, so it should satisfy those who consider the ESS chips inferior to AKM's now-defunct DAC chips.
Multiple Output Options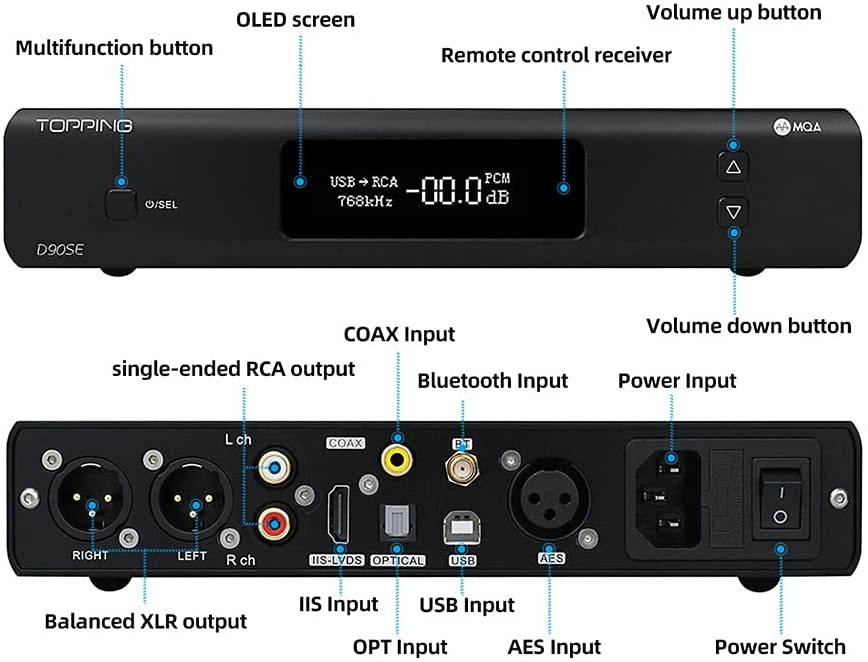 The Topping D90SE has balanced XLR and unbalanced RCA analog outputs. Unlike most DAC, where both outputs are active all the time, the D90SE provides options. You can select either the RCA single-ended output or the balanced XLR separately. Or, you can have them both active via a button on the front panel.
You can also change the default maximum output levels for the balanced outputs from 5.0 VRMS to 4.0 VRMS and the unbalanced from 2.5 VRMS to 2.0 VRMS. These changes aren't as easy as changing outputs – you need to go into the set-up menus and scroll to the bottom to find this option.
The dual-level maximum serves two purposes – for preamplifiers with front ends that accept a higher input level, the higher set point offers maximum volume capabilities. Also, when comparing two DACs, if they are not corrected so that the volume levels match in an A/B comparison, the one with a higher output will sound better to most human ears. However, limiting the output is necessary for some systems to prevent the front ends from clipping, resulting in distortion due to excessive levels.
Useful, But Minimalist Remote
The remote control accompanying the D90SE, the RC-15A, is the same one that Topping uses on several of its DACs and headphone amps. It includes the ability to change digital filters on the fly. With seven different digital filter options, bat-eared listeners can decide which of the various fast and slow, steep or gradual, sonic filters they prefer. The remote also handles mute, volume adjustment, input selection, display brightness, and that fan favorite, invalid button (due to its multiple component use).
Easy Set-up
Installing the D90SE is as simple as it gets. I attached a USB source from either my computer or a streaming device, opened up Roon, activated the D90SE from Roon's audio settings, and played music.
Other playback apps, including Tidal desktop, Qobuz desktop, Audirvana, Pure Music, and iTunes, all had no issues locating and connecting with the D90SE.
Since the D90SE has volume control, it can be connected directly to power amplifiers (or powered loudspeakers). Also, since it has two outputs, it's easy to hook up a subwoofer that isn't connected to the amplifier or loudspeakers. So, you don't really need a preamplifier unless you have legacy analog sources that require it.
I employed the D90SE both as a DAC/Pre and as a basic DAC with fixed level outputs into a preamplifier. In every set-up, there were no ergonomic or set-up issues.
What's in the box?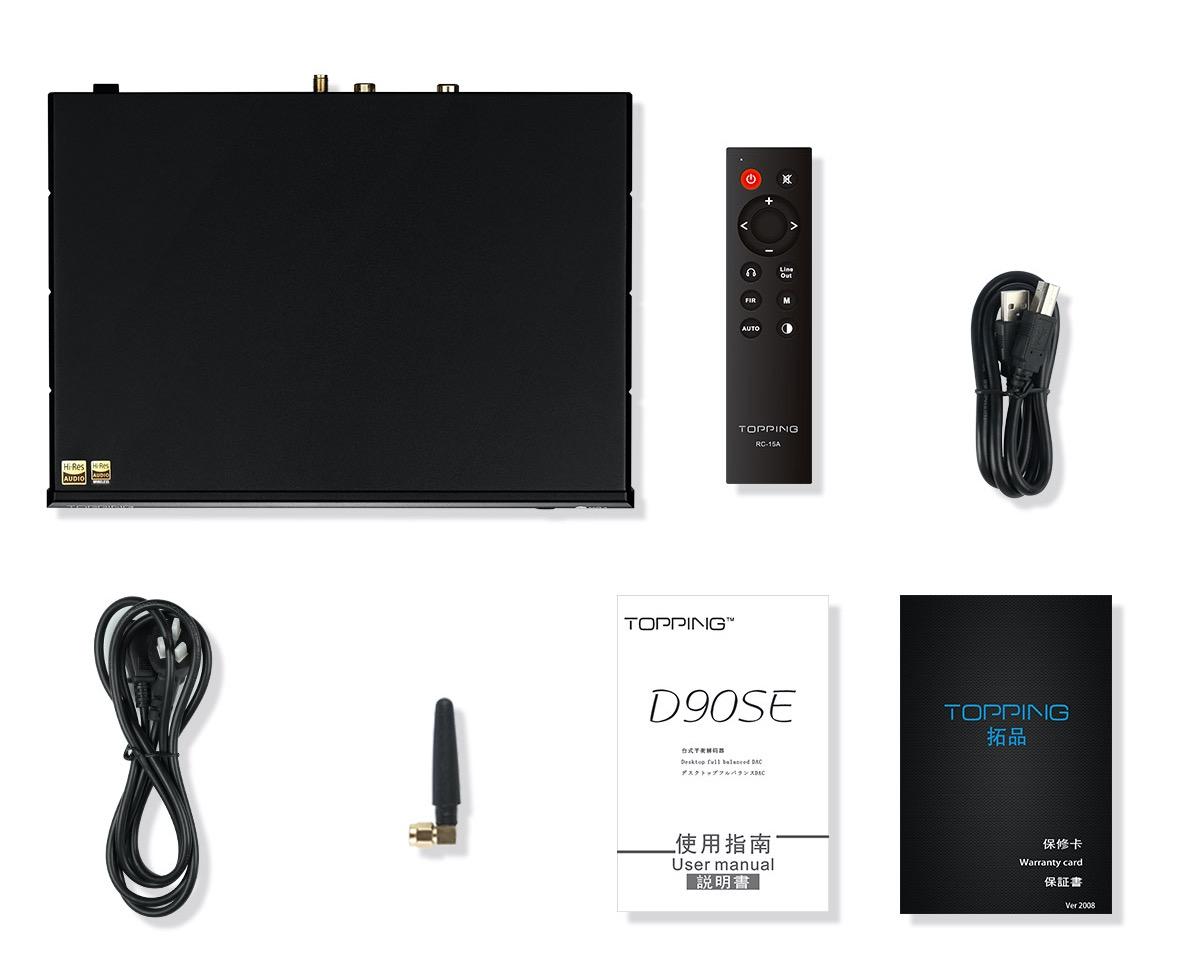 Besides the D90SE, the Topping ensemble includes the RC-15A remote, a USB cable, an AC power cable, a Bluetooth antenna, a user manual, and a warranty card. The D90SE has a one-year warranty for defects in workmanship and materials.
How Does the Topping D90SE Sound with Music?
Acoustic / Quiet music performance
Force Majeure – Dezron Douglas and Brandee Younger
This Covid-era recording of the acoustic bass/harp duo, done straight into a two-track portable recorder, has a fresh and exceedingly live character to its sound that comes through clearly on the D90SE. If you like acoustic subtlety and finesse, these two players have it, and the D90SE gets it all to your ears.
AC/DC - You Shook Me All Night Long
If any cut demands that you turn it up, "You Shook Me All Night Long" is it. Through the D90SE, this tune is aggressive, punchy, and downright nasty, as was its intent. But it never got harsh in my system to the point where "please turn it down" entered my head. All the slam and bluster of this boisterous tune was present when reproduced through the D90SE without undue softening or losing its edge.
Bass Heavy / pop music performance
Bleachers - Take the Sadness Out of Saturday Night
On "How Dare You Want More?" Bleachers generate a churning ramble complete with dense orchestration and a chorus of seemingly hundreds of voices. They use wide dynamics to create a rave-up of cinematic proportions. The D90SE successfully unravels the dense mix and never sounds out of control or confused regardless of how many stems Bleachers adds to the mix.
Reviewer's Choice
Bryan Rahija - Timber
On the opening cut, "Silent Advance," it's easy to separate the primary guitar track from its artificial reverb halo. Also, as Rahija adds additional guitar tracks, you can clearly hear the subtleties between his six and twelve-string guitar parts. If you like exquisite finger-picking guitar, similar to a sober John Fahey or Robbie Basho, this deserves your attention. The D90SE preserves all the subtle micro dynamics of Rahija's playing.
High Points:
Superlative specifications.
MQA compatibility is available on USB and S/PDIF inputs.
Difficult to fault sonic performance.
Low Points:
Lacks a dedicated custom remote.
Not a full-size chassis.
The Topping D90SE is not for you, if...
You require a DAC with a warmer than neutral sonic signature to act as a bromide for other elements in your reproduction signal chain, the D90SE will not be your best choice. If you are on a tighter budget, you may opt for the Gustard X-16 or SMSL SU-9, both at roughly half the price of the D90SE. In many systems, either one can deliver sound that is indistinguishable from the D90SE.
The Topping D90SE is for you, if...
You have a neutral, harmonically well-balanced audio system and seek a high resolution, low-noise DAC with full MQA and DSD capabilities. A DAC that happens to have some of the best digital specifications currently available.