How good can a pair of $36.99 true wireless earbuds actually be? It didn't occur to me to try and find out until recently when a friend of mine asked if I was familiar with Tozo. And the reason is that on Amazon, the brand has tens of thousands or even hundreds of thousands of ratings on some of their true Wireless earbud models.

While I fully understand fake reviews on Amazon exist, those kinds of numbers represent a phenomenon. I did a little digging, including a reviews analysis, and that's how I realized it might be a legit offering. So I Log into my Amazon account and ordered a pair of the T12s, which lack fancy features like noise-canceling but promised to be easy to pair and sound good, which is all I ask at that price.

Not that you asked, but here is a bit of background and context on why I am drawn to doing a hands-on of a promising pair of affordable earbuds: I've been obsessing over headphones—and especially portable listening—since I was a paperboy riding around on a bike delivering newspapers while listening to Run DMC and the Beastie Boys on my portable cassette player(s) in the mid-1980s. At first, it was Panasonic player and the stock headphones; I'm sure I will never again encounter headphones as awful as those.

Then came the iconic yellow "Sport" Sony Walkman and various RadioShack-sourced headphones, usually made by Koss. They sounded good but tended not to last. Eventually—with the sage advice of a good-hearted stereo salesman who is still a friend to this day—I settled into a pattern of buying Aiwa tape players, wiring them to a D-cell battery pack, and plugging in some Grado headphones. This system blew away the "portables" of the era, and was the first time I achieved portable high fidelity that competed with my full-sized stereo system.

And then, I graduated high school and went to Europe with my friends, traveling by rail and staying in hostels. It was on that trip, during a stay in Paris, where I encountered a Sony boutique selling the legendary MDR-E484 earbuds.

I spent all of my extra travel money on those headphones and consequently subsisted off of bread and water while my friends ordered omelets and ice cream. But despite being broke for having spent my food money on earbuds, I had a big smile on my face anyhow because De La Soul's album Three Feet High and Rising sounded as good as I'd ever heard it—whether through speakers or headphones. Besides, the bread in France is quite decent.

Anyhow, that was when I realized how quality earbuds can provide an audiophile-level listening experience, even rivaling that of full-size cans. Sadly, mine was crushed under the foot of a clumsy roommate. And after that, I stopped seeking great sound from earbuds, because nothing else I tried came close, and that remained the case for many years.

Instead, I built on the idea of "system in a bag" portable sound, with the recurring theme being a robust portable player connected to a big battery, and the use of full-size headphones. For a couple years that source was miniDisc player, and then came the MP3 revolution, the Creative Zen series, the birth of the iPod, and all that followed.
---
The True Wireless Era
True wireless earbuds are an astonishing product category. They are what brought me back into the earbuds fold. Although mocked by audiophiles, this type of headphones—where there is no cable attaching the earpieces to each other or to the source, has connected with consumers like few other audio products, ever. The most famous example, Apple AirPods, debuted in December 2016. Now we are in their fifth year, that one product line alone sells enough to make more money than the largest audio companies, like Bose and Harman.

Although revolutionary in the sense they cemented the True Wireless category, in my opinion standard issue AirPods are not all that awesome. They have a tendency to jump out of your ears and due to their design where there's no ear tip, they are limited in terms of what degree of fidelity they can achieve. Basb performance in particular is impacted by the lack of a seal.

But that's the standard AirPods design. AirPods Pro solve the seal and the fit issue. They also offer effective noise cancellation as well as spatial audio. I've owned both standard AirPods and AirPods Pro, and IMO there's no question the Pro is the way to go. But, to get the most out of any AirPods, you need to have an iPhone or an iPad, so they are not the optimal choice for Android users. And taking the AirPods route of course can be costly. Even when on sale, a pair of Apple's finest will set you back arount $160 or $170.

With the Tozo T12 earbuds costing just $35, and numerous greater than $100, name-brand True Wireless earbud options on-hand, I set my expectations fairly low. On the other hand, I had in mind a concept that I've been thinking about a lot recently: That we are now in the era where the performance itself is a commodity. What defines a premium or luxury product is features, aesthetics, materials, brand cachet, and warranty.

There is not even a guarantee that a "premium" product—a luxury good—will outperform a more value-oriented product that's marketed as a prosumer. For example, I have already applied this thinking to my photography gear purchases, and over the years, I have saved thousands of dollars on accessories like light stands and tripods. The main issue is that it's hit or miss; you have to be willing to try multiple options in order to uncover the hidden gems.

With audio, when it comes to the fundamentals like frequency response and dynamic range, it's not unheard of to find $100 headphones that sound better than $500 headphones. And the reasons someone might perceive the less expensive headphones as sounding better that can range from personal to taste to how well they fit, which has to account for the variables of different head and ear sizes and shapes.

To hear headphones that can repeatedly pull off this trick, and live up to the cliche of outperforming something that costs several times more, check out Grado's SR60x—made in Brooklyn, $99 on Amazon. It is virtually unchanged versus the Grado SR60 I used back in the 1980s.

Anyhow, enough history and nostalgia. It seems the T12 was designed to defy low expectations and deliver a listening experience that does not need qualifiers to recommend. When it comes to audio, the main limitation of these True Wireless earbuds is the lack of noise canceling.
---
Features and specifications
— Uses Bluetooth 5.0 technology
— Easy pairing
— Touch sensor control on iOS and Android
— 10mm drivers
— IPX8 waterproofing
— Six hours of play time per charge, 28 hours total with case
— Recharge the case with USB C or wireless charging
— Battery level display built into the case
— Includes multiple size eartips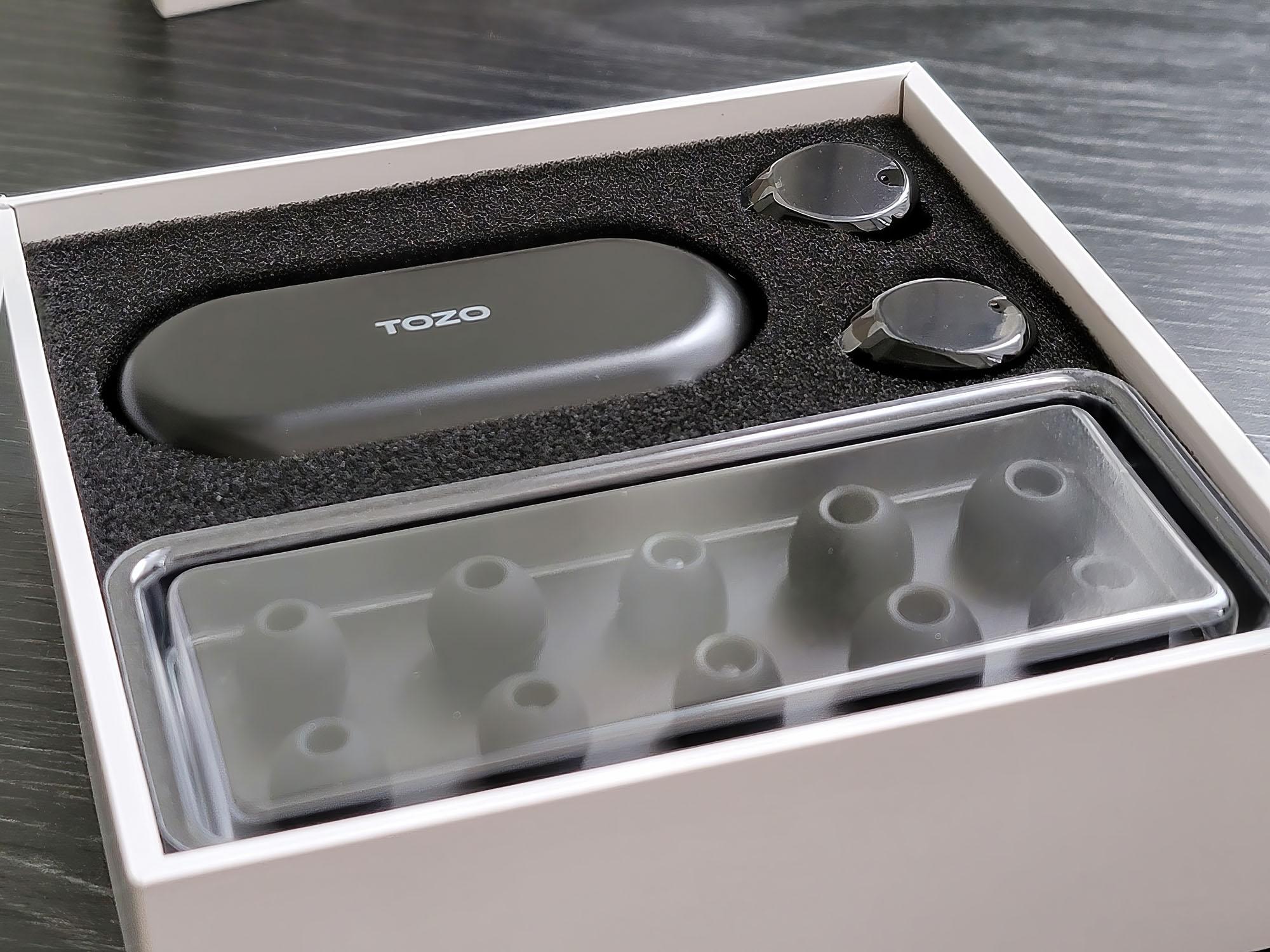 ---
Hands-On Listening
Warning: Since this is not a measurement-based review, if you are allergic to subjective opinions, then stop reading now! But, before I get into this part, I'd like to explain my subjective comparison methodology:
- I have a point of reference; it is a pair of Audeze LCD-X closed back, driven by a MOTU M4 USB audio interface. It's not a Sennheiser Orpheus, but it competes with pricey speakers and headphone systems
- I have the following noise-canceling True Wireless earbuds on hand: Apple AirPods Pro, Technics AZ60, Samsung Galaxy Buds Pro, and Cleer Ally Plus II
- I have both an iPhone and Android phone, so I used all the earbuds with both types of phones
- Level matching is simply not possible, so all impressions are strictly anecdotal
- I used simple tones, as opposed to music, to compare bass responses and listen for audible distortions

Rtings did a full review of the T12, including proper measurements. So let's get past the technical part real quick. Their measurements show bass extension to 10 Hz, which is easily noticed; they play the deepest notes with vigor. Other highlights from their review include the notably excellent imaging, but audiophile purists should know the measurements reveal a "V" shaped response curve with boosted bass and treble.

Of course, this type of tuning is standard-issue "boom-tizz"; it adds excitement at the cost of accuracy. The upshot, while the built-in microphone is not so good, there are objective data points to support the subjective impression that these Tozo T12s deliver good, fun sound.

The Tozo T12 have a crisp, punchy, clear sound that's in the ballpark of what I'm looking for out of earbuds. It's not as mellow as the $150+ earbuds, the highs seem just a wee bit exaggerated, but there's also a perceived clarity to the presentation that had me double-checking the Audeze LCD-X to make sure I was not imagining things. Yes, these earbuds are highly detailed.

One of the first things I did is play Disc Wars from the Tron Legacy soundtrack. Not a lot of headphones have it in them to handle the onslaught of deep percussive bass that pervades the track, but these earbuds made it through with commendable self-assurance. The bass is clean and expansive-sounding and sounds like it does through a subwoofer system (although obviously, the subwoofer feeling is missing).

Comparing Air's "Cherry Blossom Girl" on the four True Wireless earbuds and the LCD-X led me to conclude the Tozo T12 leaves practically nothing on the table, despite being Bluetooth and basically cheap pieces of plastic. The guitar strumming is just as shimmery, the vocals just as ethereal, and the synth noises just as captivatingly crafted with these $35 earbuds as they sound with the AirPods, or the Galaxy Buds, or the Ally II Plus. Within this batch, I would give the Technics a slight edge over the rest in terms of sounding refined without giving up punchiness.

Having said all that, make no mistake: The LCD-X closed-back outperformed all these earbuds, and the main limiting factor, I suspect, is dynamic range. The Audeze are better able to handle transients at higher volumes. But I could not help being impressed with the Tozo T12s; it seemed like it was not really possible to trip them up, and I could not find music that revealed any significant limitation.

Also, notably, not only did the lack of noise cancellation not bother me, thanks to the wide selection of eartips, I was able to achieve a perfect seal that offered a three-pack of benefits: The T12s stayed in my ears, they maintained a tight seal that enhanced the bass, and they blocked out external noise with effectiveness that IMO calls into the question the need for active noise cancellation on earbuds. They are, after all, effective passive earplugs. Don't get me wrong, if you're looking for affordable earbuds with noise canceling, TOZO has that, too. The company's NC9 is a very similar design that costs a bit more and is available on Amazon.

It does not require sorcery or fancy materials to create high-fidelity True Wireless earbuds; all you need is a good design and consistent manufacturing. I suspect that's the secret sauce here: volume. Not loudness, but quantity. Simply put, it is the popularity of Tozo's earbuds—the sheer numbers involved—that make the low price possible.
---
Conclusion
Ultimately, I found plenty to like and not a lot to complain about. Highlights include super easy pairing, a wide selection of eartips that result in a really nice fit, they are just really comfortable and lightweight. In fact, the only thing I found significantly off-putting is they come in a really big case (for something that is supposed to be pocketable anyhow).

Certainly, the largest true wireless earbuds charging case that I have encountered. But, that is still a very minor gripe because it is perfectly pocketable. Moreover, the case actually has a power meter in it so you can know what the charge level is at a glance instead of needing to launch an app to check it. In all, Tozo T12 True Wireless earbuds are recommendable as an affordable offering found on Amazon, one that easily punches above its weight class when it comes to sound quality.