The old adage about getting what you pay for rings less and less true all the time when it comes to earphones. Need proof of that? Just look at Tribit's new true wireless earbuds. The FlyBuds 1 (Check price at Amazon) are designed to fit securely yet comfortably even during strenuous activities, including sweating in the gym, showering, and running in the rain thanks to their IPX8 waterproof rating. Add to that six hours of continuous playback and 30 hours of playback between charges thanks to the included charging case, and it would have been unimaginable to expect this generous a feature set for this little money just a few years ago.
How do the FlyBuds 1 perform?
Tribit includes six different pairs of soft ear tips with the FlyBuds 1, and after trying all of them, I found the size that was both most comfortable and secure for me.
It didn't take much listening after that to realize that overall sound quality is surprisingly excellent. Plenty of bass that never steps on the mids, which are detailed and present. The high frequencies are clear and never shrill or harsh. I listened for hours to all genres of music before switching to a podcast, and then tried them while watching a movie.
Thanks to their reliance on Bluetooth 5.0, there were no lip sync issues when watching video or playing mobile games. Another benefit of Bluetooth 5.0 is extended range and battery life. The stated range from Tribits' website is thirty-three feet -- which is pretty standard for Bluetooth -- and my walk test confirmed at least that distance, so no complaints in this department.
The FlyBuds 1 paired quickly and easily and you can use just one if you like. They 1 have what Tribit call Symmetrical Design, which supposedly means that the right and left cases are interchangeable. So how do they know which one should get the right stereo information and which one should get the left? In fact, they don't. I switched back and forth between the FlyBuds 1 and my two-channel desktop system while listening to Steve Miller Band's "Jet Airliner," which has a signature guitar track panned hard right, and the FlyBuds 1 initially had that track where it should be: Hard right. But when I switched the one that was in my right ear with the one that was in my left, the stereo image was reversed, so unless you take note of which one is actually the right one, you may not be getting the stereo image the way it is intended.
Since The FlyBuds 1 only cost $35.99, this is wholly forgivable. If you're watching a movie and the bullets are flying left but you are hearing them fly right, just pop them out and switch them around. I understand some may find this unacceptable, but I just don't see this as a deal breaker considering how great the FlyBuds 1 sound and all the features and benefits you get for the money.
The buds themselves will give you six hours of continuous listening with another four full charges waiting for you in the case, for a total of 30 hours before you will need to hunt around for a wall outlet. The case can charge via USB-C, and there is an included USB-C to USB-A cable or you can set these down on any Qi-certified wireless charger. If you need a quick re-charge, ten minutes will get you one hour of playtime. For a full charge, placing the FlyBuds 1 in the case for 70 minutes will get the job done or 80 minutes to fully charge the case.
Speaking of the FlyBuds 1's battery case, it has a loop that can be used with a carabiner for attachment to a backpack or belt loop or purse. There is also an included wrist strap that can be used in conjunction with the loop to make carrying the case even easier. The case only measures two inches in diameter and just an inch and a half high, which means it will also fit in most people's pockets.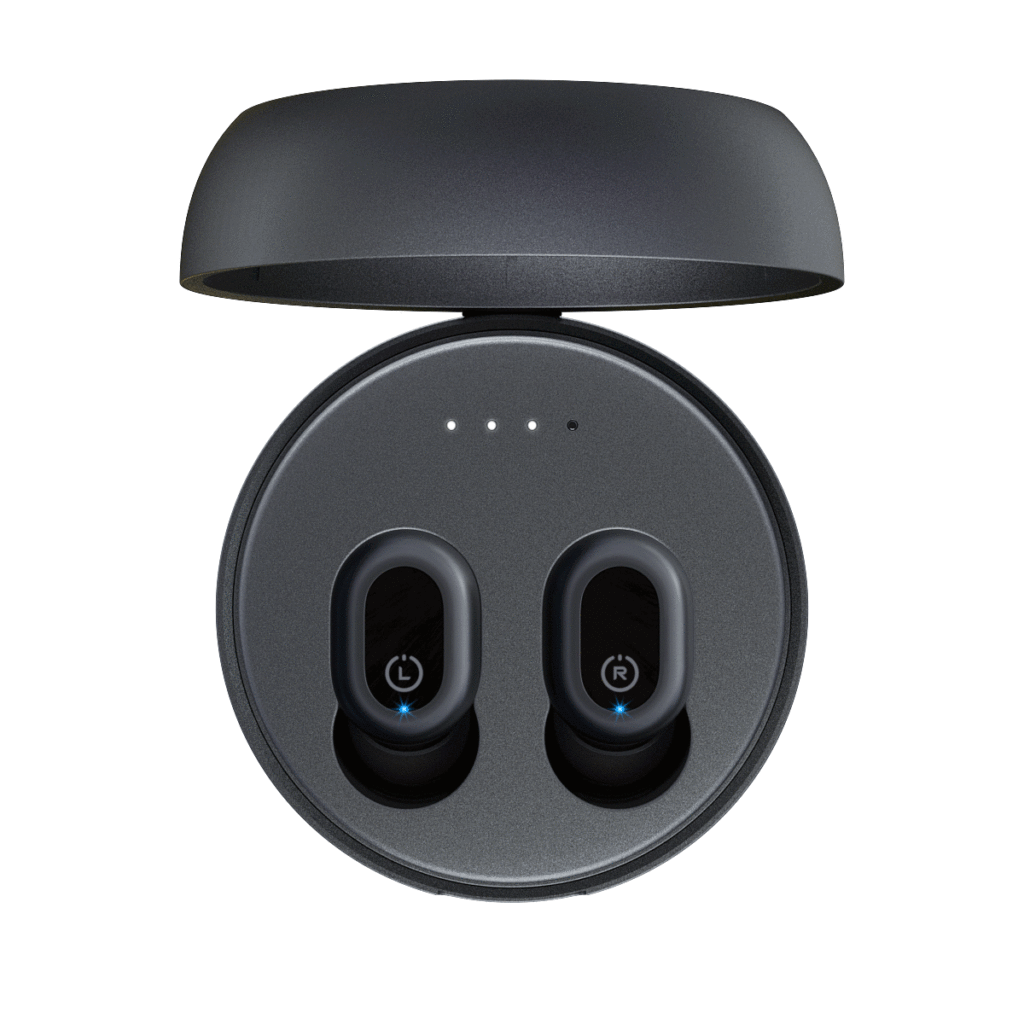 Inside, there is a four-segment LED battery charge indictor, which, at this price point is certainly not a given. There is a confidence-inspiring click heard when re-inserting the buds back in their cradle thanks to a magnet employed to insure a solid connection to the charging case. Removing them from the case powers them on and replacing them in the case turns them off.
Play / Pause, Answer / Hang up calls / Reject calls, Skip to the next song and activating the voice assistant associated with your device are all accessible via gentle presses on either earbud, and are intuitive and consistent. From the Tribit website:
Having to press hard on keys means squishing your earbud further into your ear which can be uncomfortable to say the least. That's why these earbuds were developed to depress the buttons using only 4.23 oz of pressure (others require more than 5.64 oz). It's also more accurate than touch controls so you'll never have accidental button presses.
That's really nice and yes, it works as advertised.
High Points:
The Tribit FlyBuds 1 deliver great sound quality, and not in a "for the money" kind of way.
Six included ear tips means that most people will be able to achieve a comfortable yet secure fit
The IPX8 waterproof rating is surprising and appreciated at this price.
Low Points:
Although the sound is good out of the box, it would have been nice to have some customization options, like an EQ setting.
Six hours listening time before needing a charge may not be enough, depending on your lifestyle. Some competitors offer longer life between charges.
The Symmetric design means if left-right stereo orientation is important to you, you will need to keep track of which one is which.
How do the Tribit FlyBuds 1 compare to the competition?
The Anker Soundcore Life P2 offer essentially the same features and benefits, including IPX7 waterproof rating that is just a step down from the IPX8 rating of the FlyBuds 1, but with an extra hour of playtime and a form-factor more akin to Apple AirPods Pro. Anker's charging case is not Qi wireless charging compatible, but the Life P2 offer noise reduction technology that optimizes call clarity, a feature not found on the FlyBuds 1. The Life P2 call quality may be better in windy conditions.
The TaoTronics Soundliberty 97, like the FlyBuds 1, carry an IPX8 waterproof rating and sport a similar form factorm but have even longer playtime than the Life P2 at nine hours between charges. Like the P2, the Soundliberty 97 offer noise reduction for enhanced call clarity. The battery case does not support Qi wireless charging.
Final thoughts
There are a lot of wireless earbuds available right now with similar features and even some that are as affordable as the FlyBuds 1, but there aren't any that combine all the features and benefits found here, in a form factor this attractive. They are comfortable, portable, wireless, and waterproof, but above all, they sound very, very good.