Wireless TV headphones are a way that you can watch TV, movies, and video games without disturbing anyone around you, so you should consider trying them. Enjoy all of your entertainment in private. These headphones work by connecting to your TV wirelessly and transmitting sound via radio frequency (RF) or Bluetooth. Wireless TV headphones are simple to set up and use, so don't worry about them giving you any trouble. Available in various styles and sizes, there are plenty to choose from to provide you with a comfortable fit. Most wireless TV headphones have a range of up to 100 ft so can listen intently from across the room. Many models come with rechargeable batteries that will last for hours on end of use. With wireless TV headphones, you can experience your favorite shows and movies uninterrupted and in comfort.
Currently, there is a deal on Sennheiser RS 195 Wireless TV for a limited time only. These headphones are available for $299.95, which is $100 off its original price of $399.95. Don't let this deal pass you by! Get a closer look here.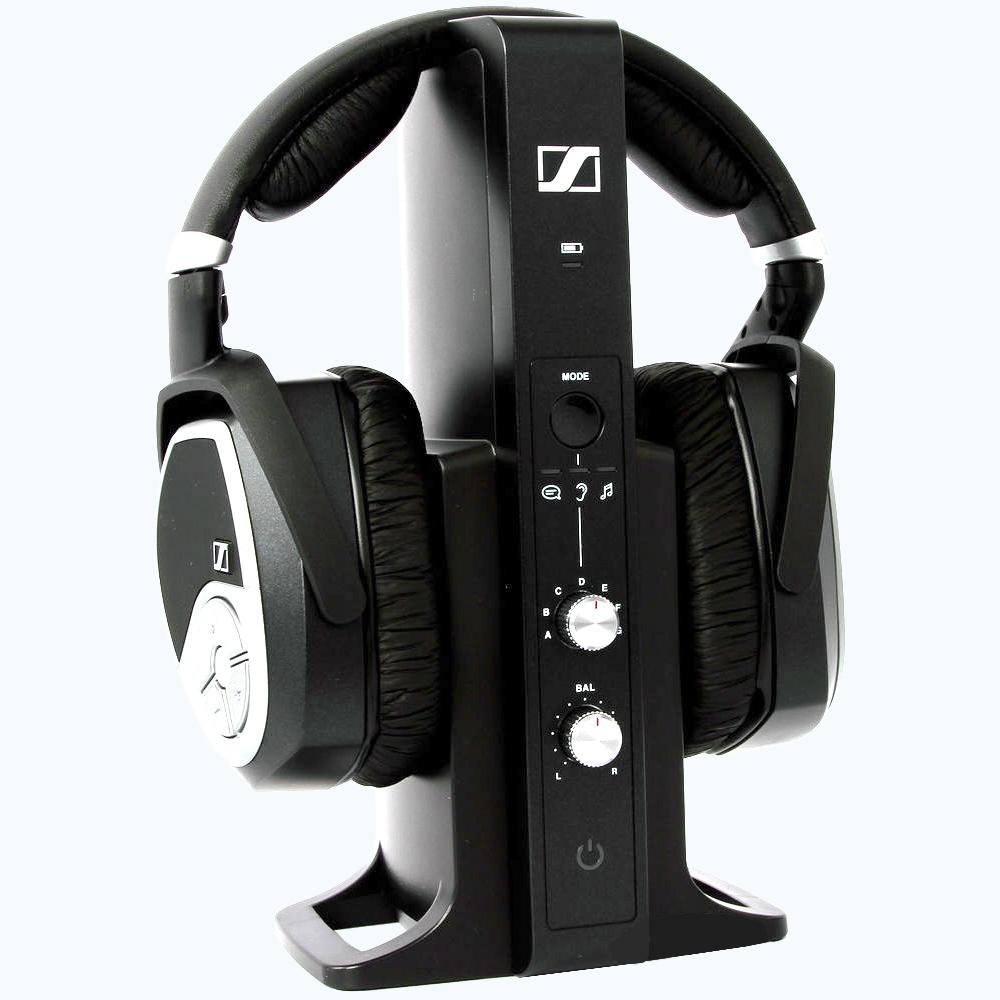 The Sennheiser RS 195 is a wireless headphone system designed for you to use in your home theater. Its design is a closed-back and goes around the ear. Listen for as long as you like, as it provides up to 18 hours of use for each charge. The transmitter that comes included doubles as a charging base and offers a range of up to 328 ft. These headphones also feature a radio frequency of 2.4-2.48 GHz for seamless wireless pairing. The RS 195 comes with control settings, which allow you to tailor them to your individual hearing preferences. With its ergonomic design, the Sennheiser RS 195 provides a comfortable fit, even after hours of listening. Its components and high-quality sound allow you to enjoy your favorite shows and movies without interrupting others. You have to check these out!
These are some other great pairs of wireless TV headphones that are discounted by Sennheiser!
When seeking a good set of headphones for TV listening, the Sennheiser RS 175 is a top choice. It is similarly shaped to the previously mentioned model, the Sennheiser RS 195. The 175 has an 18-hour battery life and 328 ft of wireless range as well. Easy to set up and has the capability to deliver elite performances for any TV audio use, this is a great investment. Limit any interference when using recreationally, as these headphones utilize the incredible digital wireless technology Sennheiser incorporates in every product. With the RS 175, you can personalize your sound to the exact volume, bass, and surround effect that you desire. You can also add surround sound and dynamic bass boost to your audio as well. This is the ideal headphone system for enjoying your TV shows in private comfortably. For $50 in savings, you can get these headphones for $199.95 instead of their original price of $249.95! These are a pair you have to see!
Lightweight with exceptional sound quality, this headphone system is designed for maximum viewing pleasure. Offering five different listening profiles to improve speech clarity, these can be adjusted to your specific hearing preferences. Hear every word clearly with one of its most prominent characteristics being crystal-clear sound. With a smooth setup, be prepared to experience up to 19 hours of listening time before you need to get a charge. The Sennheiser TV Clear Set is an excellent choice for those who need a reliable, satisfying headphone system for watching TV. The system was created to provide highly engaging sound when used, with presets for the equalizer and bass levels that can be modified, you can customize it to what you prefer. Discounted by $40, these headphones can be purchased for $359.95 instead of their suggested retail price of $399.95! These headphones are definitely worthwhile to add to your collection!
Are you seeking to elevate how you watch TV shows and movies in your home theater? There are many ways you can do this with a variety of home theater products. One great choice is by using headphones, and our experts point out some quality options in this article here!