Urbanista seems to be one of those brands that has mastered the art of being trendy and appealing without trying too hard. A Swedish company that is marketed toward those who care just as much about the way their audio equipment looks as it sounds, Urbanista's selection of wireless in-ear headphones are like the Apple AirPod's younger, more fun little sisters. The Stockholm Plus ($69) has an AirPod ($159) look, but is less than half the price, placing it more in the realm of the Anker Soundcore Life P2 ($59.99).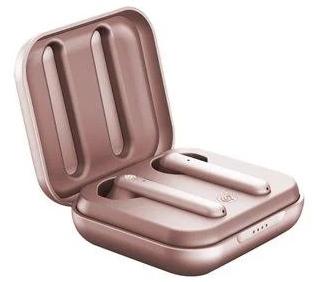 With IPX4 water resistance, touch and voice control, and 20+ hours of playtime, the true wireless earphones are built with 12mm drivers and come in five different colors, with a USB-C charging case that matches your choice of finish.
The earphones are equipped with Bluetooth 5.0 with support for both SBC and AAC codecs, and were surprisingly easy to pair with and connect to my phone. Where I would usually experience some sort of connection issue when switching between devices, I didn't encounter any with the Stockholm Plus. There is no additional app for the earphones, which takes out the customizable factor you may get with a pair of Jabras or Soundcores, but the simplicity of the design makes for an extremely user-friendly experience.
The most notable aspect of the Stockholm Plus -- aside from its featherlight design -- is its touch control, which allows for a range of commands: turning on and off voice assistant, phone call and music control, and track selection.
Sizing Up the Ergonomics of the Urbanista Stockholm Plus
The true test for earphone fit for me is if they can stay in while I'm running and maintain the same sound without being able to hear myself running, i.e., the shaky, bumpy, telephonic sound you get when you can hear the earphones jostling around in your ears. I was apprehensive about the Stockholm Plus at first, but between my trail and street runs, the earphones stayed perfectly still, and since they are sans-noise cancelling, they let in the perfect amount of ambient noise. I felt perfectly comfortable wearing them on night runs, as I could easily hear when a car or pedestrian came up behind me. Plus, they never felt like they would fall out or shift positions, which make them an easy choice for faster-paced runs where I don't want to worry about adjusting them every few minutes.
That said, there's still a good-enough seal that you don't have to jack the volume to a high level to hear audio, even when there's significant outside noise. For reference, I generally like to listen to a podcast or TV show while I'm blow-drying my hair, and my blow dryer puts out roughly the same amount of noise as my annoying neighbor's leaf blower. Even given the onslaught of that artificial hurricane, I could easily hear whatever Netflix title or true crime podcast I was listening to at half-volume with the Stockholm Plus, no problem.
In terms of battery life, the Urbanista Stockholm Plus has a playtime of 3.5 hours per charge, and the charging case allows for up to five charges, with about an hour-long charge time. A pretty standard playtime, the Stockholm Pluses never felt like they ran out of juice too quickly, especially in comparison with their true-wireless competition.
How Does the Urbanista Stockholm Plus Perform?
The Stockholm Plus genuinely sounds so good that I used them across all of my apps, from Tidal to Apple Music, and from Netflix to HBO Max. For review purposes, though, I stuck to Tidal. In my everyday life, I generally use a range of earphones, so I tended to compare the way the Stockholm Pluses sounded to the Apple AirPod, Jabra 75t, and Soundcore Liberty 2 Pro -- with the understanding that those three models are in a class above the Stockholm Plus. In short: almost every song I demoed sounded just as good.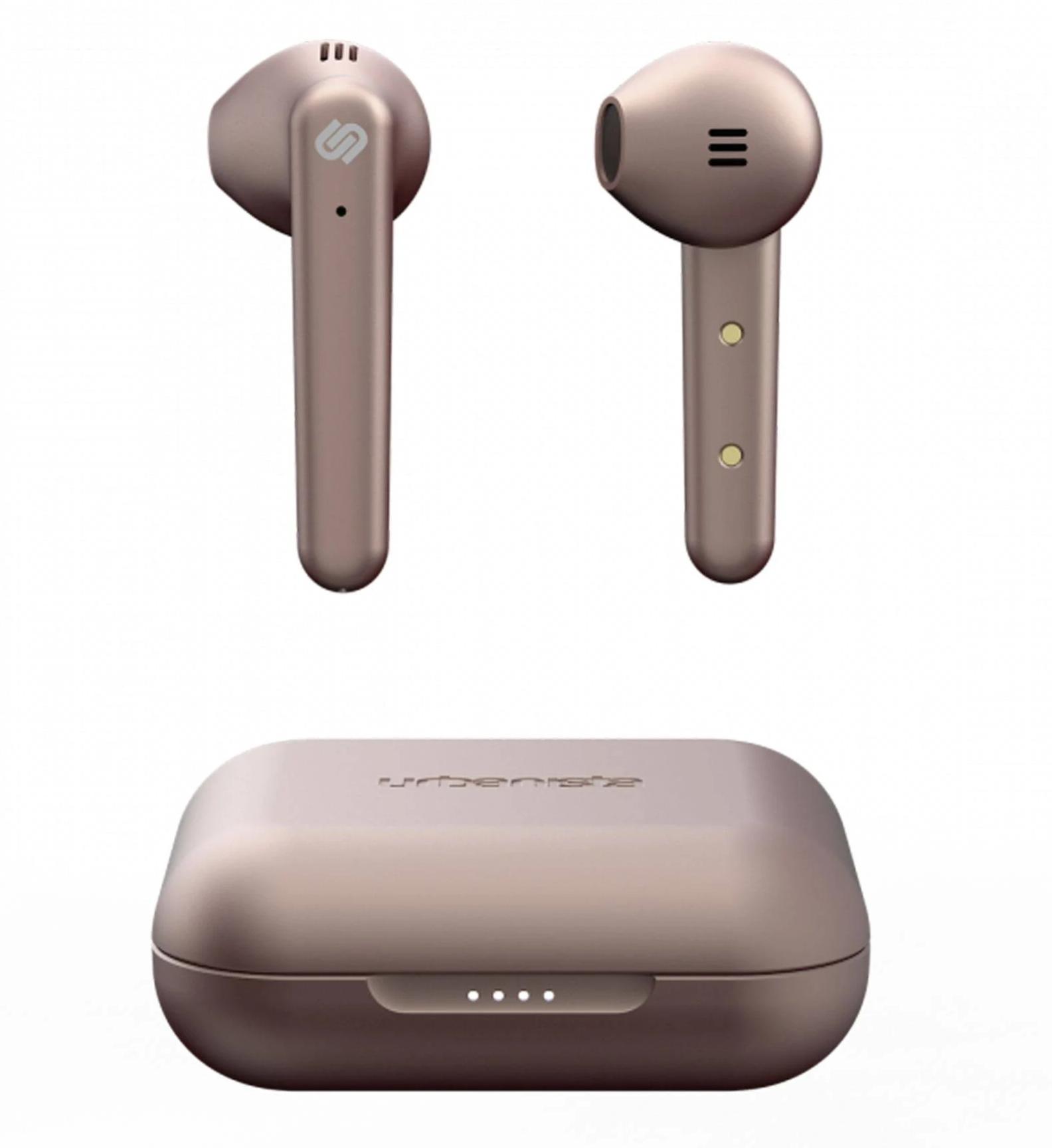 Overall, the earphones are incredibly balanced, with just a little less oomph on the lower end, which is expected, considering the simplicity of design. A song like Grimes' "Oblivion" off her 2012 Visions has less of a bass thump that you may get with a more complex earphone, but the lows (and highs) are still very much there, and the contrast that the entire album is aiming for still comes through. "Oblivion," off the same record, sounds just as clear. In fact, I found other artists with a similar electronica-meets-dreampop aesthetic are extremely fun to listen to with the Stockholm Pluses.
Tame Impala, who can sometimes sound washed-out and thin on other similar earphones, sounds so fleshed out and the guitar and bass are surprisingly warm, especially on his latest record, The Slow Rush, an album that requires earphones to have a great deal of space control. The Stockholm Plus handled the intense mix extremely well.
Paul Simon's "Graceland," is another superb demonstration of this earphone's command of space when met with a track that demands it. The powerful percussion that sits right below Simon's echoing vocals is perfectly placed, and the musical additions that match the lyrics are just as subtle or overstated as the mix intends.
Similarly, MGMT's "Little Dark Age," off their record of the same name, has such a range of sounds -- from a dry, 808-like drumbeat to Andrew VanWyngarden's tenor -- yet still sounds incredibly rich via the Stockholm Plus.
In terms of detail, the Stockholm Plus performs better than I could have expected. Fiona Apple's "Valentine" -- a song with a combination of subtlety and forcefulness that is rarely accomplished by any other modern artist -- is such a pleasure to listen to. Apple's raspy, powerfully emotional voice translates superbly, and the piano chords combined with the acoustic bass sound so full-bodied, it's hard to remember you're not listening to a live mix. You can hear every subtle intake of breath and vocal falter on Apple's part, and the subdued heartbeat-like rhythm at the beginning of the sound is unmistakable.
For softer tracks, the Stockholm Pluses still maintain their balance. Bon Iver and St. Vincent's "Roslyn," a song I often have to raise my volume for, still comes through the earphones nicely, and the gentle strings that are meant to take a backseat the haunting vocals are still just as precise as they would be on high-end earphones.
Similarly, the National's "Dark Side of the Gym," a track whose vocals and more subdued elements tend to get muddled, still maintains an obvious separation of sounds and maintains the separation of a faster-paced beat with folk-like vocals.
When it comes to rock music, the Stockholm Pluses keep it pushing -- most of the time. My Chemical Romance's "Helena," from their 2004 album Three Cheers for Sweet Revenge, tends to feel tinny and hard to listen to on other true wireless earphones, thanks to Gerard Way's wailing vocals and Ray Toro's insistent guitar shredding. Thankfully, these earphones held up against the band's signature unrelentingly harsh sound, and I could distinctly hear Matt Pelissier's rhythm percussion, which can often take a backseat to the rest of the mix.
On the other side of rock, The Rolling Stones' "Honky Tonk Women (Mono)" -- a song that takes Keith Richards' ability to produce a piercingly shrill sound with just a Telecaster to new levels -- really tested the limits of the Stockholm Plus, and I found this track the first one that I felt the treble quality of the headphones was no match for.
All is not lost, though: Greta Van Fleet and Led Zeppelin, two bands with similar composition and lead vocalists, but more than 30 years apart in age, still came through the earphones so nicely, especially when it came to the signature high-pitched wail that Robert Plant made popular and Greta Van Fleet's Josh Kiszka adopted. "Immigrant Song" still sounds as musically strident and yet wholly defined as it does from any other earphone, and "When the Levee Breaks," is just as rough and defined as you remember, with Plant's vocals paired perfectly atop Jimmy Page's slow guitar build.
Greta Van Fleet's "Black Smoke Rising," from their 2017 debut record From the Fires, presents a mix so defined -- with a coarser guitar sound, melodic vocals, and explosive drum presence -- that it reminds the listener that the band can achieve a sound wholly separate from Led Zeppelin.
As for non-musical content, I have absolutely no complaints -- and I say that as someone whose TV show and film tastes run the gamut. I decided to go back and watch American Horror Story on Netflix from the first season, a show I consider to be a great test of an earphone's ability, as the dialogue is oftentimes more muted, and the opening credits song is famously jarring. I was still just as spooked as I was the first time watching, and the sound was just as immersive as I remember. Similarly, Hayao Miyazaki's Howl's Moving Castle on HBO Max -- a film I've watched on every device I own and with every pair of earphones and headphones I've demoed -- was crystal clear, even when Christian Bale's voice dipped so low as to be almost unintelligible. The soundtrack, which famously features stunning orchestral pieces, was still breathtaking, and I never found myself adjusting the volume or straining to hear dialogue.
The Downside
When it came to call quality, my only real complaint came when I realized that I needed to have both headphones in to fully hear the other person, and for them to hear me. I typically like to have one earbud in when I take calls so that I can still focus on my surroundings, so this was a bit of a bummer. Other than that, though, the audio quality for calls was still clear and I never had to fiddle with my phone's volume or go to a quieter place when talking. All things considered, including price point and overall sound quality, this was my only performance downside with these earphones.
I did have an issue with the design of the Stockholm Plus, though – namely, the touch control. With no physical button, they rely on pressure on the logo on the left or right earbud -- depending on the command. While this function, in theory, sounds extremely easy to use, the reality is that I could rarely get the pressure right on the first try or even third try, and would often resort to using my phone for volume, track selection, etc. When you're working out or using them for a run, this can turn into a problem if you don't keep your phone in your hand. Not a huge inconvenience, but still something I was acutely aware of when planning my trail runs.
How Does the Urbanista Stockholm Plus Compare to the Competition?
At their price point, these headphones are in-league with the Anker Soundcore Life P2 earphones, which offer almost the same capabilities, with the addition of customizable ear tips.
You could also compare them against Apple's AirPods, but I honestly like the Stockholm Plus a thousand times more. Even with an ear that is still in training, I can still tell that the audio quality of the AirPod is better than that of the Stockholm Plus in many respects, but that's where Apple's upside begins and ends. With similar call quality, competitive audio, and dare I say a more aesthetically pleasing design -- green earphones that don't make my ears bleed are hard to find -- and at less than half the price, I'd choose the Stockholm Pluses every time.
Final thoughts
The Urbanista Stockholm Plus earphones are the perfect blend of simplicity (for the most part) and quality. Not meant for those looking to demo studio material or mix music, the Stockholm Pluses are more of an everyman or everywoman pair of earphones: commuters can wear them on the subway or bus without worrying about their safety or missing their stop, and those in busy workspaces can wear them knowing that others around them can't hear what they're listening to.
For a low to mid-priced pair of earphones, they rarely seemed to scrimp on audio quality, and not once did I find myself missing the noise-cancellation feature that Urbanista and other brands provide in other earphones. As someone who listens to a wide variety of music genres and can be picky when it comes to sound, I would often find myself marveling at these little earphones that could.
Additional Resources