Starting at $29.99
monthly
Our Choice
Advanced Smart Home
Mobile App Included
833-852-0113

Starting at $27.99
monthly
Runner Up
140 Year History
App with Upgrade
Leased Equipment
Vivint and ADT are among the most well-known home security system providers in the United States. The oldest security provider in the nation is ADT. Both ADT and Vivint provide a wide range of equipment and services that will guarantee your home is effectively protected.
You can't go wrong with either of these top-rated home security systems. Even while Vivint doesn't have a century-long history, their focus on smart home connectivity and no-lock-in subscriptions have made them the 21st century's most popular security system.
We've compared cost, subscriptions, central monitoring, initial setup, home automation, and equipment for both Vivint and ADT in-depth, balancing the benefits and drawbacks so that you can decide which will work best for you.
Why Should You Install A Professional Security System?
If you want to ensure constant home safety and peace of mind, professional alarm monitoring is a must. In an emergency, these systems contact monitoring professionals to dispatch police, firefighters, and other emergency services if needed.
For information on why it's crucial to install a reliable home security system, see the article below. Even though expert home security system installation can be pricey, the alternative could end up costing you more. The top reasons for installing a professional security system are discussed here.
Benefits Of Professional Security Systems
Here are some of the main advantages of having a professional security system installed in your home.
To deter trespassers and safeguard your family and home. The main benefit of offering family members safety and comfort from invaders is why a homeowner should think about implementing a security system. When an emergency arises, putting a monitoring system in place frequently gives family members ample time to leave for a secure area while the security system summons the appropriate authorities, or deters the intruder from further action.
To safeguard your family and house from fires. Although the notion of professional security systems frequently conjures up images of home invasions, these alarm systems also offer extra protection for homeowners. Many homeowners rely on smoke alarms to alert them when a fire starts. Home security systems, meanwhile, provide a monitored warning system. In addition to alerting residents to smoke in the home, security alarm equipment would alert the local fire department.
To provide homeowners with comfort and peace of mind. The existence of a professional security system gives many families peace of mind to know that their house is safeguarded from a wide range of devastating scenarios. Such comfort is especially valuable for elderly, infirm, or frequently unoccupied homes. Home security systems can send out assistance for the elderly, who might not be able to leave their homes quickly enough in many perilous situations. Professional security systems not only keep an eye on every room in the house, but they also call the police when help is required for people who are unable to leave the house due to illness or injury. One of the most important benefits of using a home security system is the availability of continuous monitoring particularly if you are not able to do so yourself. Taking a trip or leaving the city for work might be worrisome, but with an alarm, monitoring services are always available to respond to emergencies.
Saving money on homeowner's insurance. Homeowner's insurance protects private residences and personal belongings from loss or damage that may happen as a result of several catastrophes. In most cases, first-time homebuyers do not factor in the price of homeowners insurance while making their purchase. However, owners who have installed home security systems frequently receive a sizable discount. The total discount granted for residences with security systems varies depending on the system's features, the original amount of coverage obtained, and the insurance provider. In general, homeowners save 10–20 percent on their insurance by installing a centrally monitored home alarm system.
To lower energy usage in your house. Since home automation is a fairly new concept, not all home security firms provide it; however, its popularity is growing. This service offers consumers remote access to and control of their home's lighting, thermostat, and, in certain circumstances, other appliances. Controlling lights and heating temperature when you are away can reduce your energy consumption by enough to offset the price of device purchases. With rising energy costs, this benefit may increase with time.
Having a second panic button. Most unmonitored systems don't have a feature like panic buttons, but monitored systems do. This button, which may be found on the system's control panel or key fob, transmits to the monitoring station when pressed. In essence, when the panic button is touched, emergency services rush to your home even if the security system isn't actively armed.
Professional monitoring offers various safety advantages over unmonitored security systems. Professional home security surveillance offers unmatched protection that is guaranteed. If there is a home emergency, such as a fire or burglary, an unsupervised system will only sound an alarm. If just an alarm goes off, a fire will continue to burn and a burglar might keep robbing you. But with professional monitoring, your security provider will get in touch with you right away to ensure the threat is genuine before sending out police or firefighters, as necessary. Ultimately, a monitored system makes emergency responders easily reachable.
About Vivint Security Systems
Vivint is definitely not a newcomer to the security company industry, having been in operation for more than 20 years. They are know for being an excellent value for the price and having a heavy focus on home automation and connectivity.
Each of their monitoring subscriptions include round-the-clock live chat, phone, and expert monitoring services. They also have a helpful guide on their website that answers many frequently asked usage questions.
Vivint has top-of-the-line equipment options, and all plans come with a panel, entrance sensor, motion sensor, and voice control. If you're looking for a more sophisticated system, Vivint also provides 1080p HD cameras with night mode, two-way audio, and round-the-clock expert video monitoring.
The most cutting-edge aspect of Vivint is not the technology directly, but instead its month-to-month monitoring agreement.
You can live without a contract and only pay your monthly monitoring charge if you decide to buy your equipment up front, or they offer equipment financing that could spread the cost over 60 months, as low as $10 per month. In either case, you have full ownership of your equipment.
Overall, Vivint is our top pick for security systems for homes due to its strong value for the price and the variety of additional services and features it offers.
Vivint Pricing
Speaking of their monthly monitoring, Vivint's entry-level package costs $29.99 per month and includes all of their typical automation and connectivity options, as well as remote control of the system through their highly regarded app, smoke and carbon monoxide tracking, two-way voice features, and cellular connection.
If you choose to use cameras and video monitoring, your monthly charges will start at $44.99 for a single camera and increase by $5 for each additional camera. Six cameras are the most they may have at once, with a monthly cost cap of $69.99.
Vivint Professional Monitoring
The $29.99 per month base package from Vivint includes 24/7 expert monitoring as well as environmental sensing for smoke and carbon monoxide detection.
They will notify you and offer updates about what is happening at home if your alarm is ever triggered. Your home will always be secure since they will notify emergency personnel if they can't reach you.
Vivint Installation
Depending on the intricacy of your system, Vivint typically provides expert installation for $49 to $199. This expense, which is incorporated into the price of the initial equipment, can either be paid in full up front or be included in your monthly payments. However, they are currently offering free activation, so check their latest deals.
Vivint Smart Home Automation And Integration
When it relates to automation and home integration, Vivint is the undisputed champion. They don't demand an update to your monthly payments, unlike ADT, and their gadgets are simple to pair with Alexa and Google Assistant.
Other integrations include:
Nest Thermostats
Garage Door Control
Amazon Echo
Google Home
Z-Wave Smart Locks
Water Leak Sensor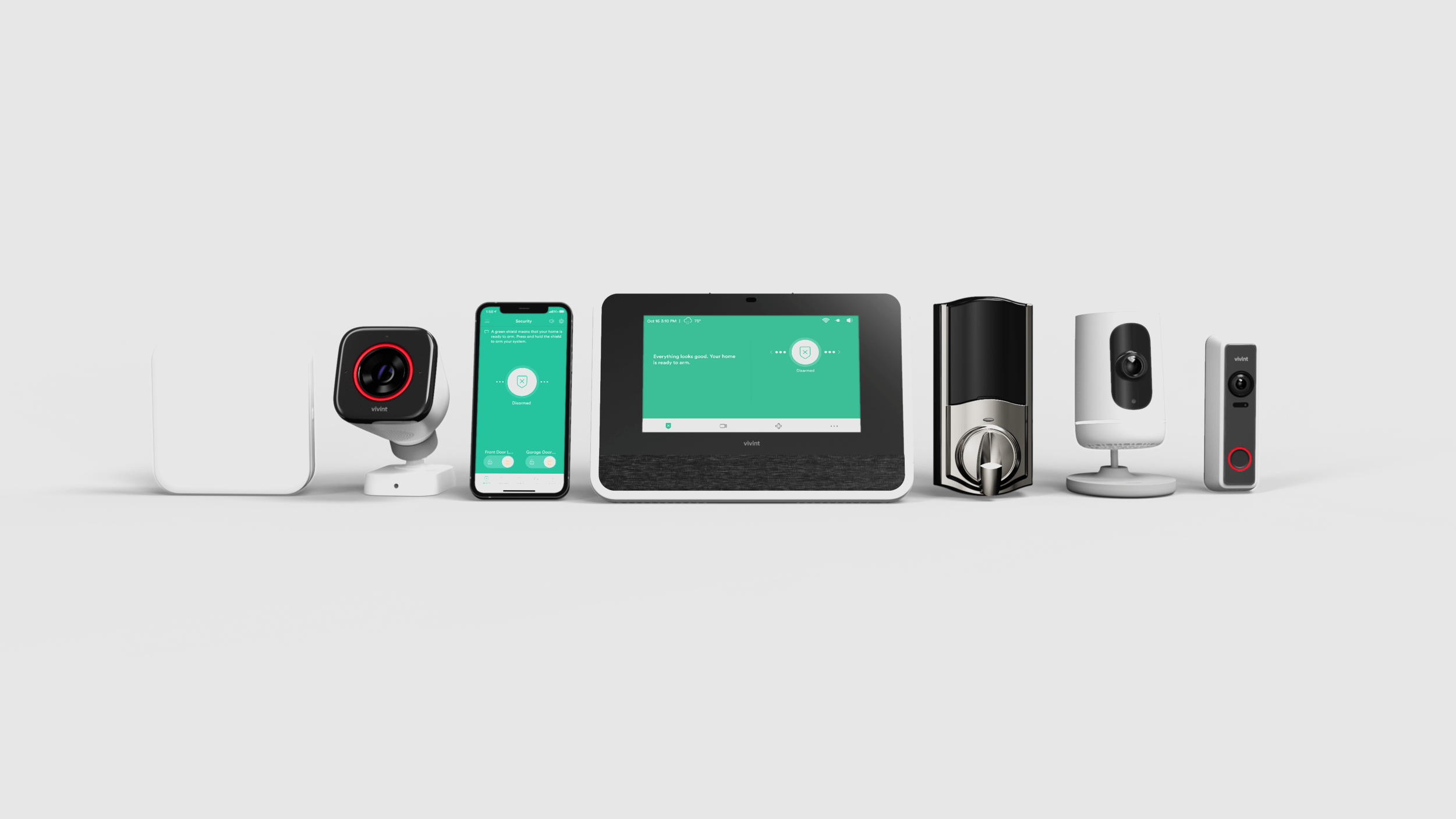 Other Advantages Of Vivint Security Systems
Vivint's cloud video storage is an available option of their video monitoring services. This gives you up to 14 days to review the 24/7 video from all of your cameras.
Vivint Fine Print
In general, Vivint offers simple pricing tiers along with a supportive staff to help you decide which equipment is most appropriate for your needs. Nevertheless, the fact that Vivint's equipment expenses start at $599.99 can be dissuasive, however this is competitive starting point for professional systems. Financing for up to 60 months can keep initial costs low.
About ADT Security Systems
The original security provider is ADT. With 146 years of experience, you may be sure that they will provide excellent service. ADT excels with its expert monitoring services, but if you'd rather do things yourself, they also have self-monitoring solutions.
ADT's customer support, which offers 24/7 telephone and chat options as well as a wealth of internet resources on how to operate, manage, and in some cases even install your system, is another advantage of having a long history.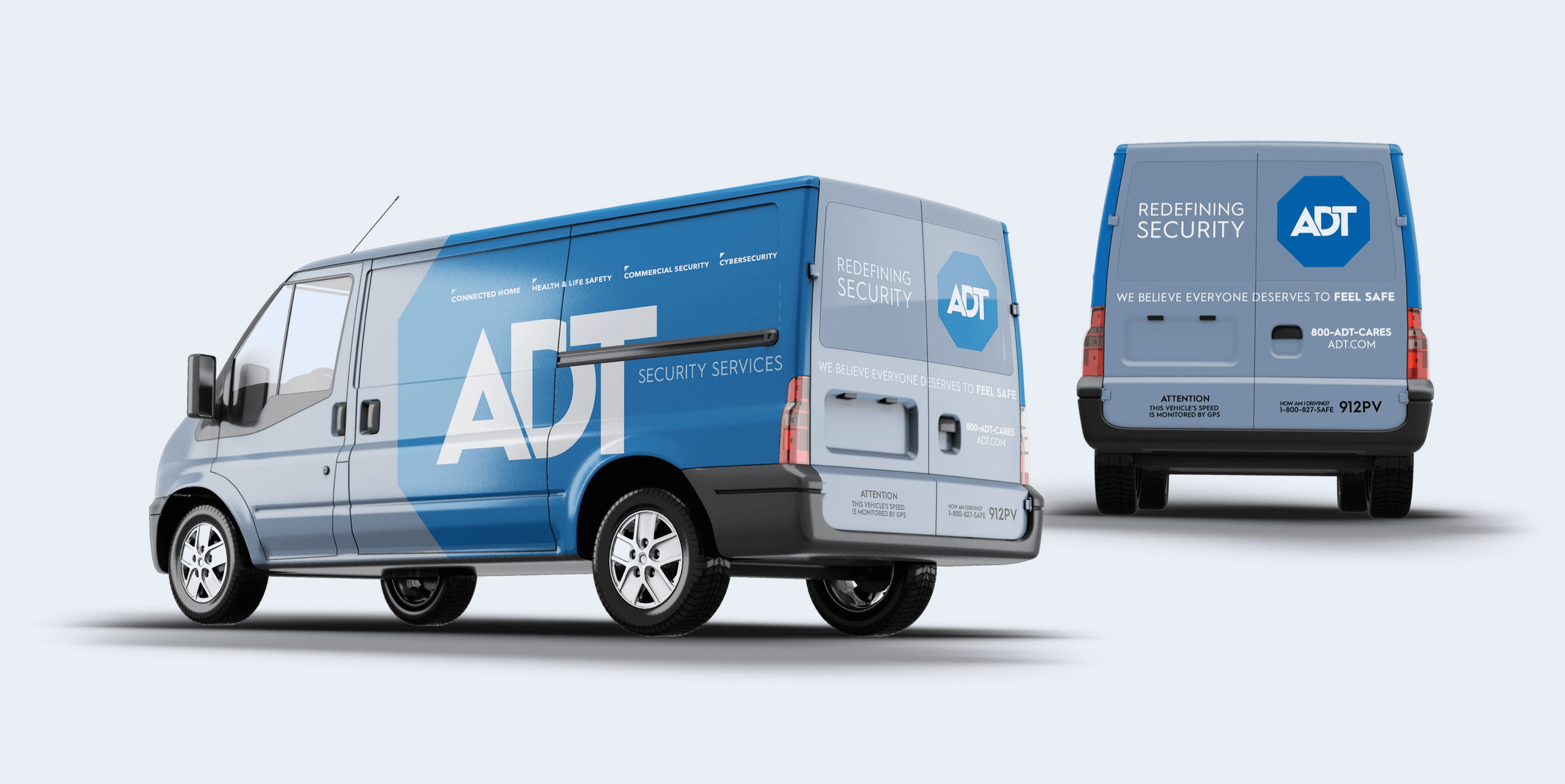 With properly installed completely wireless systems that include all of your standardized parts as well as a wide range of extra features like surveillance and door cameras, environmental sensing, medical notifications, gas break sensors, and panic buttons, ADT has the goods when it comes to equipment. Additionally to night vision and two-way audio, they offer 720p HD cameras.
ADT Pricing
Basic professional monitoring is included in ADT's monthly prices starting at $28.99, but you must upgrade to their $49.99 tier if you want to choose additional services like Vivint's home automation and app connectivity.
Your monthly expenses for video monitoring will start at $58.99 if you use cameras. In contrast to Vivint, ADT charges a monthly charge for renting equipment while providing gear and installation for no money down.
If you would rather keep your monthly costs low, you can choose to pay in full up front. Of course, the three-year minimum monitoring subscription that ADT requires for all monitored systems is the main catch with them.
PACKAGE
PRODUCTS INCLUDED
BASE COST
Build Your Own
Touchscreen Panel
Remote Arm/Disarm
3 Door & Window Sensors
1 Motion Detector
$474.50
Smart Home
Adds: 1 Smart Lock
$675.25
Video & Smart Home
Adds: 1 Outdoor HD Camera
Google Nest Doorbell
$912.50
ADT Professional Monitoring
Similar to Vivint, ADT provides round-the-clock professional monitoring supported by a system of nine independent monitoring centers, ensuring that someone is on call whenever necessary.
They were an obvious choice for Best Monitored System in the 2021 roundup due to their proven track record.
ADT Installation
Based on your equipment and area, ADT installation charges range from $99 to $199, which is about normal. ADT also provides DIY systems that you can set up and manage on your own, saving you money both upfront and over the long term.
You have the option of installing ADT security systems yourself. Installing the system doesn't require any technological expertise because everything is pre-programmed. The camera and the deadbolt are the most challenging parts to install.
It can be difficult to set up the camera because it is from Alarm.com but utilizes the ADT Pulse app. Instead, just use your PC to do it. The deadbolt is identical to other deadbolts with the exception of a few electronic parts.
Try YouTube if you learn best through aural means, and if you're ready to give up entirely, just pay a locksmith—no guilt in that! Overall, it should take around an hour to set up the ADT security system, which is acceptable.
ADT Smart Home Automation And Integration
While Vivint provides home automation at the lowest price point, ADT can connect to a wide range of devices, providing you with more options with any home automation systems.
Other Advantages Of ADT Security Systems
One of the special features of ADT is that, in the event of a break-in when the system is armed, they will pay the $500 insurance deductible. This shows how confident they are in their system.
ADT Fine Print
Additionally, you can choose to discontinue your agreement with the company at any time without incurring a fee, but depending on your package, you might be expected to pay up to 75% of the remaining monitoring expenses.
The main problem with ADT is probably the three-year monitoring contract. Being bound to a three-year agreement feels a little out of date, even though they provide excellent options up front with their 100% money-back assurance (including monitoring costs) for as long as six months after setup (some restrictions apply).
Main Differences Between ADT And Vivint
Contracting - This is the real eye-opener. In contrast to ADT, who demands a three-year monitoring agreement irrespective of if you purchased equipment upfront or not, Vivint allows you to choose a month-to-month agreement if you're ready to buy your equipment up front.
It's a terrific choice for individuals who want a little more flexibility because even if you choose to finance your gear with Vivint, you may still withdraw at any moment as long as you have paid the remaining balance on the equipment and installation costs.
Monthly Price - You receive a great selection of features with Vivint's entry-level $29.99 a month monitoring package, including the ability to control your system remotely via their app, environmental monitoring, and all of their typical home integration and connectivity options.
Your monthly costs will begin at $62.99 each month for the same "bells and whistles" as ADT, making it a considerably less appealing choice for those on a tight budget.
Installation - Vivint requires a professional installation, whereas you may install an ADT system yourself.
Billing - Vivint's billing structure differs from ADT's in that you may pay for your system in monthly payments rather than up front.
Main Similarities Between ADT And Vivint
Equipment - Both businesses provide devices with comparable features, such as thermostat control. ADT and Vivint both provide home automation integration, albeit to varying degrees and at various price points.
Vivint is can be more costly when it relates to initial equipment expenditures, but unlike ADT, you will own your gear outright and are not bound by a long-term contract. Overall, both businesses provide premium parts with a comparable range of features.
Installation - Both businesses charge a fee for expert system installation. Vivint's installation costs start at $49 while ADT's are $99; but, depending on your location and the intricacy of your system, installation from either company might cost as much as $199. Both companies may offer limited time promos that can eliminate these fees.
Professional monitoring - Vivint has established itself as a leader in this space, providing comparable monitoring systems at less expensive rates, despite the fact that ADT has the oldest reputation for its professional monitoring services.
The only catch is that ADT imposes a minimum three-year monitoring commitment for their services, which makes it difficult to compete with Vivint's top-tier month-to-month option.
Which Is The Best Security Company Overall?
Vivint and ADT are generally similar in terms of services, technology, and monitoring, but Vivint's month-to-month contract and smart home benefits make it the more future proof solution.
The top-rated Vivint app offers unparalleled features for remote system control and easy integration to most any home automation equipment without charging a premium.
Vivint takes home the award for best security provider for top-of-the-line gear and affordable costs, even with its most advanced packages that include cameras and extra capabilities.
Conclusion
Vivint is our recommendation for the finest security provider overall with it's class leading smart home extensibility, but ADT is also a great option for your home.