Are you looking for a new home security system and can't decide which one is right for you? Or have you narrowed your options down to Vivint vs Frontpoint, but can't make the final decision?
Maybe you are curious about these two companies, what they offer, and want to know more? No matter what the question is that has brought you here today, we have the answer for you!
These days there are so many different options on the market when it comes to home security systems. And all of these systems claim to be the best!
If you're like me, you've been sitting down only to find yourself reading review after review, watching video after video- but never getting the answers you need. Instead, the screen is filled with conflicting information that doesn't help with your decision.
Well, no more! Today we are here with the answers you need: An in-depth comparison of both home security systems to help you figure out which system is for you!
Read on to explore the similarities and differences between Frontpoint Vs Vivint, to decide which security system best suits your needs. Before we get into our comparison, let's start with a quick overview of each home security system.
Frontpoint Overview
First up, we have Frontpoint. Frontpoint offers a range of security packages; whether you want a small system for an apartment, or a network of cameras and sensors for larger homes- they have an option for you!
There are many different items you can choose from. If you want a video doorbell, a smart lock, indoor camera, glass break sensors, or keychain remotes, Frontpoint can provide it all.
With Frontpoint, you can choose from a pre-built kit, or make your own - the choice is yours! There is often a price reduction that applies to add-on items too, meaning you can save yourself some money if you make a custom kit.
The price of kits varies. Between the affordable starter pack and the more expensive family lookout, there is a kit and price to suit all budgets.
You can also split the cost over a monthly plan if you want and consolidate it with your monitoring fee. That's right: Frontpoint offers professional monitoring!
There's actually no way to avoid this (and the monthly fee is a little pricey), so you need to make sure that you can afford this cost before you make your purchase.
Frontpoint only offers one subscription plan, but with this plan, you have fantastic benefits. You get access to a mobile app, alerts from the app, live feed streaming, cloud video storage, and home automation. That's a lot of features for the price.
You can install Frontpoint yourself, thanks to its easy DIY installation. This free installation shouldn't take you too long either, depending on your experience level.
However, for those that need some extra help, you can be walked through the process over the phone. We found that the installation process was quite simple when testing it out ourselves!
Frontpoint is a 100% cellular system, which does not require any internet connection to work. Should your power go out, your home will still be kept secure.
You can tune into your security system remotely thanks to the Frontpoint app. The app is super easy to use, and will allow you to check on your home and watch your cameras in real-time with ease.
Vivint Overview
And what about Vivint? Well, Vivint is a home security system that comes with 24/7 professional monitoring as standard! The security system can be purchased as a kit, or you can purchase the items individually, whichever suits you.
There is a huge variety on offer when it comes to security items. Choose from indoor and outdoor cameras, motion sensors, window and door sensors, doorbell cameras, and more!
What we love about Vivint is their wide range of smart home devices they offer in addition to their security service.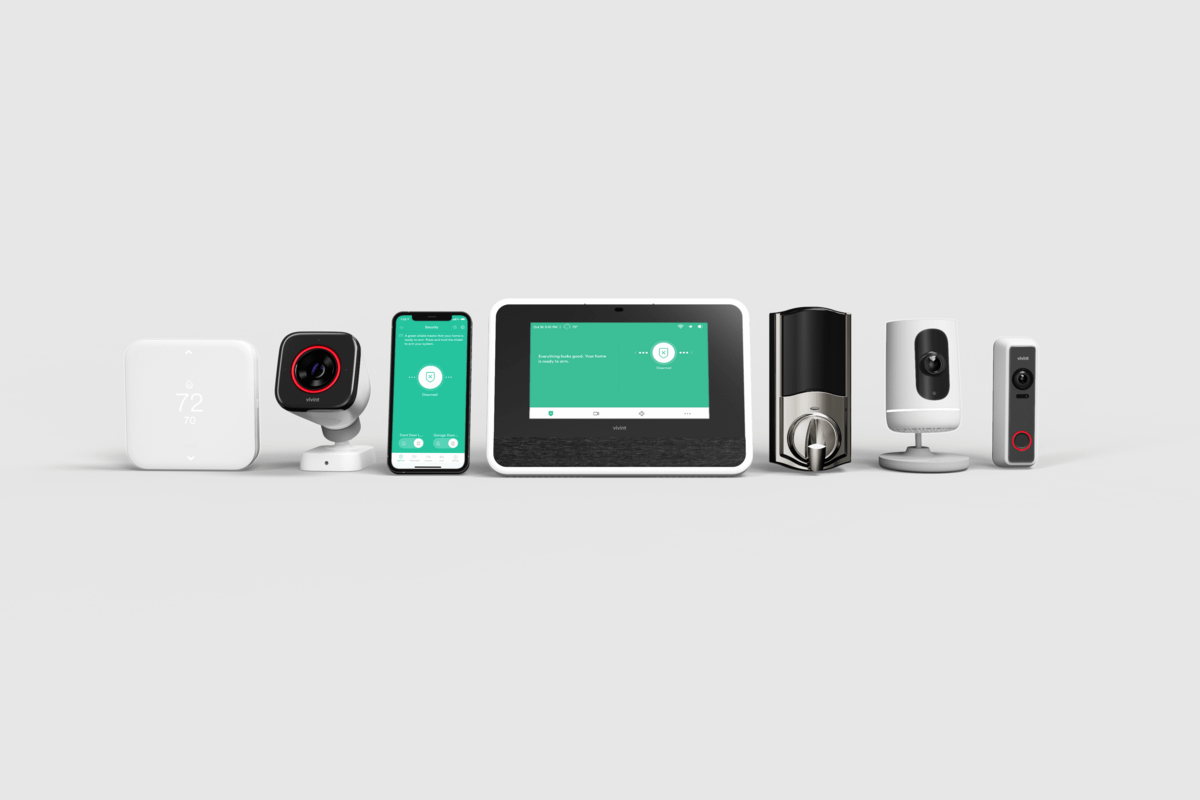 Buyers can choose from a carbon monoxide detector or a thermostat, among others, and connect them to your security system and mobile app. That way, you can turn the heating on or off when you aren't home, letting you save money on the power bill.
You can also connect your home security system to any smart home devices you already have! If you have Amazon Alexa, Google Assistant, or Z-Wave, you can use them to communicate with your security system. It's never been easier to keep an eye on your home.
Vivint is installed professionally, so all you need to do is sit back and relax! When you purchase your Vivint system, you will select an installation date. An expert will then come to your house and hook up all of your cameras, sensors, and anything else you purchase.
The cost of this installation is reflected in the overall price (meaning Vivint is on the pricier end of things) but if you aren't familiar with security systems, professional set-up is so much easier than you stressing about where to put the cameras!
Vivint puts your security at the top of their priority list. Should any sensor or camera detect an intruder, Vivint will send you a notification and alert the emergency services in your area, dispatching someone to your home.
They don't just do this for intruders, either. If a flood or fire is detected, again they will contact the emergency services for you, keeping your home safe no matter the circumstances!
This is accomplished through the monitoring your sensors and home 24/7. The extent of this monitoring depends on the subscription plan you choose.
With Vivint, you have the choice of three monthly subscription plans. These plans aren't the cheapest, but the three options do offer a wide range of choices.
Unfortunately, for your cameras and sensors to be monitored, you'll have to shell out for the most expensive subscription (which may understandably exceed the budgets of many).
You will also need to consider the upfront cost of your Vivint equipment. It is quite expensive and can cost you hundreds of dollars, which is not something that everyone can afford!
You don't have to pay for the equipment upfront, though, as you can spread the payments over a five-year contract. Five years is a long time to be locked into an agreement, so be sure to carefully consider all factors before making your purchase.
Frontpoint Vs Vivint - Which One Is Better?
Now that we have looked at both security systems in close detail, you're sure to be wondering which one is the better choice for you. To help you decide, we have broken down our guide into factors that you should consider when choosing your new security system.
For each factor, we tell you which system we think is the better choice to help make your decision easier. Let's get into it and see which one is better for you!
Features
Vivint's features can be seen in full below, along with their package options:
Features
Starter Package
($10/monthly)
Premium Package
($25/monthly)
Premium Plus
($40/monthly)
Intrusion detection
✓
✓
✓
24/7 Monitoring
✓
✓
✓
Mobile app
✓
✓
✓
Touchscreen control panel
✓
✓
✓
Theft deterrent
X
✓
✓
Video security
X
✓
✓
Stored video clips
X
X
✓
Voice control
X
X
✓
Vehicle protection
X
X
✓
Smart home automation
X
X
✓
All Frontpoint products as well as their monitoring plans are listed below:
| Features | The Starter Pack ($129) | The Home Shield ($269) | The Family Lookout ($349) |
| --- | --- | --- | --- |
| Frontpoint hub and keypad | ✓ | ✓ | ✓ |
| Motion sensor | ✓ | ✓ | ✓ |
| Home defense kit (yard sign, window decals, door stickers) | ✓ | ✓ | ✓ |
| Door/window sensor | ✓ | ✓✓✓ | ✓✓✓ |
| Flood sensor | X | ✓ | X |
| Smoke/heat sensor | X | ✓ | X |
| Indoor camera | X | ✓ | ✓ |
| Doorbell camera | X | X | ✓ |
| Keychain remote | X | X | ✓ |
When it comes to the features on offer, Frontpoint and Vivint are fairly similar.
They both offer a wide range of services that you can take advantage of. Frontpoint seems to lead the way here, with geo-location services and secret alarms that set it apart from the competition!
Smart Homes
You get smart home integrations with both Frontpoint and Vivint, so whether you use Alexa, Google Assistant, or Z-Wave, you can control your home security system easily!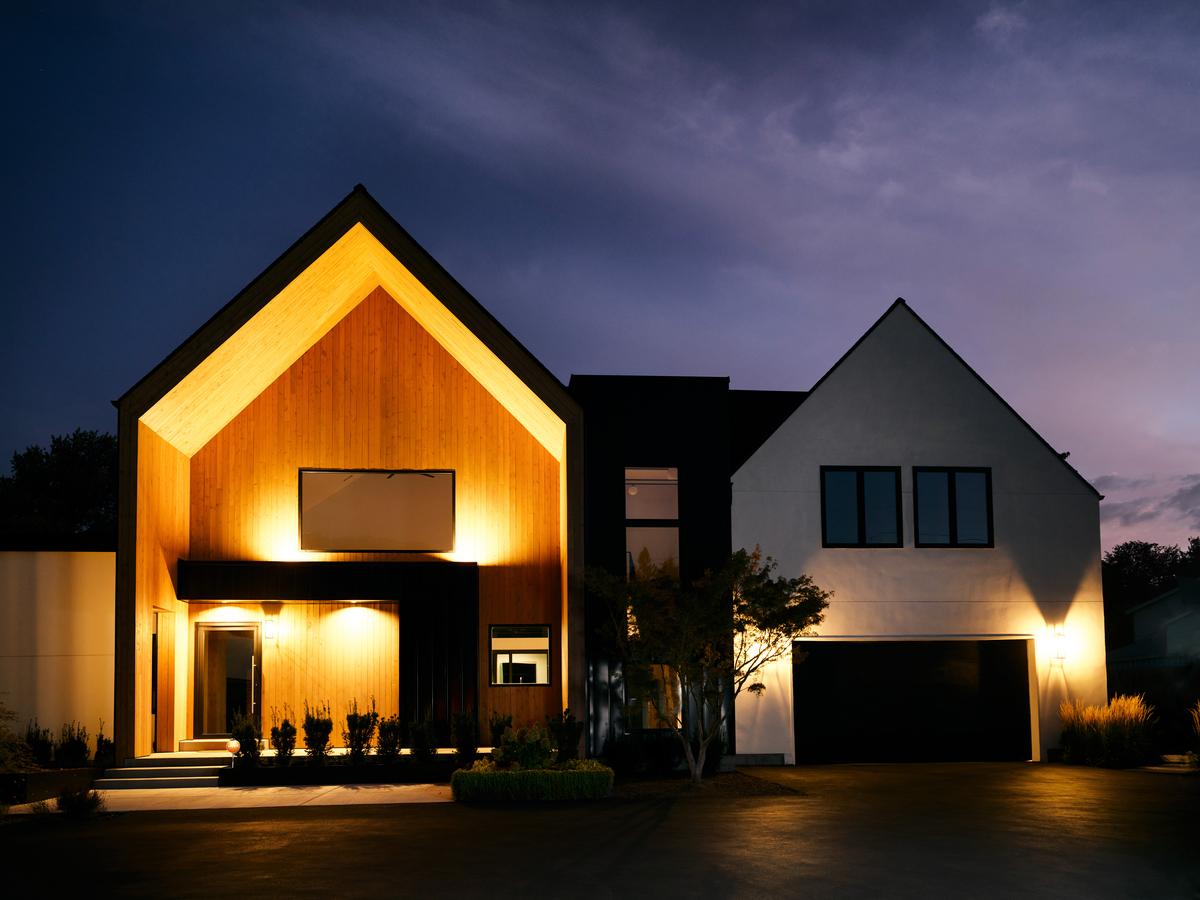 You can even connect Vivint to your other devices like thermostats and carbon monoxide detectors, providing you with updates and notifications as and when you need them. This feature is exclusive to Vivint.
App
Both Frontpoint and Vivint come with an easy-to-use mobile app. Looking at the ratings and the functions on offer, Vivint seems to have the better app- especially if you're an Android user.
The Vivint app allows you to arm and disarm your system, control the temperature of your home, and talk to any visitors by your video doorbell. You can also receive notifications, live stream your cameras, and control any smart locks you have.
Of course, this does depend on the subscription you have paid for; nevertheless, the range of functions on every plan is expansive!
Frontpoint's app allows you to control any connected devices, arm and disarm your system, receive notifications, review any history, and live stream your cameras. You get access to all of this with your monthly subscription, and users found the app easy to use!
However, compared to Vivint's 4.6 rating on the Google store and 4.5 rating on the Apple store, Frontpoint has a rating of 4.1 and 4.5 respectively. While these are still fantastic scores, Vivint does take the edge here and wins the round of better apps!
Connectivity
An app isn't the only feature that Frontpoint and Vivint have in common. You get professional monitoring with both systems (more on this later), and both work with cellular connections.
If your Wi-Fi fails or the area suffers a power outage, your security system will continue to operate. This feature is fantastic if you are away from home when the power cuts, as you don't need to worry about rushing back to manually turn the system back on!
Both systems are ideal for those that are away from their home for long periods, and you can communicate with anyone on your video doorbell camera. Should you need to tell a delivery driver where to place a parcel, or let a visitor know you are away, you can do so easily.
It's never been easier to keep tabs on your home.
Overall
Vivint has a better app and more smart home integrations, but Frontpoint has much cooler features like their secret locks. Consider what it is you want from your home security system and use this to decide which is the better option for you!
Don't forget to also check out the rest of the factors listed below to help make your decision.
Monitoring
Both Frontpoint and Vivint offer 24/7 professional monitoring. This monitoring covers all your cameras and sensors, so you won't need to worry while you are away from your home. When anything is detected, you will be notified and emergency services contacted if needed.
Now, Vivint offers monitoring on fires, floods, and smashed windows, protecting you from disasters as well as intruders! It's ideal for those that spend long periods away from their homes, and want them to be kept secure.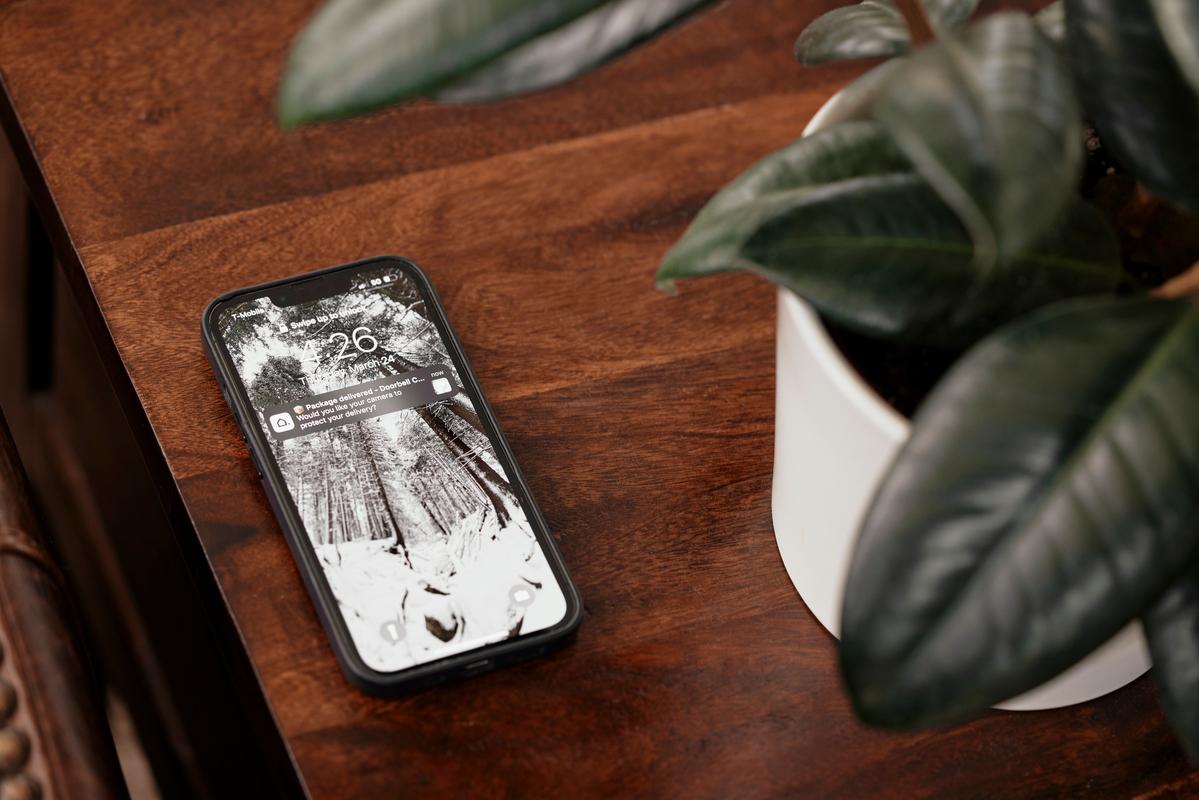 Frontpoint also offers broken glass sensors, but their site doesn't mention blanket monitoring for fires and floods, so be sure to double check the plan to see if that's available for you.
Vivint offers three differently-priced plans, that determine how much monitoring you will receive. It's a fantastic option for those that are looking to lower their costs or don't want to pay for video monitoring.
As we mentioned earlier, you only get video monitoring with Vivint's most expensive subscription plan, so make sure that you consider carefully whether you can afford it in your budget.
Frontpoint only offers one monitoring plan, but it includes everything! You get video, sensors, and access to the app with their plan. It is the same price as the most expensive Vivint plan, so it pays to compare these plans closely before purchasing either.
When it comes to monitoring, both Frontpoint and Vivint offer 24/7 professional monitoring. However, with Vivint, you have more choice in the extent of their monitoring.
Installation
Frontpoint
Frontpoint is installed completely by yourself, at no extra cost. The installation process is super smooth, and shouldn't take you too long at all.
There's no need for tools or drilling, and you don't need to worry about getting tangled in cables. Instead, most of its sensors and cameras feature a peel and stick adhesive on the back.
It couldn't be easier to install this system! If you have never installed a home security system before, you can still call customer support so they can walk you through the process on the phone.
It's perfect for beginners who need some extra help, or if you run into any issues along the way.
Vivint
Vivint offers professional installation of their home security system. An expert will come to your home and sort everything out.
It's the perfect option if you don't have the time, or aren't too sure how you will install it yourself. There is no option to install the system yourself, so you can sit back and relax while they do the work for you!
Some customers have noted that when they had their systems installed, they waited too long for the installer to arrive. This is due in part to the given time window, which is often large.
We recommend booking your installation on a day when you are already home, so you don't need to feel like you have spent your day waiting!
If you want to have your security system installed yourself, then it is best to opt for Vivint. However, if you are happy to spend a few minutes installing it yourself, then Frontpoint is the one for you.
Cost
Vivint
Vivint is the more expensive option, whichever way you look at it. Their equipment costs more than double what Frontpoint's does.
You can spread the cost of Vivint's equipment if you wish, but will be locked into a contract for five years that must be paid off.
The monthly fee should also be considered. The subscription is for your professional monitoring, and you have three options to choose from. These options range in price.
It's worth noting that the level of monitoring you get will vary depending on the plan that you choose. To have all of your cameras and sensors monitored, you will need the most expensive plan.
Frontpoint
The cost of equipment with Frontpoint is far cheaper. Even their most expensive package is half the price of Vivint's! It's the better option for those on a budget, especially since there always seems to be an offer or sale you can take advantage of.
Often, when adding on to a package or customizing it, there will be a money-off offer that allows you to not only buy the system you want, but to save as well!
There is a monthly cost involved with Frontpoint too, and it is the same price as Vivint's most expensive plan. Frontpoint only offers one subscription plan, which isn't going to be ideal for everyone. However, the plan covers all the monitoring you would ever need.
If you want all your cameras and sensors monitored, and full access to their mobile app, then it's a no-brainer - the premium package is for you!
As the cost of their equipment is a lot cheaper (you might not even need to finance it or spread the cost), then you can almost off-set the higher monthly subscription fee.
Of course, this does all depend on your budget, and how much you are prepared to pay every month. Consider your finances and security needs carefully to ensure that you make the right choice for yourself.
But for those on a budget, Frontpoint is the cheaper option!
Final Thoughts - Which One Should I Choose?
So which should you choose? If your budget isn't a concern, then go for Vivint. But if you are looking to save some money and still enjoy cool features, Frontpoint is the one for you.
Finding the right home security system for yourself can be tricky, but by using the factors we have considered, you can narrow your choice and make the right one for you.
Whichever it is that you choose out of Vivint Vs Frontpoint, we're sure that you'll be happy!