Vizio's new 70-inch M70Q7 is a part of the company's 2021 Quantum M-Series of TVs. You'll also find five other sized TVs in the lineup, ranging from 50 to 75-inches. No matter which TV you go with, all models support the four major HDR formats, including Dolby Vision, HDR10, HDR10+, and Hybrid Log-Gamma. Meaning they are compatible with just about every HDR video currently found on disc or through popular download and streaming apps.
On top of excellent HDR support, Vizio has designed this series with gamers in mind. The company's proprietary ProGaming Engine has added AMD FreeSync support for a tear-free gaming experience. The Quantum M-Series also has ultra-low input lag (specified as less than ten milliseconds in certain modes), as well as Variable Refresh Rate support with HDMI when you have compatible gaming hardware connected. Gamers can expect a smooth gameplay experience with a fast response from the TV when pressing buttons on your controller or keyboard.
Color
The Quantum M-Series TVs are LCD-based, with the 70-inch version utilizing 30 LED dimming zones. Vizio uses these zones in conjunction with a dynamic contrast system to provide excellent contrast and black-level performance. They don't match an OLED TV for blacks and the dynamic range in the image, but it gets you closer than ever before, thanks to the dynamic contrast system.
As its name implies, the M-Series uses quantum dot technology to enhance color performance. In a nutshell, quantum dots are man-made nanoparticles which are used to create narrow wavelengths of light that wouldn't otherwise be possible without them. This process helps deepen shades of color, thus providing a broader palette that a TV can use to present an image. Vizio claims up to a 70 percent increase in color volume over most conventional TVs on the market. This color performance is used with today's HDR video, which requires enhanced color performance to display most content accurately.
Smart TV Capabilities
These TVs are also smart-enabled with the latest SmartCast operating system. On top of Casting and AirPlay 2 functionality from Google and Apple, you'll be able to use pretty much every popular streaming app out there, including Apple TV+, Disney+, HBO Max, Hulu, Netflix, Pandora, Paramount+, Peacock, Prime Video, YouTube, and YouTube TV. Vizio also includes access to hundreds of free streaming channels through the TV's WATCHFREE+ app. And while Vizio doesn't have its own smart assistant built into the TV, you'll still be able to use Amazon Alexa, Google Assistant, or Siri to control and search for content to watch.
Before you buy, check out our list of the best 70-inch smart TVs on the market.
Setting Up the Vizio M70Q7
After unboxing the TV, I found the build quality excellent, with Vizio using a mix of metal and high-quality plastics throughout. The design of the TV and stand follows the minimalist, near-bezel-less trend most manufacturers are using, which means this TV should fit into a wide variety of decors.
Connections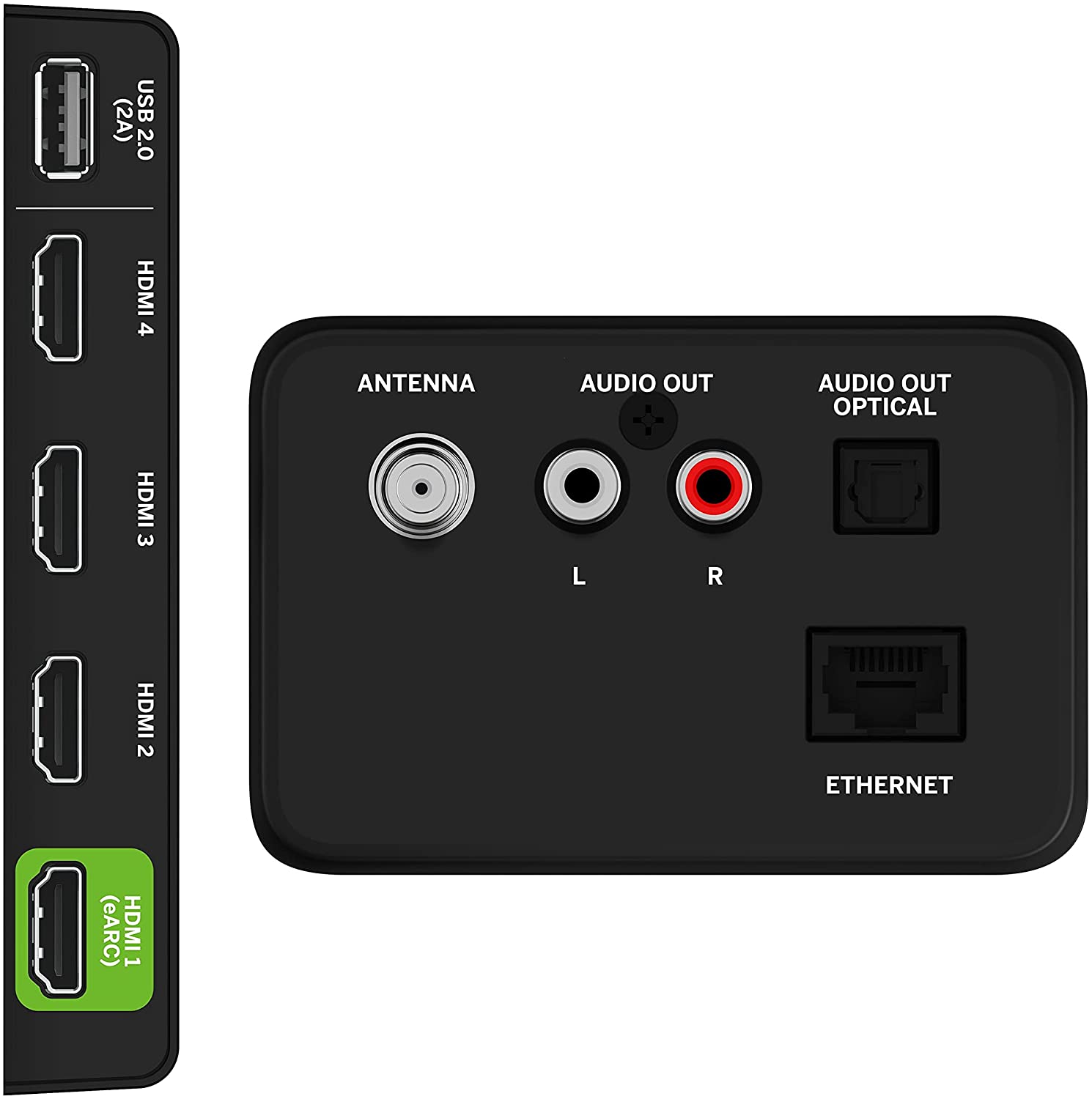 The M70Q7 is relatively competitive with other 70-inch TVs near this price point. You'll find four HDMI 2.1 ports, one being eARC compliant, making it easy to send digital audio back to a connected A/V receiver if you use one with the TV. There's also a USB port you can use to playback media locally or supply power to connected hardware, like a Roku or Chromecast streaming device. A dedicated Ethernet port, digital TV tuner, stereo analog outputs, and an optical SPDIF port round out the connection options.
Audio
TFor audio, the M70Q7 comes equipped with a pair of 10-watt speakers and audio outputs that support sending the latest Dolby Atmos and DTS:X audio codecs. Additionally, you'll get Vizio's simulated surround sound mode. In my testing, as long as the TV setup and your room acoustics allow for it, it will feel like there's more than just a pair of stereo speakers in the TV. However, it goes without saying that a proper surround sound setup will do a much better job if you're after an enhanced audio experience at home. With several audio output options to choose from, Vizio makes it easy to use your own set of speakers with the TV.
Interface and Control Settings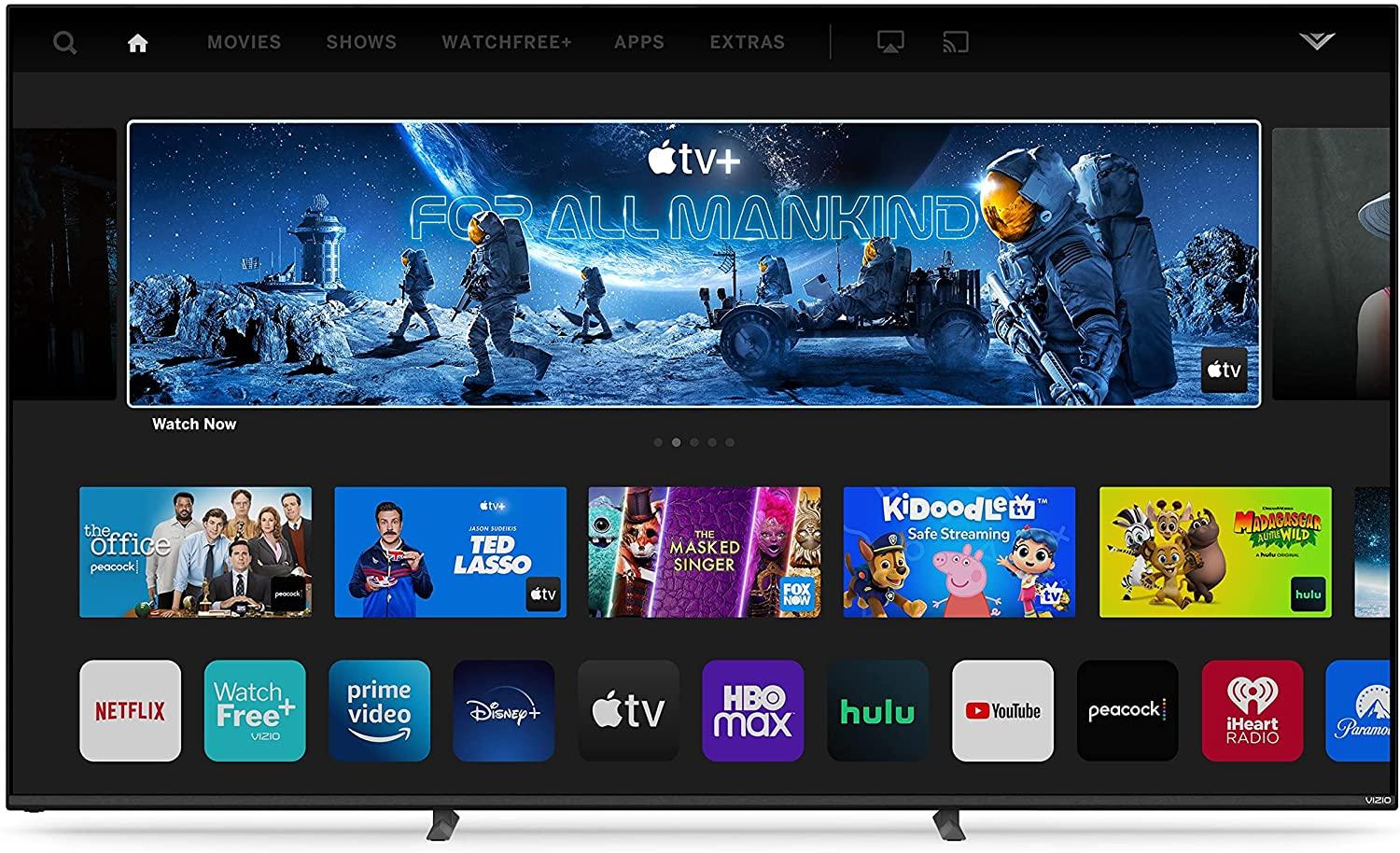 I really like the user interface that Vizio uses with this series of TVs. It doesn't look quite as pretty as some competing brands, but the upside is you won't be trudging through endless sub-menus trying to find the option you're looking for. If you want to fine-tune or calibrate the image, having easy-to-navigate menus is always a plus.
Speaking of fine-tuning, Vizio gives you a complete color management system on top of the basic image control options. This includes extensive balance control options and several gamma preset selections if you want to venture past the out-of-the-box calibration and default image settings. You'll also find six preset image modes, options to enhance image detail or set the backlight brightness, and three different LED dimming dynamic contrast modes. For the latter, I used the High setting for most of my testing.
When the TV detects HDR video, you'll find an additional menu option labeled Tone Mapping. This menu is an HDR brightness static tone map adjustment tool that allows you to alter how much brightness and contrast you'd like. If you're viewing HDR with the lights on, I'd recommend setting this option to High, as it will give you the impression that the video content is brighter overall in appearance. With the lights off, the correct setting is your personal preference. Choose one that looks the most appropriate to you.
How Does the Vizio M70Q7 Perform?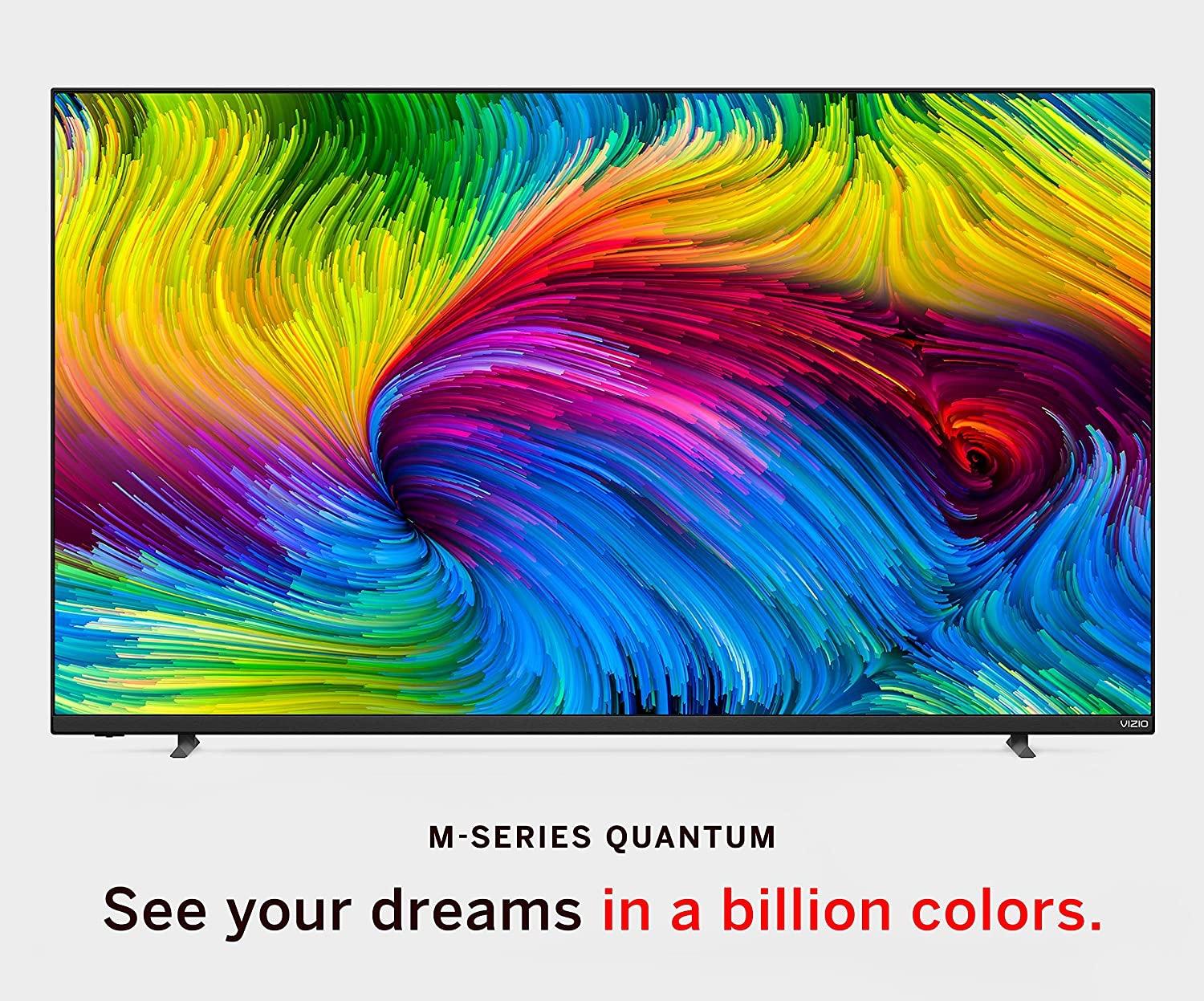 I suspect one of the biggest deciding factors for many considering this TV will be its size. I can say, coming from my 55-inch LG B8 OLED, the M70Q7 looks huge in comparison. The experience of using a 70-inch TV in place of my 55-inch continually impressed me. I kept thinking to myself how much more of an immersive experience it was. Despite many of the picture quality advantages of OLED compared to LCD TVs, the sheer size and immersion into the content never had me missing the LG.
It wasn't just the immersion that I felt was better. Both of these TVs offer 4K resolution - but because the pixels are physically larger on the Vizio, I could see more detail in the image than I previously had with the LG. If you want to take advantage of all that 4K resolution, bigger is always better.
My review unit measured close to reference performance out-of-the-box while using the TV's Calibrated Dark mode. For REC709 SDR content, when choosing the Warm white balance setting and 2.2 gamma preset, I measured delta errors below 3 for grayscale, gamma, and color tracking, which is below the detectable threshold for human vision. After calibration, delta errors tracked below 1.5, offering true, reference performance.
I measured 370 nits of peak white image brightness. This measurement is a fairly average and competitive performance for an LCD TV in this price range. It is still more than bright enough to use in rooms with a moderate amount of ambient light. So unless you're going to be placing this TV in a room where direct sunlight is hitting the screen, the M70Q7 will offer enough brightness for most install scenarios.
For HDR, Vizio puts those quantum dots to good use for this TV's REC2020 compatibility mode. After calibration, I measured 91.6 percent coverage of the DCI-P3 gamut in the REC2020 triangle. This extra color saturation is noticeable with suitable video material. My go-to demo video to check out color performance is the movie Inside Out on Ultra HD Blu-ray. This Pixar title goes ham on vibrant and deeply saturated colors. And through the M70Q7, I was impressed with what I saw, showing excellent dynamic range to the color, very reminiscent of how my LG B8 OLED handles this disc.
Its contrast performance is excellent among other LCD-based TVs near this price point. I measured 6,200:1 native on/off contrast, which is class-leading performance. And the dynamic contrast system on this TV is definitely worth using. Not only because it dramatically helps to make this TV feel like it has a lot more contrast, but also because it's not particularly noticeable. Vizio has put in the hard work to refine its dynamic contrast software so that it largely avoids the typical pitfalls of less refined implementations, such as pumping, blown-out highlights caused by clipping, and large swings in color temperature as the software works.
In the Mines of Moria sequence in The Lord of the Rings: The Fellowship of the Ring, when the fellowship enters the mines, they're attacked by a monster. This scene is already very dark to begin with, which the M70Q7 handled quite well, showing excellent shadow detail, bright highlights, and deep, inky blacks. But as the monster destroyed the mine entrance, there is a quick fade in and out of black which the TV also nailed convincingly, unlike many other LCD-based TVs I've tested. This performance is thanks to the TV's strong native contrast, but more importantly, its ability to shut off the LEDs completely when an all-black image is detected. Suffice to say, contrast performance is one of this TV's major strengths.
While the M70Q7 lacks smooth motion creative frame interpolation, it does offer a black frame insertion mode to help give the impression of higher motion resolution. You'll find this setting in the Motion Control sub-menu, labeled Clear Action. My recommendation is to turn this feature on. In my testing, it noticeably reduced the amount of blur added into the image that nearly all LCD TVs are known to do. And best of all, I didn't witness any annoying side effects that other implementations have, such as flicker or reduced image brightness.
Like with movies, I found that gameplay was also a far more immersive experience due to this TV's size and 4K resolution. It was far easier to track characters' movements on screen, giving me a slight advantage in competitive games I didn't have with my 55-inch. This advantage was especially apparent when I had some friends over to play Super Smash Bros. on Nintendo Switch. With as many as ten players on screen at any given time, it was easy to fight my way through the raging battle happening on screen. I was able to react fast, as well, thanks to the low input lag. I measured just 11 milliseconds through my Leo Bodnar input lag tester, which is outstanding performance, even for competitive online play.
The Downside
While the M70Q7 has a lot of great gaming features, it is missing a 4K120p input option that many other TVs are starting to have. Whether or not this is a deal-breaker will be dependent on the type of gaming hardware you'll want to use with the TV. If you're using the latest consoles or a high-end gaming PC, there are better options out there that can give you more input-type flexibility to enhance your gaming experience. But if you're a more casual gamer not worried about having all of the latest features, the M70Q7 still offers a very enjoyable gaming experience overall.
The M70Q7 uses a VA-type LCD panel. This LCD panel technology is excellent for high contrast image quality, but its biggest weakness is off-axis viewing angles. VA panels prefer the viewer to be as close to dead-center as possible to see the best color and contrast performance. As you move off-axis, you may start to notice the image becoming slightly washed-out in appearance. So if the room you're placing this TV in has seating off to the sides or if you're mounting it high on a wall, you may want to consider something different, as you won't see all the performance this TV has to offer.
Comparisons and Competition
The Quantum M-Series' biggest competitor is the Hisense U6G series of TVs. The 75-inch 75U6G model is priced closest to the M70Q7 and offers potential buyers a very similar feature-set and overall performance. The biggest difference buyers should be aware of is that the 75U6G is about 25 percent brighter in a color-accurate mode, making it a better option for those who'll be placing their TV in a brightly lit room or for those who'll be watching a lot of HDR video.
Another option you have near this price point is a smaller OLED TV from LG. While technically offering superior performance in most areas, as I mentioned earlier, the size and immersive experience you get from using such a large TV easily make up for some of the deficiencies LCD-based TVs have. So if the size of this TV is the main reason you're considering it, I'd say go for it instead, because the performance Vizio gives you is still very impressive overall.
Final Thoughts
Vizio has hit the nail on the head with competitive class-leading image performance for an enjoyable viewing and gameplay experience. The built-in SmartCast operating system is also snappy, easy-to-use, and generous with the apps and features it supports.
While this TV might not match similarly priced OLED TVs in certain regards, Vizio has implemented several technologies that dramatically help bridge the performance gap. So when you factor in the sheer size this TV has over the smaller OLED options at this price point, you shouldn't hesitate for a second. Movies, TV shows, and games take on a whole new personality at this screen size, which easily makes up for some performance differences between the two display technologies.