The best bargain in big screen TV today may well be a technology you haven't considered in years from a company you may not have heard of at all! That's right! The new WEMAX Dice 4K Projector -- named because it looks like a 6-inch cube with a carrying handle – delivers a high-resolution, 1080p -- picture that can expand up to 200 inches. For those of us slow at math, that's more than 12.5 feet. Yes, you can get a flat screen that goes into triple digits, but it's likely to be wildly expensive and difficult to move. The WEMAX Dice weighs in at a tad less than 5 pounds and has a normally suggested retail of $699.99 BUT the projector is currently being offered at a limited time special price of $419.99. Again, for those of us arithmetically challenged, that's a saving of 40%, or nearly $280.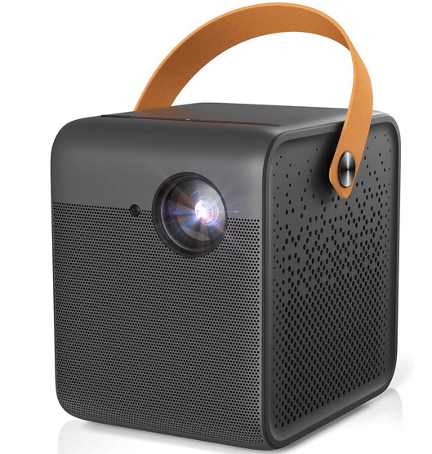 At this time of year, you can consider it a Christmas present for the whole family, that will bring pleasure the year 'round. The Super Bowl is a wonderful winter event and seeing it on a really big screen with vivid color Dolby sound brings the excitement home. For years, a July 4th tradition at my house has been screening Independence Day. And, since the Dice is bright enough for outdoor use, I look forward to celebrating in the backyard with the city's fireworks display augmenting Will Smith and Jeff Goldblum saving the planet.
High Performance Specs and Features
Operated by its easy-to-use remote control, the WEMAX Dice is no gamble in the quality and features departments. Not stopping at 1080p Hi-Def performance, the Dice can deliver true 4K –3840 x 2160 – resolution. That means that the look of streamed content is not limited by the capability of the TV display device. The resolution is there and the 700 ANSI Lumens of the projector ensures that the image stays bright, crisp and immersive.
Technical Marvel in a Small Package
"Keystoning," the phenomenon of a projected image appearing trapezoidal rather than fully rectangular, is caused when the projector beam is out of perpendicular alignment with the screen, either through projector placement or screen angularity. The WEMAX Dice eliminates the keystone effect via its 4-point correction system. It can provide 45o of vertical and horizontal adjustment to ensure an undistorted picture.
A 4-channel LED configuration provides an exceptional light source for the new Dice. And the automatic focusing system delivers a pinpoint-clear image.
Dice delivers more than a superb picture. What would today's movies be without the sound that has become part of the immersive experience? Dolby Digital Plus, DTS-HD and a pair of highly efficient speakers are also incorporated in the new model. The combination is more than enough to deliver a sonic punch even in large rooms.
All This and Android, Too
"What can we watch?" is never a problem with the WEMAX Dice. It's built-in Android TV 9.0 assures that there's always something, good, interesting, and involving available. You can download YouTube, Prime Video, Hulu, Disney+, HBO Max, and more directly to the projector.
Still not enough? A smartphone's screen can also be mirrored directly to the projector!
Versatile Connectivity
The WEMAX Dice has Chromecast, which means you can stream content from your mobile devices. It is also Bluetooth compatible. That means that you can connect any audio device, such as speakers, sound bars, or earphones/headphones. In terms of inputs, it has an HDMI input on the back, a USB 2.0 port, and a 3.5mm audio jack port.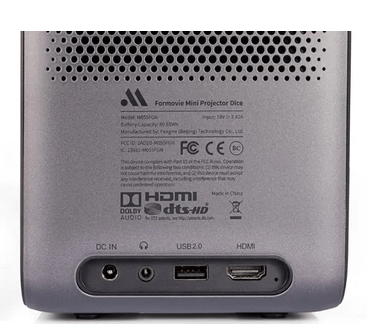 The combination of Bluetooth and the back-panel jacks makes the connection to your home audio system fast and easy.
Non-Stop Entertainment
Of course, via an included adapter, Dice runs from your standard AC house circuit, BUT it also can operate via a built-in rechargeable battery for about 3 hours. That's enough power to show most movies wirelessly without needing a recharge or an extension cord. The Dice is so smart, even the battery multi-tasks. In addition to running the projector, should the power go out, the Dice could be used as a portable power bank. Just connect your phone via the rear-panel USB port and use the projector's capacious battery storage to keep your device charged and running.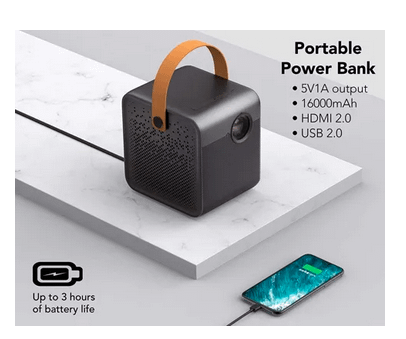 Our Answer is a Resounding "YES!"
To answer the question we started off with, "Is this the best bargain in big screen TV?" our answer is an immediate and loud, "YOU BET!" The WEMAX Dice is no game of chance. It is simple to use, exciting to experience and provides a whole new dimension of entertainment for the entire family. If you are looking for a gift that keeps giving year-round, this may be the one you're looking for.
The bargain price of $420 is not likely to last long. So, grab some popcorn and your favorite libation. The World Cup Final is around the corner, the Super Bowl follows in February and a host of summer movies will make the coming year an entertainment treat.