At trade shows, exhibitors often say the word "first," as in, "This is the product's first public demonstration outside of Munich," or, "This is the first time the public has seen it, other than in a couple of dealer showrooms." Such scenarios are admittedly momentous. But at the 2023 AXPONA show, KLH offered a particularly noteworthy debut by displaying the first pair of Model Seven loudspeakers in existence.
"This is the world premiere," said Jeff Dano, national sales manager for Indiana-based KLH. "It's the first pair—period—ever made. These are the prototypes."
The KLH Model Seven is engineered to become the company's new flagship floorstanding speaker. It is a 3-way acoustic suspension model with a 1-inch aluminum dome tweeter, a 5-inch midrange driver, and a 13-inch woofer, constructed from a pulp-paper cone with reverse roll rubber suspension, and a 2-inch (in diameter) flat-wire voice coil. (At 13 inches, the Model Seven woofer is a significant step up from KLH's revered Model Five, which features a 10-inch woofer.)
At AXPONA, the Model Seven sounded big, bold and positively authoritative as it streamed high-res audio, hooked up to a system with a Bryston BR-20 preamplifier and a Bryston 4B Cubed dual-mono amplifier.
Indeed, these agile speakers unleashed rumbling bass, pristine high frequencies, and thoroughly accurate midrange tones—especially with Boz Scaggs' vocals on "Thanks to You," from his album Dig.
Acoustic Suspension Design
"The two main benefits of acoustic suspension are, [first, the cabinets are] sealed, so the room placement is more flexible," Dano explained. "We say start at about 6 to 12 inches from the wall—and trust your ears. But if you had a bass reflex speaker, you'd probably start at about 2 feet. So, [the Model Seven is] more room-friendly. But the main sonic benefit is that you get half the roll-off, one octave below the cabinet's natural tuning frequency. It's only a 12 dB roll-off, versus 24 [dB]."
The Model Seven has a classic, Mid-Century Modern aesthetic, thanks to its gorgeous, book-matched woodgrain veneers. The pair at AXPONA had the English Walnut Veneer finish. On the back of the cabinet, a three-position Acoustic Balance Control knob allows you to tailor the sound for your room's unique sonic signature.
These speakers definitely are substantial in size—but not awkwardly huge. Including the riser base, the Model Seven is 41 inches tall, 18 inches wide, and 12.25 inches deep, and it weighs 78.8 pounds.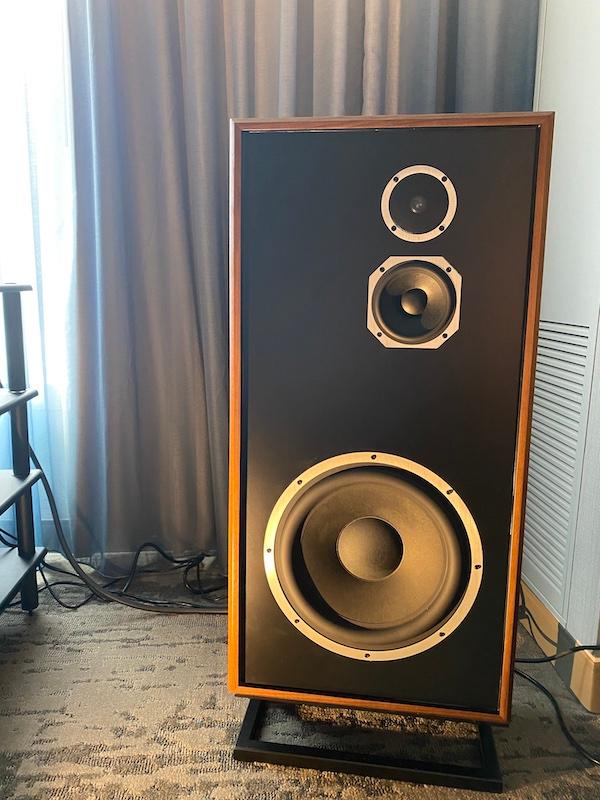 Elegant Models
The Model Seven's two "siblings" are acoustic suspension speakers that are well-known among audiophiles. They are the aforementioned 3-way, 10-inch Model Five floorstander and the 2-way, 8-inch Model Three bookshelf speaker.
HomeTheaterReview gave the KLH Model Five a 2022 Editors' Choice award in a review that raved, "[These] speakers are able to reproduce nuances of such subtlety that they flirt with the threshold of what is perceptible, and yet, when put under the equivalent of an audio microscope, it's all there."
Like the Model Five, the Model Seven has a 13-component network that utilizes premium, iron-core inductors and Mylar capacitors. Both models ship with speaker stands. While the Model Five has a 5-degree slant riser base made of powder-coated, 14-gauge steel, the Model Seven stand is a similar, 3-degree version. All the speakers in the KLH Model Collection come with a 10-year warranty.
"The Model Seven is going to be a matched woodgrain set, with the same finishes and same grille choices [as the Model Five]," said Kerry Geist, chief engineer at KLH.
Pricing & Availability
The KLH Model Seven, scheduled for release in the third quarter of this year, will be priced at approximately $4,000 per pair. The KLH Model Five, which has been hailed throughout the industry, is available at authorized KLH retailers, including Adorama, for $1,249.99 each (or about $2,500 per pair).
If you're searching for a superb floorstanding speaker, the Model Five should definitely be on your list of ones to audition. If you'd rather wait and make your purchase later this year, consider checking out the Model Seven. The flagship will sail into new waters, promising an even better experience than the wondrously acclaimed Model Five.