xMEMS Labs has unveiled its latest innovation in sound reproduction with the introduction of Cypress MEMS drivers, promising a revolution in the audio experience for wireless earbuds. The Cypress represents a departure from conventional speaker designs and offers an optimistic fusion of high-fidelity audio and active noise cancellation (ANC) capabilities.
The Cypress MEMS speaker system, designed to replace conventional push-air sound reproduction, utilizes a solid-state MEMS (Micro Electro Mechanical System) driver. According to xMEMS, Cypress brings several key advantages over its predecessors, including extreme ruggedness, a wide frequency-response range, ultrafast transient response, and more accurate sound reproduction.
One of the most notable features of the Cypress is its ability to generate high-SPL (Sound Pressure Level) ultrasound, utilizing technology originally developed by the U.S. and Soviet navies in the mid-1960s for sonar applications. This innovation allows the Cypress to deliver hi-fi stereo sound and active noise cancellation (ANC) simultaneously, a breakthrough in the world of wireless earbuds.
"By shifting to a sound from ultrasound principle, the xMEMS Cypress micro speaker can now officially replace traditional coil-and-magnet speakers in active noise canceling earbuds…Cypress maintains all of the benefits of xMEMS' existing speakers while being 40x louder in low frequencies, achieving a key requirement for ANC earbuds," said Mike Housholder, Vice President, Marketing & Business Development for xMEMS.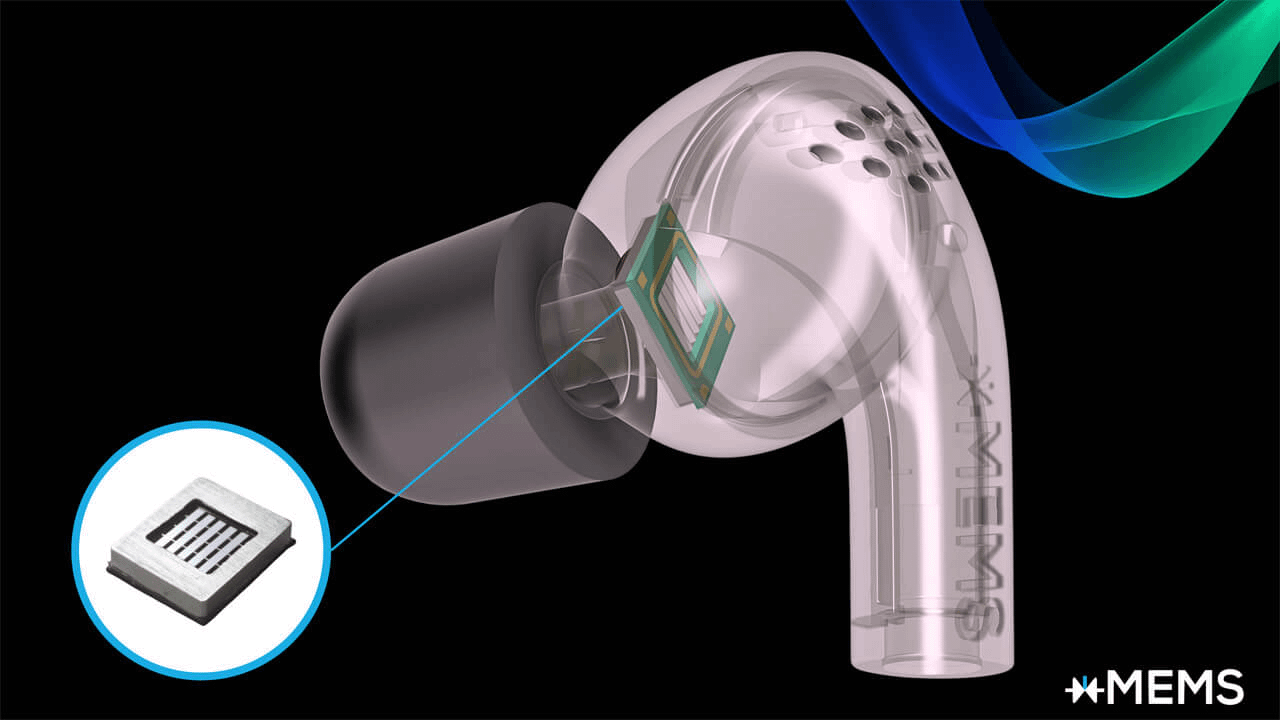 Traditional MEMS drivers faced challenges when used in vented earbuds, particularly in generating the necessary SPL at lower frequencies crucial for effective ANC. xMEMS claims that the Cypress overcomes this limitation by employing ultrasound technology, enabling it to produce 140 dB SPL, meeting the ANC requirements at 20Hz.
The Cypress MEMS operates by modulating inaudible, high-power ultrasound waves to faithfully follow the amplitude of the intended audio signal. Through a demodulator, these ultrasonic waves are then synchronized and filtered to produce audible sound in the 20Hz-20kHz range, meeting the stringent requirements for effective ANC.
xMEMS asserts that the Cypress brings a host of benefits to both consumers and manufacturers, including faster mechanical response, near-zero phase shift, improved spatial imaging accuracy, and reduced electromagnetic interference. The use of a solid-state semiconductor process enhances the overall quality, reliability, and part-to-part uniformity of the Cypress.
Despite its small size, the Cypress MEMS boasts a 40x increase in loudness in low frequencies compared to its predecessors, providing deeper, more consistent bass. It is set to be 40 times louder in low frequencies compared to xMEMS' prior generation speakers.
The Cypress is currently in the working prototype stage, with xMEMS planning to showcase its capabilities at CES 2024 in Las Vegas, NV. The company is offering demonstrations to selected early product brand customers, with production-candidate samples expected to be available in June 2024. Mass production is slated for late 2024, potentially bringing Cypress-powered earbuds to store shelves by 2025.