It seems that I find myself once again in the position of having to reconsider my expectations for what a $500-to-$600 AV receiver is and can be. The catalyst for this reanalysis? Yamaha's new RX-V6A ($599.95 at Amazon and Crutchfield), one of two new budget-oriented but feature-packed AVRs released by the company this fall (the other being the $439.95 RX-V4A).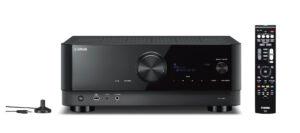 The first and most obvious thing about the RX-V6A that runs counter to expectations is its design and overall aesthetic. The new AV receiver sports a clean and modern design focused on a big, beautiful, center-mounted volume knob, touch-sensitive controls, and a glitzy high-resolution display that replaces the pixelated readouts of old with crisp, easy-to-read text that's legible from most reasonable seating distances despite the decreased size of the display. The vents at the top and sides of the unit have also been cut in a lovely cross-hatch pattern that further elevates the design, making the RX-V6A one of the few budget-friendly AVRs that you might not be embarrassed to display out in the open.
Under the hood, the RX-V6A features seven amplified channels, rated at 100 watts per channel into 8 ohms (20Hz-20kHz, two channels driven), making it good for a Dolby Atmos/DTS:X 5.1.2-channel setup; a traditional 7.1 system; or 5.1 with your choice of bi-amped fronts, Yamaha "front presence" speakers, or a powered second zone. Preamp outs are limited to Zone Out or Front, so you can't add your own amps to expand the system to 5.1.4 or what have you, but for anyone shopping around in the $500-to-$600 range, I would imagine this won't be serious concern.
Input options are right in line with expectations for this level of AVR, with four stereo analog inputs (one of them a phono input with ground), independent coaxial and optical digital inputs, a 75-ohm DAB/FM antenna connection, a 12v trigger out, an Ethernet port, and wireless connectivity including Apple AirPlay 2, MusicCast, and Bluetooth (with support for SBC and AAC codecs).
Thanks to its MusicCast connectivity, the RX-V6A supports wireless surround speakers (currently the MusicCast 50 and MusicCast 20 wireless speakers) and sub (the MusicCast SUB 100), although there are a few limitations if you decide to go the wireless route. First, you're limited to a 5.1 or 5.1.2 setup – surround back speakers are not supported. The RX-V6A also won't decode DSD audio, nor DVD-A or SACD via HDMI, when wireless surrounds or subs are connected. And finally, going the wireless speaker route disables one of the V6A's most compelling features, in my opinion: support for multi-position measurements for the unit's YPAO room correction system.
The RX-V6A features a total of seven HDMI inputs and one output, with three of the inputs and the output supporting 4K120AB, 8K60B, and 4K60 passthrough. Other supported features of the HDMI 2.1 spec include Variable Refresh Rate (VRR), Auto Low-Latency Mode (ALLM), Quick Media Switching (QMS), and Quick Frame Transport (QFT). If you'd like more information about these features, please see my article Everything You Need to Know About HDMI 2.1 (Including Stuff You Might Not Ask).
The three HDMI 2.1-compliant inputs give the RX-V6A a significant lead over AVRs from competing companies, who offer at most only one such input right now. But, of course, it's impossible to talk about HDMI 2.1 without mentioning the fact that, since HDMI 2.1-compliant source devices like the next-gen gaming consoles and PC graphics cards have started hitting the market, incompatibility issues have started to crop up.
This isn't Yamaha's fault, by the way. At present, it seems that the blame lies with Panasonic Solutions, manufacturer of the HDMI chipset used by Yamaha and Sound United alike. With these boards, the Xbox Series X reportedly cannot pass a [email protected] signal with HDR as the result of a bug affecting Display Stream Compression (DSC). The long and short of this is that if you're one of the lucky few with both an HDMI 2.1-compliant display and an Xbox Series X video game console, you're likely better off connecting your console directly to your display, then routing audio to the RX-V6A using the latter's eARC connection. If you have a PlayStation, you should be fine. Whatever your case, Yamaha plans to address the compatibility issues via future updates.
Setting Up the Yamaha RX-V6A
Flip the RX-V6A around and take a peek at its backside and you can begin to see where Yamaha cut costs to deliver such a gorgeous and full-featured AV receiver for such an affordable price. The back panel is pretty sparse, and its binding posts are of the bargain-basement red-and-black plastic variety. The binding posts do accommodate banana plugs, and thank goodness for that, because Yamaha is still clinging to the traditional stacked red-over-black speaker connection orientation that should have died years ago. A horizontal layout of side-by-side binding posts simply makes speaker connections quicker and easier, and I'll continue to grump about stacked binding posts until manufacturers stop using them.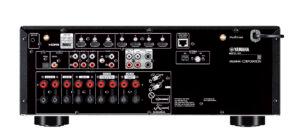 Other than that, there's really nothing to complain about when it comes to connectivity on the RX-V6A. I really like that the 12v trigger out is located near the top-corner of the unit, making it easy to locate and access. I also like that the subwoofer outputs are offset from the speaker connections a bit, making it easier to route cables with no fuss and muss.
Make all your connections and fire up the RX-V6A and you're met with a pretty straightforward but attractive translucent popup menu system that covers the left side of the screen. While not the most stylish of AV receiver menu systems, it certainly gets the job done, and everything you need for setup is logically organized and easy to find. My only issue here is that the included remote – while well laid-out and acceptably ergonomic for a receiver in this price class – has a pretty narrow IR window and suffers from a bit of lag. Even with the RX-V6A installed in open air atop the credenza in my bedroom, I had difficulty getting the receiver to respond to a command from the remote from a seating distance of just six feet. This, combined with the lag, meant that I would often press the Setup button, think that it hadn't registered, then press it again, only to have the setup screen pop up and quickly disappear.
Thankfully, the RX-V6A is supported a control app for most mobile devices, as well as by a truly world-class Control4 IP driver that not only installs in seconds thanks to its SDDP (Simple Device Discovery Protocol) support, but also compartmentalizes the receiver's main and second zones into different audio endpoints, making it easy to configure even the most complicated multi room use cases. As such, once I was done with my initial setup, I never touched the included remote again.
If you do use the included remote, though, know that it supports Yamaha's standard Scenes functionality, represented by four custom buttons near the top of the remote. Scenes allow you to set and quickly recall a specific combination of input and processing, which could be handy if you're using the same disc player for both movie watching and stereo music listening. Setting up Scenes is super quick and intuitive.
Perhaps the one thing about the setup process that differentiates the RX-V6A from predecessors at or near this price point is that its YPAO (Yamaha Parametric room Acoustic Optimizer) room correction system features both R.S.C. (Reflected Sound Control) and multi-point measurement capabilities. The latter in particular is what I consider to be the big deal here, because if memory serves me correctly, you previously didn't get multi-point measurements until you stepped up to the level of the RX-A880 at $999.95.
The RX-V6A allows you to measure up to eight positions, which gives YPAO more data to work with in calculating its filters. Perhaps most importantly, it gives the room correction system insight into which acoustical issues it should attempt to address and which it should ignore. And the difference that makes is, in my opinion, substantial.
How Does the Yamaha RX-V6A Perform?
As longtime readers know, I have a rather complicated relationship with digital room correction. Done correctly, I have a lot of respect for it. But to put it bluntly, there's no way to do room correction right relying on one measurement position. 99 times out of 100, room correction relying on a single measurement will do more harm than good, killing your front soundstage and imaging, resulting in a rather dull or dead sonic signature overall.
In running YPAO on the RX-V6A, I positioned the mic (on a tripod) at my main seating position, then took too measurements to either side, three in front of my main seating position, and two behind. Once I was done with my measurements, I had to pick between three available target curves: YPAO:Flat, YPAO:Front, and YPAO:Natural. The nomenclature for these is pretty self-explanatory: YPAO:Flat aims for whatever target curve Yamaha deems to be perceptually flat; YPAO:Natural takes that "flat" curve and introduces a pretty graceful roll-off of higher frequencies, and YPAO:Front does its best to timbre-match your other speakers to the sound of your front left and right speakers.
I wasn't overly thrilled with the sound of the latter, so I spent a good amount of time A/Bing back and forth between YPAO:Flat and YPAO:Natural, and honestly couldn't decide which I liked more. The good news is, I liked them both.
With aggressive action-heavy fair like Baby Driver via Vudu, I found myself giving YPAO:Natural a slight edge due to its subtle-but-effective high-frequency roll-off. This took the edge off some of the harsher sound effects like breaking glass and screeching tires without in any way deadening the sound or collapsing the soundfield. Especially with this movie's opening sequence, the RX-V6A cranked out all of the action with authority and good dynamics, even at volumes approaching reference levels. (The receiver's amps aren't quite beefy enough to hit reference levels in my 13-by-15-foot room using my RSL CG3 5.2-channel speaker system, but came within a few decibels thereof).
From beginning to end, the receiver did as good a job with the dialogue of the movie as it did the action, making for an incredibly enveloping and engaging listening experience. The one thing I've always loved about Yamaha AV receiver is their open and airy sound, their convincing sense of space. That remains true here, but with the added benefit of good room correction, making the RX-V6A a no-brainer if you're an action-movie junkie on a budget with an average-sized room and reasonably sensitive speakers.
Baby Driver Opening Scene (2017) | Movieclips Coming Soon
With more atmospheric films like the new UHD Blu-ray release of The Fellowship of the Ring: Extended Edition, I found myself gravitating more toward the YPAO:Flat curve, mostly due to its more convincing sonic recreation of enclosed environments, like the Mines of Moria. It's not as if setting the target curve to Natural made these soundscapes fall apart, mind you. It's just that Flat did a better and more convincing job, so when Gandalf utters the lines, " Be on your guard; There are older and fouler things than orcs in the deep places of the world," with the curve set to Flat, you can close your eyes and hear precisely where the dank and glistening walls and ceilings of Moria are. And as the old wizard walks from the middle of the screen toward the right, he's rendered much more convincingly in three dimensions, sonically speaking.
With the battle sequences – especially those in the second and third film – it was honestly a coin-toss which EQ curve I preferred. Each had its benefits. But I ended up leaving the EQ set to YPAO:Flat throughout because of its superior handling (in my room, mind you) of those scenes that rely more on ambience than action.
LOTR The Fellowship of the Ring - Extended Edition - A Journey in the Dark
Either way, everything I said about Baby Driver proved true with the new Atmos mix for the Lord of the Rings films: the RX-V6A has nice power for its price and a nice sense of space for a receiver at any price. Dialogue here was spot on even in those torture-test scenes that I return to again and again, and Howard Shore's iconic score sounded lovely and lush from beginning to end.
With two-channel music, there was never any waffling on my part. YPAO:Flat was the superior target curve by a country mile. Listening to Thomas Dybdahl's "A Little Something to Give" via Qobuz, I was struck by how well the loping bassline was controlled, but never to the detriment of the tonality or imaging of the instrumentation or Dybdahl's falsetto vocals. The horns, percussion, and soulful guitar were all placed with a wonderful sense of space across the front soundstage, whereas the vocals seemed to defy precise placement within the soundfield, exactly as they should. Around the 1:06 mark, when the song ramps up in intensity, the RX-V6A responded by pushing the mix out into the room more aggressively, resulting in a two-channel listening experience that you'd be hard-pressed to beat for less than $1,000.
A Little Something to Give
The Downside
I mentioned the finicky and sometimes laggy response of the IR remote in the setup section, so I won't belabor it here. That leaves me with little else to complain about in terms of the RX-V6A's performance. I do have an observation and one bit of constructive criticism worth airing out here, though.
Firstly, as impressed as I am with the performance of YPAO using multi-point measurements, I still don't think it does quite as good a job as Audyssey MultEQ when it comes to taming standing waves. And to be frank about it, that's 90 percent of what I want from a room correction system. YPAO with R.S.C. and multi-point measurement is good in this respect, but not class-leading.
I also wish that Yamaha would allow me to set a maximum filter frequency for YPAO. As longtime readers know, I prefer to run room correction only on those frequencies below about two octaves above the Schroeder frequency of the room. In the room in which the RX-V6A is installed, that's somewhere in the neighborhood of 850Hz, although I'll often set my max filter frequency (for those room correction systems that support such) a little higher or lower depending on other factors.
At any rate, being able to set a max filter frequency would eliminate the fretting over Yamaha's choice of correction curves and mostly worry about dealing with room modes. Of course, were I in Yamaha's shoes, I might rightly ask whether anyone purchasing a $600-ish AV receiver really understands or cares about such advanced functionality, and to be honest I'm not sure I know the answer to that question. Just speaking for myself, though, it would make the RX-V6A near-perfect for its price.
How Does the Yamaha RX-V6A Compare to the Competition?
Given that HDMI 2.1-compliant AV receivers are still so new to the market, and that Display Stream Compression-related issues with the Panasonic Solutions HDMI chipsets used by most mass-market AVR manufacturers are likely making many of Yamaha's competitors have second thoughts about releasing new models before those issues are sorted out, the RX-V6A's competition is a little slim at the moment.
If you only need five amplified channels, you might be considering stepping down to Yamaha's own RX-V4A, which comes in at a more affordable $439.95. If that's the case, I would argue that you should spend the extra coin on the RX-V6A ($599.95) if only for the multi-point measurement capabilities of the step-up model. The RX-V6A also has a few other tricks up its sleeve, like support for Dolby Atmos Height Channel Virtualization (coming in a future firmware update), but it's really the superior room correction that makes the V6A worth the extra coin.
Denon also has the AVR-S960H ($649 at Amazon and Crutchfield) in roughly the same class. The S960H only has one HDMI 2.1-compliant input as compared with three on the V6A. But given that there's only one HDMI 2.1 source device out there at the moment that works with the video circuitry in any of these new receivers (i.e. the PlayStation 5), that's perhaps a moot point. The AVR-S960H relies on Audyssey's most basic room correction system, MultEQ, which does a slightly better job with standing waves than does YPAO, in my experience, but not as good a job with mid and high frequencies. That said, if you're willing to spend an extra $20 on the MultEQ Editor app for iOS and Android, you can set a max filter frequency for the AVR-S960H, which isn't possible with the RX-V6A.
Final Thoughts
It's a little unfortunate that the release of the Yamaha RX-V6A has some of its sunshine overshadowed by the cloud of problems coming from Panasonic Solutions' HDMI hardware. That said, this is really only a major concern if you have both an Xbox Series X and a TV that can handle [email protected] Hz with HDR. And I would imagine that's not many of you.
What the story should be, in my opinion, is the gorgeous new styling of Yamaha's budget AVRs, as well as the addition of multi-point measurement for YPAO room correction at this price point. Both are seriously big deals, and both have raised my level of expectation for receivers in this price range. Combine the saucy styling and improved room correction with great performance, and the Yamaha RX-V6A is absolutely an easy recommendation for anyone who needs a sub-$600 AVR for a small to mid-sized room.