Yamaha's YAS-209 Soundbar ($349.95) is a two-piece surround sound system with a wireless subwoofer. From just these two pieces, you get DTS Virtual: X 3D sound and Amazon's Alexa voice control capability. In addition to supporting WiFi or a wired network connection to access all your streaming services (including Spotify Connect, Pandora, Amazon Music, and others, depending on your subscriptions) and enable Amazon's Alexa assistant, the soundbar includes two HDMI connections: One with Audio Return Channel (ARC), and the other an input for connecting a gaming console, Blu-Ray player, or other AV source device. There's also an optical input with included cable that can be used for a high-quality audio connection from other audio sources. You can also stream audio via Bluetooth 5.0 There are no analog inputs on the YAS-209.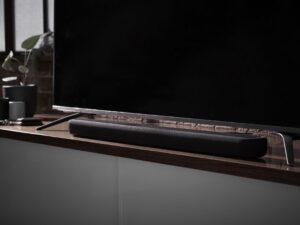 4K High Dynamic Range (both HDR10 and Hybrid Log Gamma) is supported, but not Dolby Vision, nor HDR10+. Remember, if your TV supports Dolby Vision / HDR10+, you can always rely on your display as your input switcher and send audio to the soundbar via ARC.
One of the nicest things about the YAS-209 is that it essentially disappears by virtue of its slim profile and rounded edges, with indicator lights that come on for just a few seconds when adjustments are made and, even then, are tastefully subdued. The soundbar measures roughly 36.6 inches wide by 2.5 inches high by 4.25 inches deep and includes two one-inch tweeters and two 1.75-inch mid drivers, with the sub sporting a single 6.5-inch woofer. The system sports a total of 200 watts: 100 watts to the soundbar and 100 watts to the subwoofer. The soundbar can be positioned tabletop or wall-mounted. The subwoofer is 7.5 inches wide, 16.5 inches high, and 16 inches deep, though it can be oriented in most any position as long as you keep the woofer and port off the floor.
Setting Up and Controlling the Yamaha YAS-209
The remote provides individual control over the volume of the soundbar and subwoofer. Mute, as expected, effects both. The Clear Voice and Bass Extension buttons toggle these EQ curves on and off, and after experimenting with them while watching movies, I actually prefer them both on, which is a tribute to the sound engineers at Yamaha.
The other EQ curves can be engaged independently from Clear Voice and Bass Extension and are categorized as Movie, TV, Music, Sports, Game, and Stereo. To my ears Movie mode in combination with Clear Voice and Bass Extension was my favorite for everything except when listening to music; then I preferred Stereo with both Clear Voice off and Bass Extension on, but again, this will be to your personal taste. When watching movies or TV, I found Clear Voice added clarity and presence to the dialogue, but when listening to music it was a bit sibilant and tinny.
Input selection, Bluetooth and Network buttons across the top allow for quick access to these functions, and last but not least, there is a button to step you through the 3D Surround settings. There is also a button to summon Alexa, even though the soundbar does a great job of hearing you simply say "Alexa…" I like the inclusion of a button for this anyway, as should you have the remote in your hand and are not close enough to the microphones on top of the soundbar, this would then come in handy.
Alas, the remote is not backlit, which makes it somewhat difficult to use in a dimly lit room. One final thought here: if your HDTV has Consumer Electronics Control (CEC), simply enabling that feature lets you use the HDTV's remote or even a third-party remote to control most functions, but for quick access to the special options available on the YAS-209 soundbar, the remote is functional and well-designed to that purpose.
How does the Yamaha YAS-209 Perform?
As TV's get thinner and thinner, the need for an additional sound system becomes more and more important. Streaming audio support and digital assistant access have become almost as important as audio performance. Or, at least it's easy to get into the rut of thinking so until your video entertainment is accompanied by the sound of an explosion or jet takeoff, and what reaches your ears is less of a bang and more of a whimper. Thankfully, the Yamaha YAS-209 handles all of the above extremely well. My audition included several movies and TV shows, a few hours of music streaming via Bluetooth from my iPhone and WiFi from Pandora and Spotify Connect, and finally some Fortnite gameplay.
The Old Guard, streaming via Netflix, uses any excuse to fire really big guns, fly a helicopter overhead, and then deliver critically important dialogue in hushed whispers. This can really challenge a sound system. Any sound system. To my surprise, though, the YAS-209 handled these elements of the mix as well as my Sonos Soundbar + Play:1 + Sub system, which cost several times the price of the Yamaha.
The Old Guard | Official Trailer | Netflix
Next, I played my jazz playlist via Spotify Connect, which included Miles Davis' "It's About That Time" from his In A Silent Way album. This is a very sparse track with great dynamic range, and I was listening for the sort of resolution and presence that only a good sound system will reveal. While the two-piece system does not quite reach the level of audiophile quality my two-channel system does, it does point you in the right direction, and that's all I was asking for. Simply put, the YAS-209 exceeded my expectations.
It's About That Time (New Mix)
Lastly, while taking a bit of a break from writing reviews, I played a half hour or so of Fortnite (). Here, I must admit, I would have hoped for a bit more sonic object placement outside of the flat plane of ear-level sound. I wasn't getting that "you are there" feeling from the YAS-209 There are no up-firing drivers and no dedicated surround speakers from which to throw audio around the room the way a soundbar like the Vizio SB36512-F6 can. Granted, the Vizio is $100 more and the extra dimension of object based surround sound may not be that important to you. But it might be? I'll leave that up to you.
Fortnite: Save the World - Gameplay Walkthrough Part 1 - Stonewood (PC)
High Points
The Yamaha YAS-209 is extremely easy to set-up. So much so that even a novice user should have it up and running in less than fifteen minutes.

The sound is rich and full, with great dialogue clarity and plenty of punch.

I really like that the Amazon Alexa digital voice assistance can be voice-activated or summoned by a dedicated button on the remote.
Low Points
Multi-Room Streaming is expected in a future update but is not available yet.

While the YAS-209 employs DTS Virtual: X for 3D audio processing, it only has two channels' worth of drivers to work with, so the system lacks the 360-degree immersion of other soundbars that include surround speakers and up-firing height channels .

While I can understand the lack of HDR10+ support, the lack of Dolby Vision passthrough is really disappointing.
How Does the Yamaha YAS-209 Compare to the Competition?
For $100 more, the aforementioned Vizio SB36512-F6 (reviewed here) offers surround sound speakers in addition to a wireless subwoofer and up-firing height-channel drivers to more fully engage you in a more immersive surround sound environment.
The Sonos Beam ($399) is a one-piece soundbar that delivers great whole home audio and streaming connectivity within the Sonos family of speakers. On its own, though – without the addition of a Sonos Sub and a Pair of Sonos Ones for surround speakers, the Beam's audio is limited to dimensionless stereo.
Final thoughts
There is a lot to like with the Yamaha YAS-209. I like the full sound and powerful bass, which handles music and movies equally well. The ease of set-up may tip the scales in favor of this simple two-piece system over its competitors.