I recently took a trip to Miami. Not to see the beautiful people strolling through South Beach, but to experience some beautiful Focal and Naim gear at a new Focal Powered by Naim store-within-a-store at CasaHiFi, located in the Coconut Grove part of the city.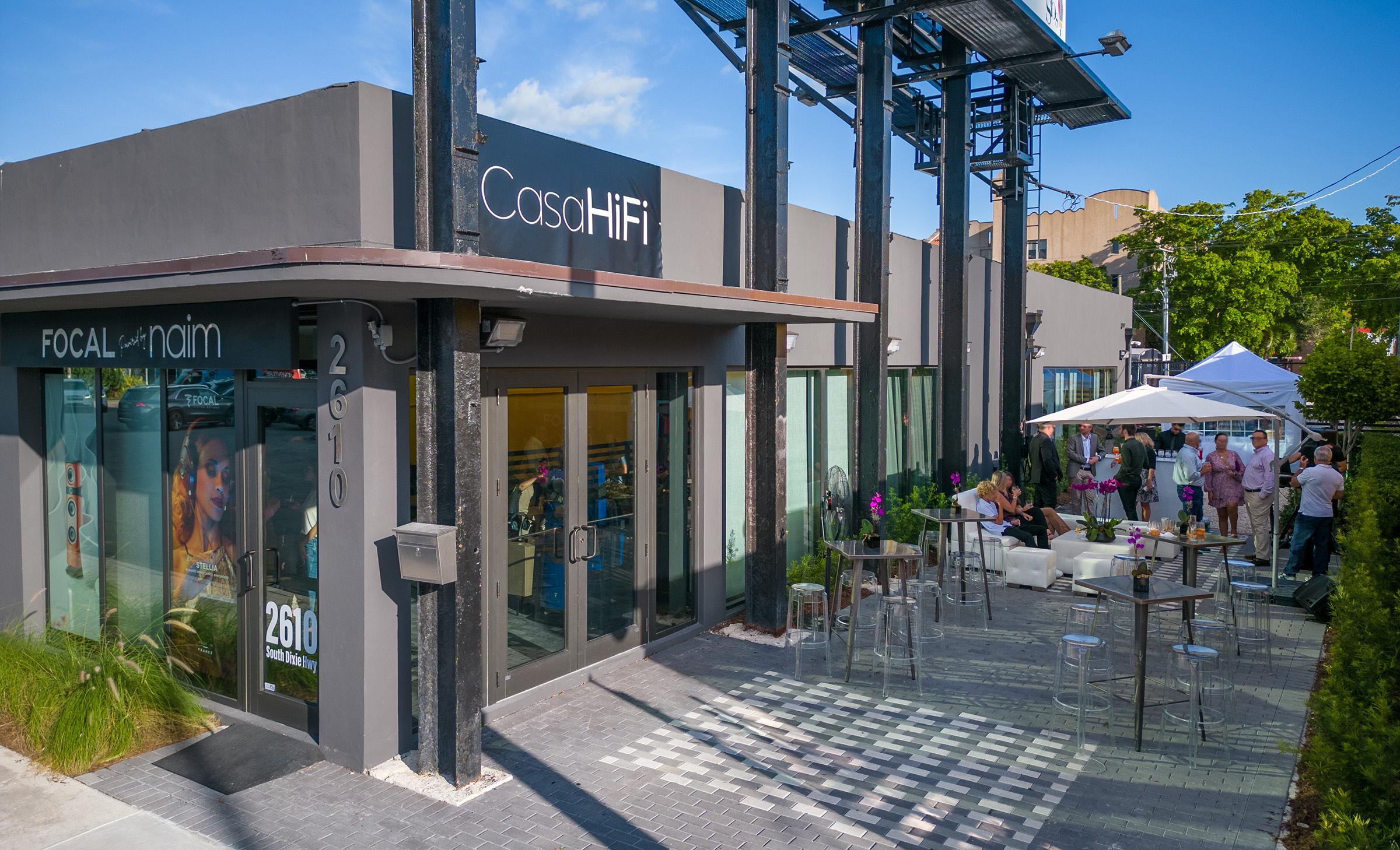 This is one of two stores to open last week as part of the U.S. expansion of Focal powered by Naim. The other new is in Austin, located at Origin Hifi. These locations allow visitors to demo the complete range of audio and home theater gear offered by these high-end brands, all while relaxing in a comfortable and inviting environment.

The Miami Event
The CasaHiFi store in Miami was an enlightening experience. It is the creation of Antonio Gaspard, acoustics and high-fidelity audio expert and coffee aficionado. Typically, when I go to a high-end audio or AV store the focus is on custom installs for large standalone homes. But while Miami has plenty of those, it is also a city of luxurious high-rise condos. Given that I live in an urban loft, I love seeing solutions that work within the requirements of these living spaces.

From the discrete yet dramatic lighting to the open layout of the store that mirrors real living spaces, to the way the dedicated home theater does not depend on cutting any holes in the walls—while delivering top-tier performance—the urban living-friendly touches at CasaHiFi were notable and welcome.
---
A High-End Home Theater Demo Room I Can Relate To
While the store layout has four distinct listening areas—and a headphone bar—the room of greatest interest is the dedicated home theater space called The Naked Theater. It took a moment before I realized exactly what was going on, because the theater's most unique feature is not immediately obvious. So check out this 3D virtual tour of the room, and ponder the following fact: All of the speaker components—including the subwoofers—are contained within those shallow columns along the walls.
The key feature: This 9.9.4-speaker home theater is built with top-of-the-line Focal architectural speakers, but there are no holes in the walls! So, let's say you are renting a luxury condo and can't cut huge holes in the walls? Not a problem, you can still have a top-performing and stylish home theater.

As you can see, the theater has some really cool lighting, including targeted spots that light up the slender vertical speakers, which are presented without grills, and that is why this theater is called the Naked Theater. It's the speakers that are naked, and they are beautiful.

The system consists of nine 1000 IWLCR Utopia ($7599 each), 12 1000 IWSUB Utopia ($2899 each), and four 1000 ICLCR5 In-Ceiling ($2299 each) for a grand total of $112,375 in in-wall and in-ceiling speakers! But the overall performance of the system is impeccable and it is quite a remarkable feat that the subwoofer's are integrated into the same columns as the speakers, in other words 100% of the sound—including the deepest bass—comes from these shallow and unobtrusive columns that looked more like an architectural accent than a ultra-high-performance speaker.

The beautiful thing about these in-walls is the subs fit above and below the main speaker and create a scalable system where you can build out each channel with as much bass capability as needed. For example, the three front channels have dual 1000 IWSUB Utopia handling bass while the remaining six main channels have one each.

The theater also avoids unnecessary complexity because it is powered by the Focal Astral 16 ($19,999), an "audio-video processor and amplifier" with 12 amplified channels and 16-channel processing. You don't need a rack full of ridiculous gear to run this theater. Thanks to the Astral and its sophisticated Dirac Live room correction system and deep programmability, taking an all-Focal approach yields the dual dividends of simplicity and fidelity.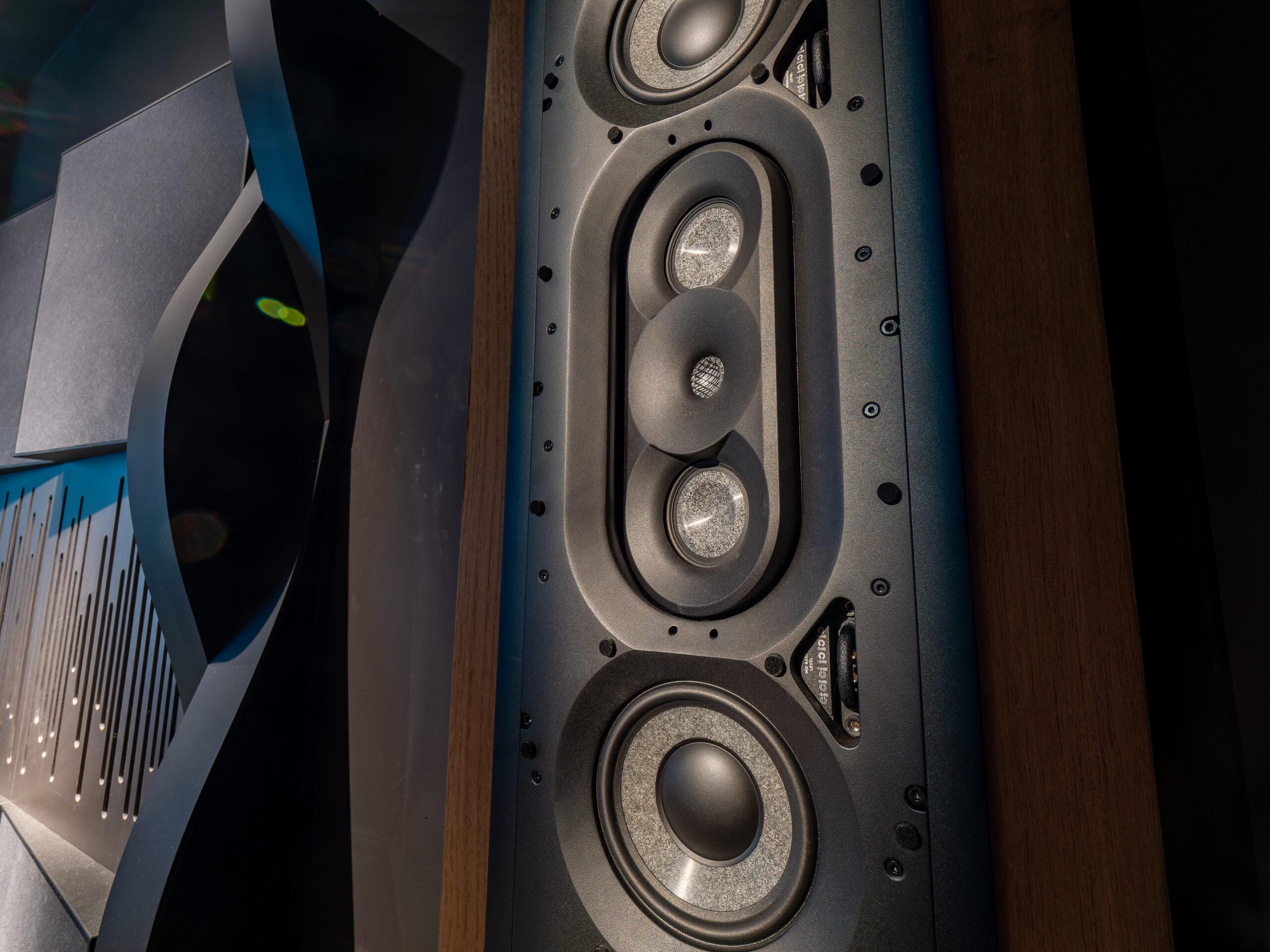 Another thing I loved about this home theater is how it's based around a couch, but it has plenty of room to roam. Or, dance. Indeed, the theater even has a dedicated "Party Mode" that plays music through the front main speakers and reinforces it with the surrounds playing a summed mono signal, and the subwoofers are tuned so that bass is not overwhelming toward the rear of the room, where people can hang out while closer to the front the bass energy is focused, so you get that nightclub feel. Who said home theaters are just for watching movies! This is like a private VIP suite in a nightclub.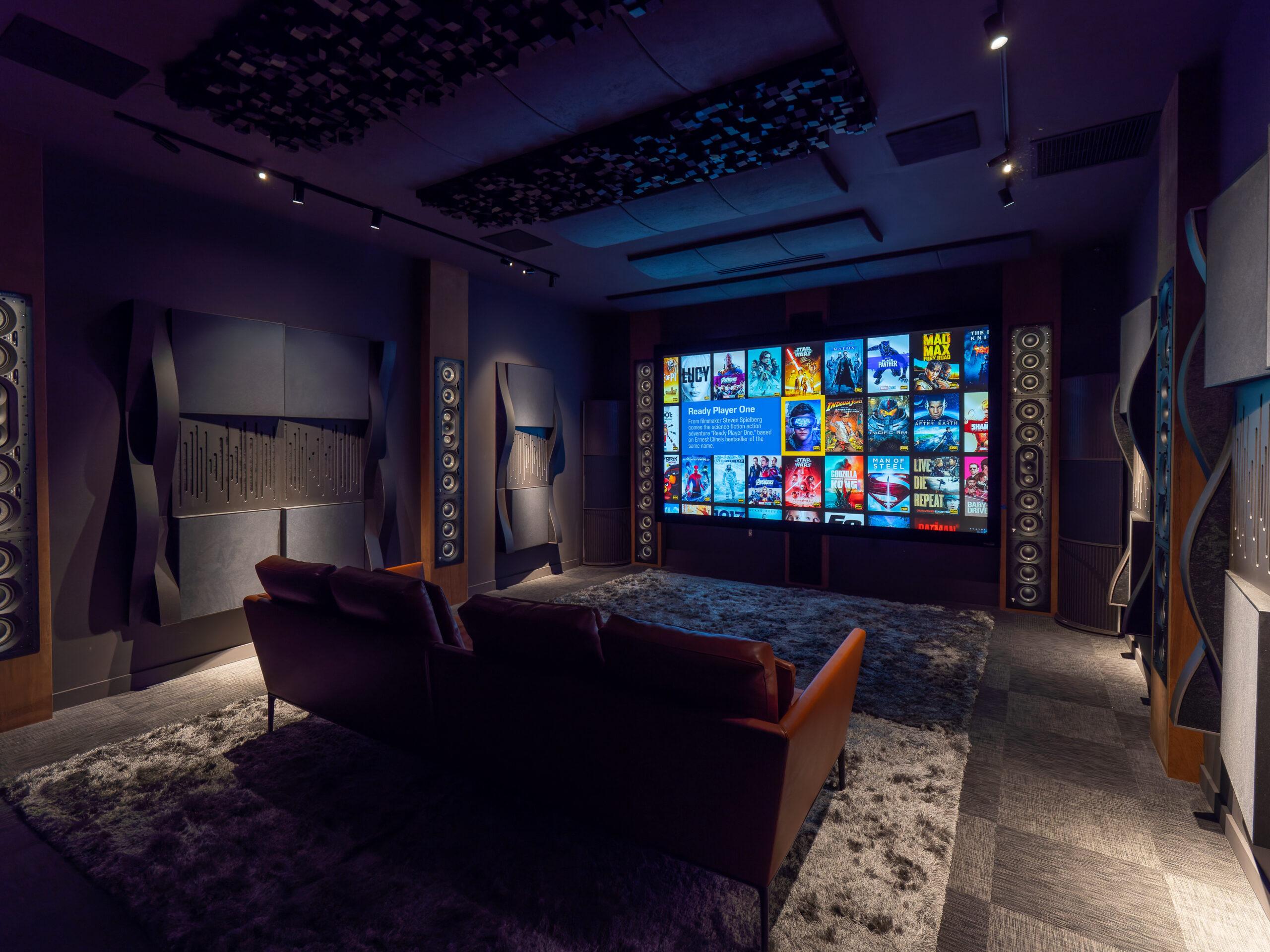 And party mode is not all this song theater has got going for it when it comes to music! It is masterful at reproducing music mixed in Dolby Atmos, which I heard demonstrated multiple times with some classic tracks like "Hotel California" "Good Vibrations" "Riders on the Storm" and " Lucy in the Sky with Diamonds"—each one remastered in a manner that is exciting, intriguing, and I suppose most importantly, enveloping. These tracks, all of them older than I am, sounded fresh.

Of course, Antonio was eager to show that this system can handle any movie you throw at it. With a Kaleidescape as the source, we watched the seminal race scene from Ready Player One, the one with King Kong in it. And whoa, that is what you call "full send" the system has the dynamics, impact, range, clarity, and crucially, the precise steering needed to fully fill the space with 3D enveloping sound.
---
Died & Gone to 2-Channel Heaven
CasaHiFi's showroom has a knock-your-socks-off home theater but it also highlights Focal powered by Naim systems that cover the range from stylish yet low-key systems with approachable price points, all the way up to a world-class high-end system based around a pair of towering Focal Grande Utopia EM EVO speakers ($279,998 pair) and Naim Statement amplification (3 pieces, $99,999 each) plus a Naim NDX 2 ($8799) network music player acting as a source.

Those Grande Utopias are outrageous, by the way. A 4-way design, with physically time-aligned drivers that each gets its own enclosure, and featuring a beryllium tweeter, they are a perfect marriage of form and function. These are true endgame speakers.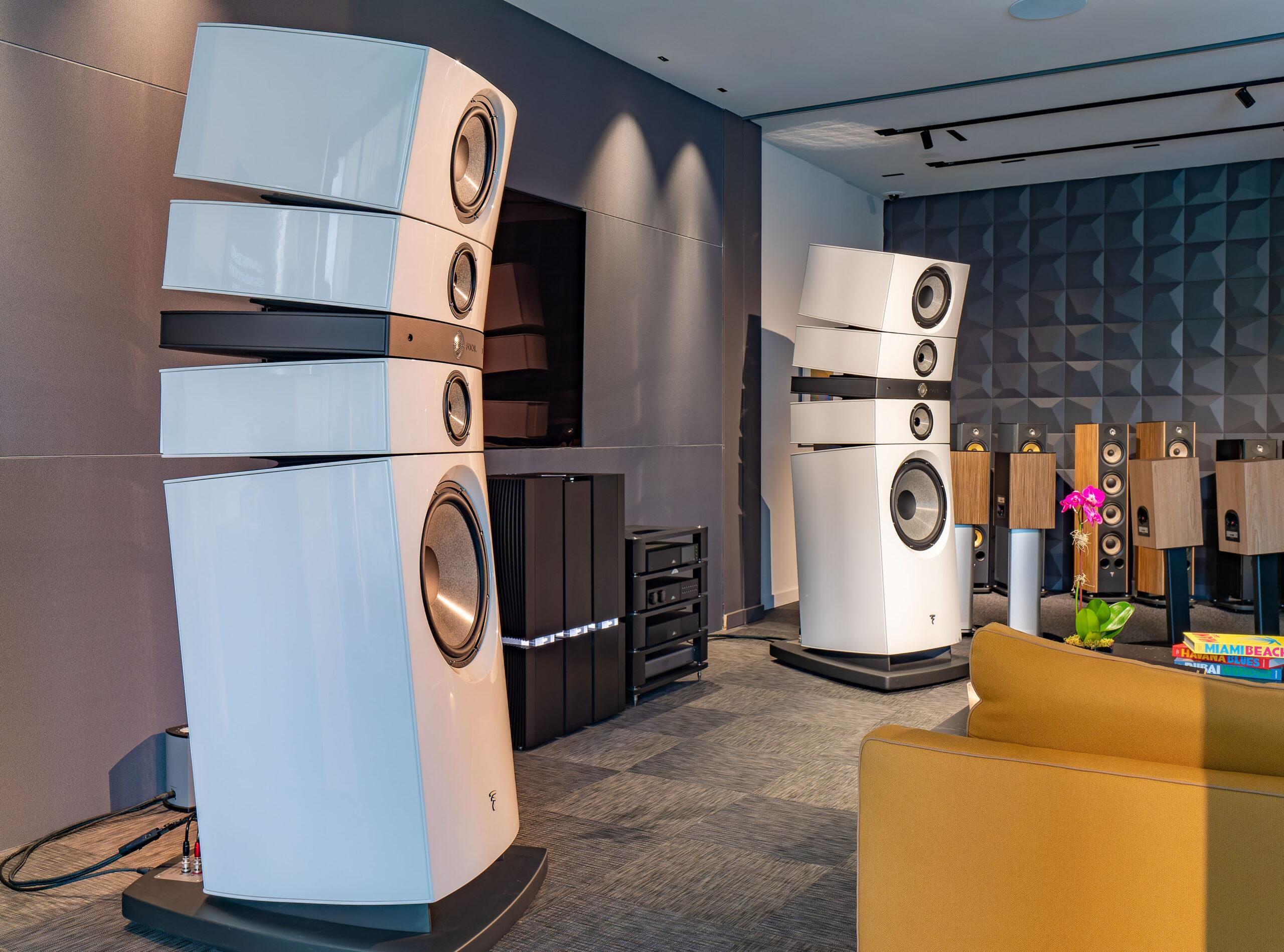 One of the coolest things about the Grande Utopia system is how with the push of a button (or a voice command) motorized shades that are hidden in the ceiling drop all the way to the floor. This creates a private bubble, which the store had only intended as a feature for demos, but according to the owner they have already fielded two requests to install something similar in a home. Be sure to check out this video clip of the transforming space, which is also coordinated with the lighting.

Oh, and Speaking of lighting, even that was something I had not seen before but definitely cool. The in-ceiling lights in the store are these recessed miniature fixtures that do not glare. In fact, when you look up at the ceiling, it appears as if they are turned off. And yet, they are everywhere and as a result the store is very nicely lit from above, and whether you're a photographer or there in person, it's really nice to not have lights shining right into your eyes. Better still, all the lighting is smart lighting and is programmable to create different scenes, thus setting the mood for music listening sessions or for TV and movie viewing.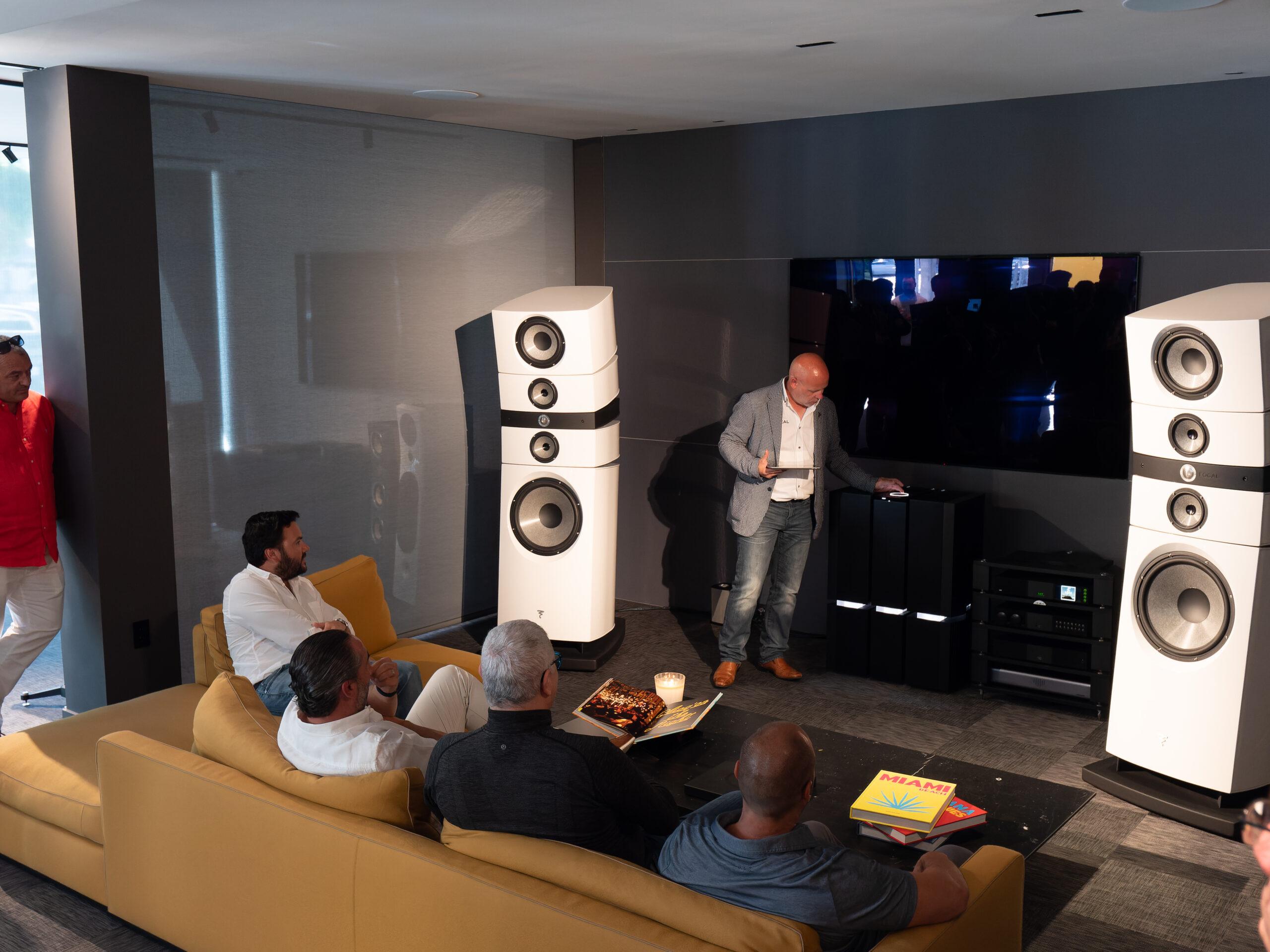 And it should be noted, even with the Grande Utopias, the way things are set up, the option exists to turn on a TV and watch something, instead of just listening to music. I just love the way the store transforms what we used to be considered an enthusiasts' dedicated single-use space into something luxurious, stylish, social, and yet still retaining that core capacity to astonish.
---
The Demos
It is notable that aside from the dedicated home theater room, two of the audio demo spaces within the CasaHiFi Focal powered by Naim space are not closed-off, as you'll find in some high-end audio showrooms. The store features an open layout that is much more like home. Nor are these open listening areas stuffed full of acoustic treatments. What happens when you listen, is you come to realize that the systems are overcoming imperfect acoustic spaces to deliver impressive listening experiences. Which is precisely what they will have to do in a residential environment. In other words, the demonstrations are a better reflection of real-life conditions than the closed-off treated room approach.
Of course, the home theater does have extensive acoustic treatments, but they are expected in that environment.
The way the two-channel systems interact with the room even comes through in the demos I captured on video, you can hear the reverberant sound of the room when someone is speaking. But when the music comes on and the volume goes up, the system takes over and it sounds natural.

While it is not possible to convey in a video what it's like to be there, I can attest that the Grande Utopia demo gave me pronounced goosebumps within a minute, which is the classic sign that a world-class audio system is doing things right.
---
The Sopra Room
In another room, which actually does have a closing door and is not part of the open floor plan, a system based around a pair of Sopra N°3 ($25,998) put on an impressive show. The bass response, in particular, stood out. It's a cliche to say that this or that speaker doesn't really need a subwoofer, but based on the demo these speakers absolutely do not need a subwoofer—not for the vast majority of music that exists on this planet!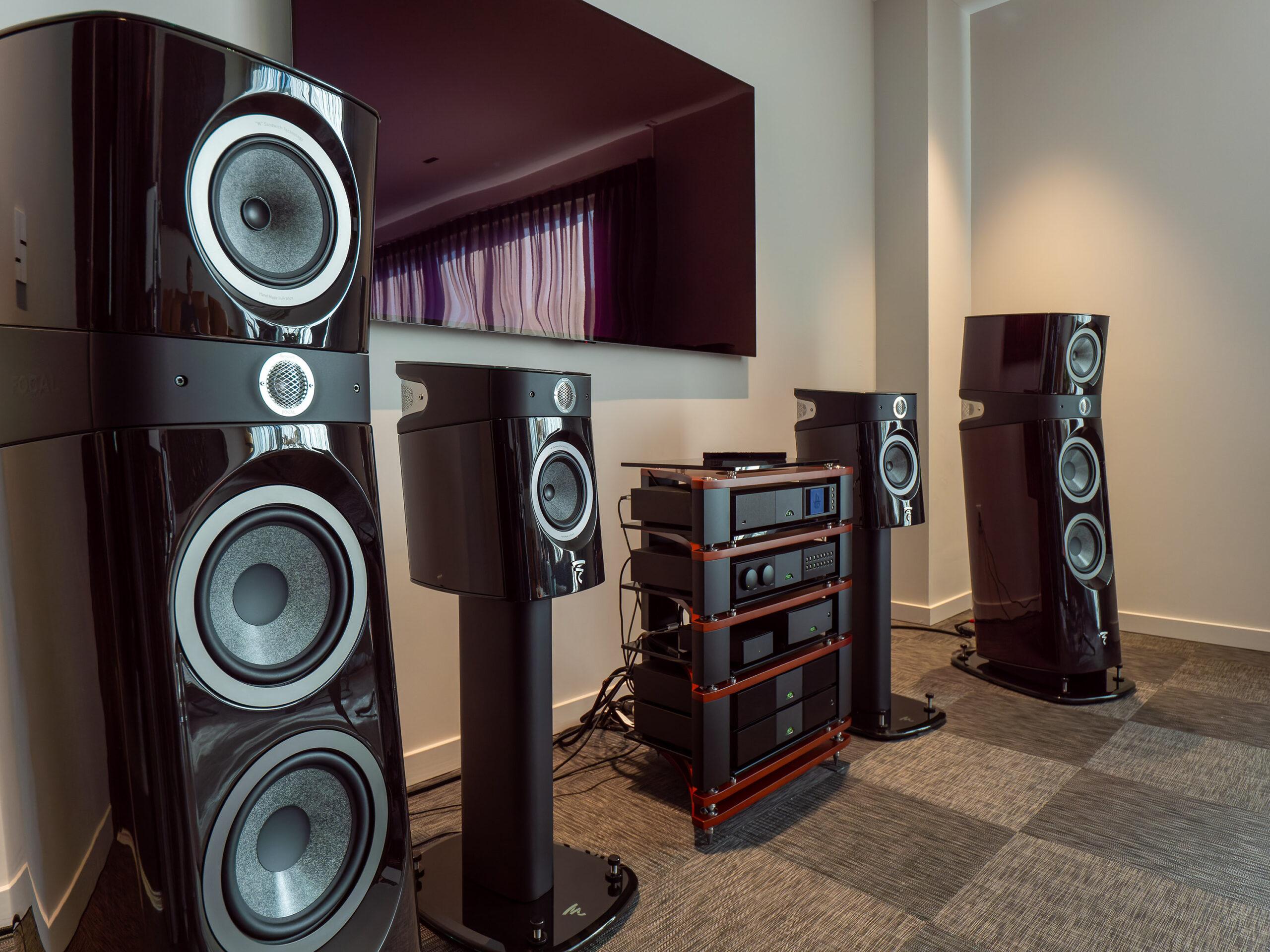 I put in a specific request for "Disc Wars" from the Tron Legacy soundtrack, a thick mix of Daft Punk electronics and the London Symphony Orchestra that culminates with some crazy pipe organ energy on top of it all, and the system survived! I requested it exactly so that both the electronic music lovers and the classical music lovers present would have something to chew on.
Indeed, it impressed everyone in the room who was listening with its physical intensity and the visceral depth and grandeur that comes through in the recording. But in my experience, the track is only rendered properly using high-performance speakers and amplification and it is genuinely uncommon for speakers to handle it well without the help of a subwoofer.

So what's the secret? Sopra N°3 speakers can handle up to 400 watts of power and have a -6 dB point of 26 Hertz, plus a rated frequency response of 33 Hertz to 40 kilohertz (+/- 3dB). Add in some boost from room gain and what you've got is speakers that boldly go right into the subwoofer zone, confidently and seamlessly belting out tight and textured bass that you feel in your bones.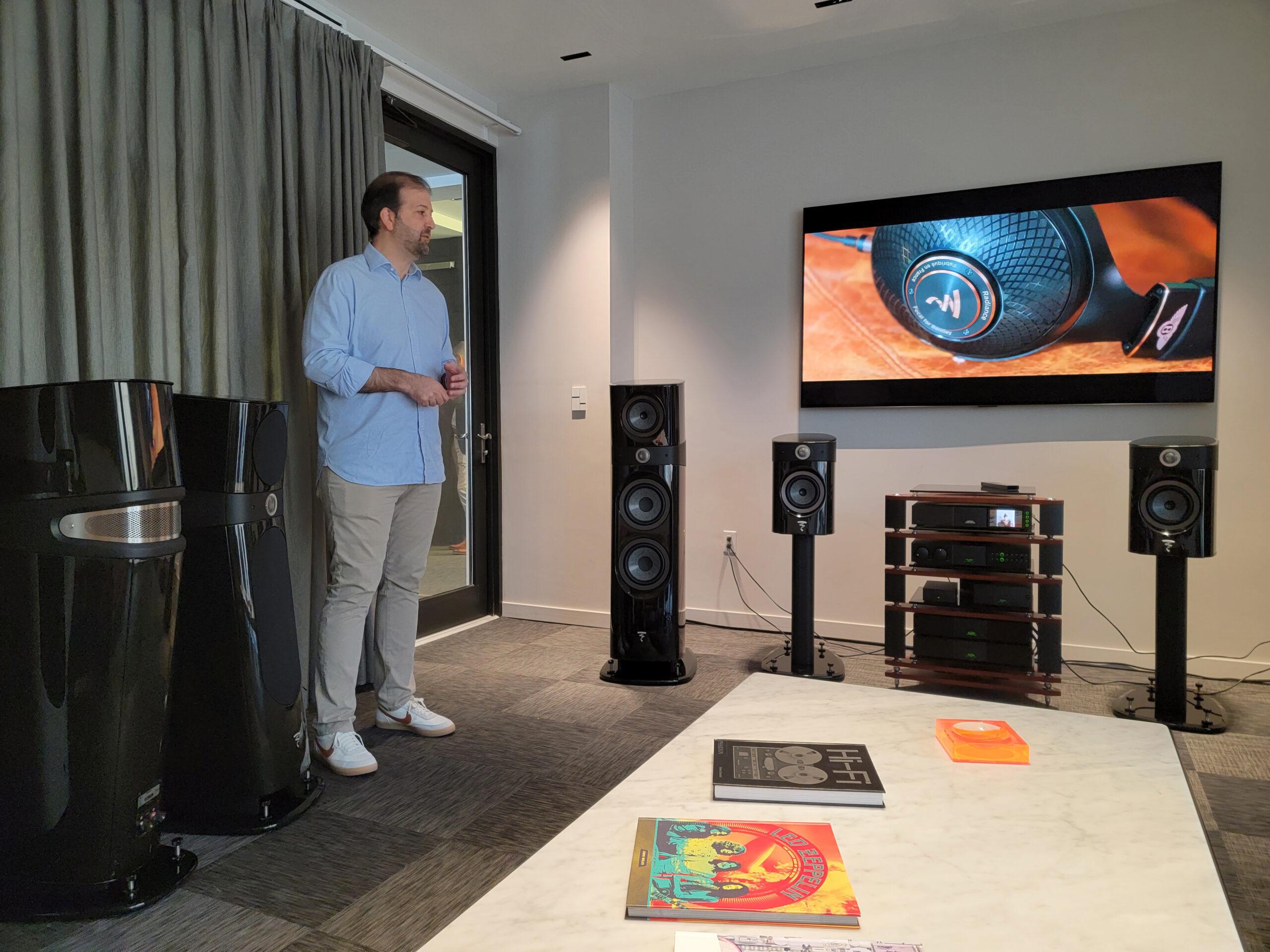 ---
The Kanta Room
OK, so far you've seen us discuss some rather pricey top-tier systems, and they delivered the rarefied experiences that you expect when paying the big bucks. But there is another listening area, the Kanta room, and I would venture to guess for many listeners, it hits the 'Goldilocks' ideal of price and performance, it's just right.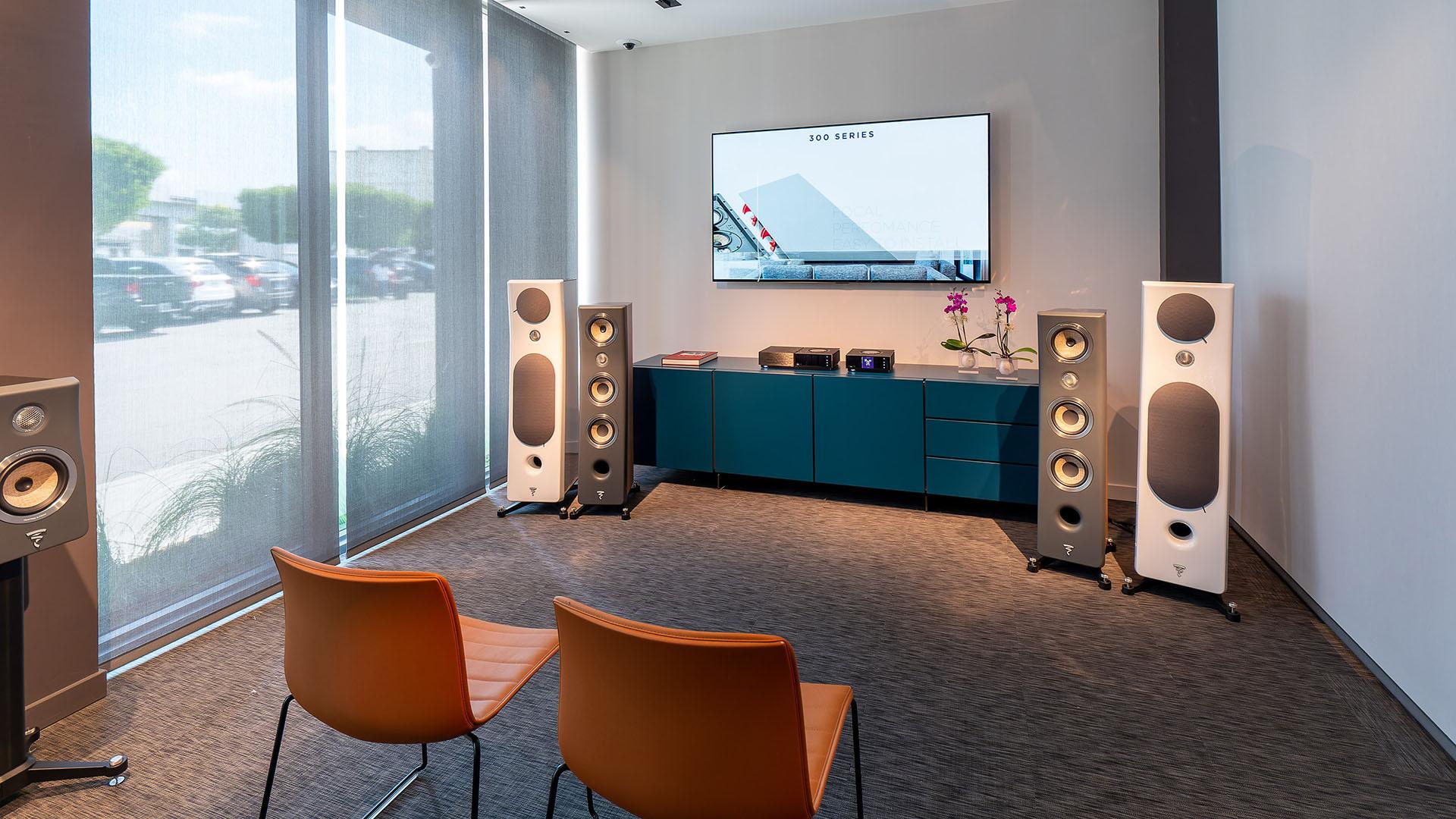 We listened to Focal Kanta No3 ($14,998 pair) with the Naim Uniti Nova ($6899) and amusingly, the delivery was so transparent, that there was initial confusion as to what system was playing, given that there's also a Focal Kanta No2 ($10,998 pair) with the Naim Uniti Atom ($3799) sharing the space. You could clearly hear the detailed soundfield, but unless you got up and walked up to the speakers, there was no way to "hear" which pair was playing. It is (in)elegant proof that from an acoustical perspective, the speakers disappear.

This is the demo clip that best demonstrates how the Focal Kanta No3 speakers are able to overcome the reverberant room acoustics.
---
A Real Store That Feels Like Home
High-end audio is a serious purchase, as you can see the cost of a system can easily reach six figures. But hey, YOLO. Plus buying an amazing stereo or home theater system is not any crazier than building a pool or buying a boat.

In a world where it's harder and harder so find a real store, one where you can auditioned top tier gear without pressure. The Focal powered by Naim store and store-within-a-store concept allows you to experience the wide range of products from these companies and zero in on what's right for your needs. I was surprised at how inspirational I found CasaHiFi in Miami, it is the perfect environment in which to appreciate the high performance and stylish aesthetics of Focal and Naim products.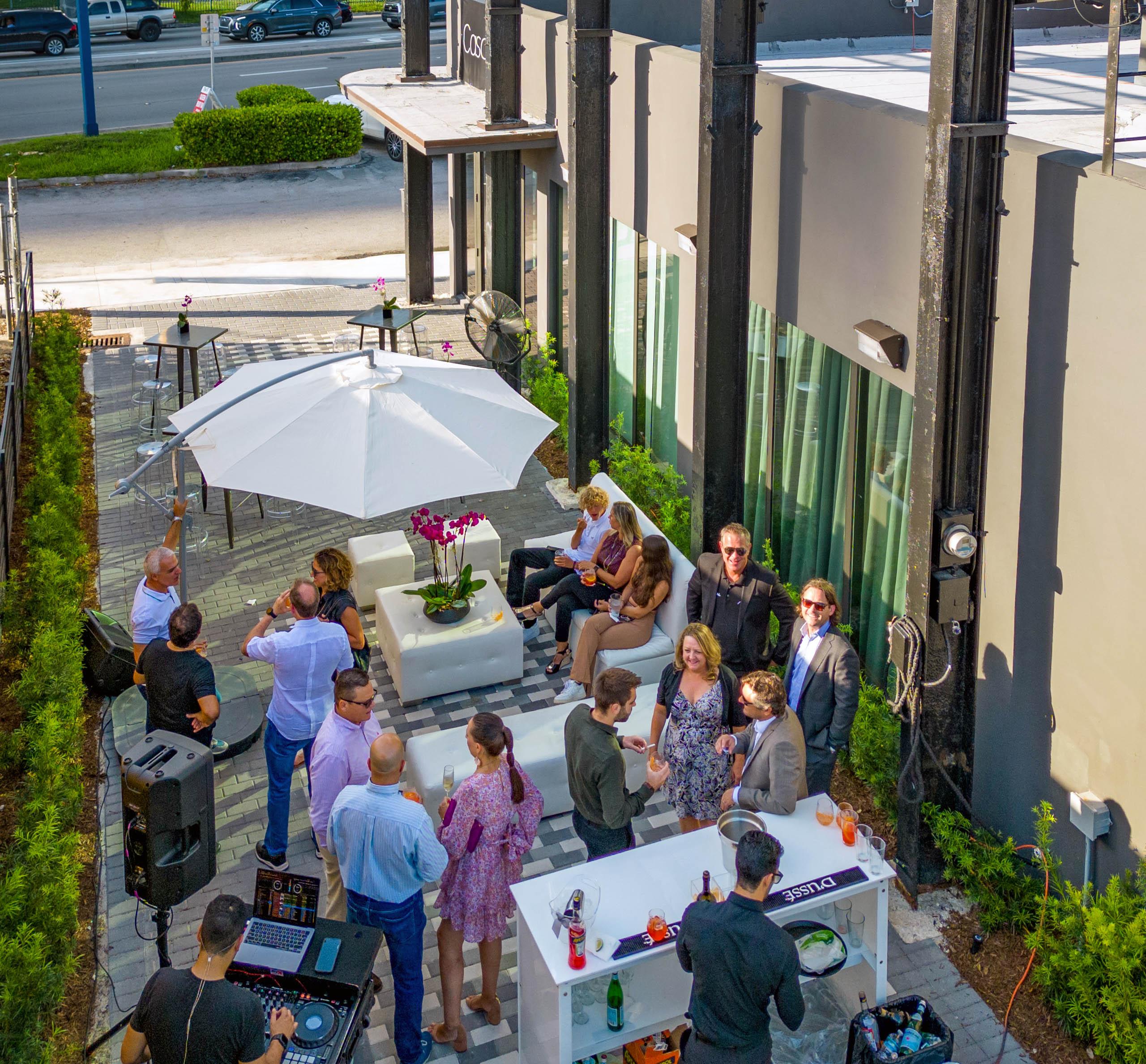 ---
More Info

2610 South Dixie Hwy
Miami, FL 33133
https://www.focal.com/en/focal-powered-by-naim-miami

Focal Powered by Naim Austin
9112 Anderson Mill Rd. Ste. B400
Austin, TX 78729